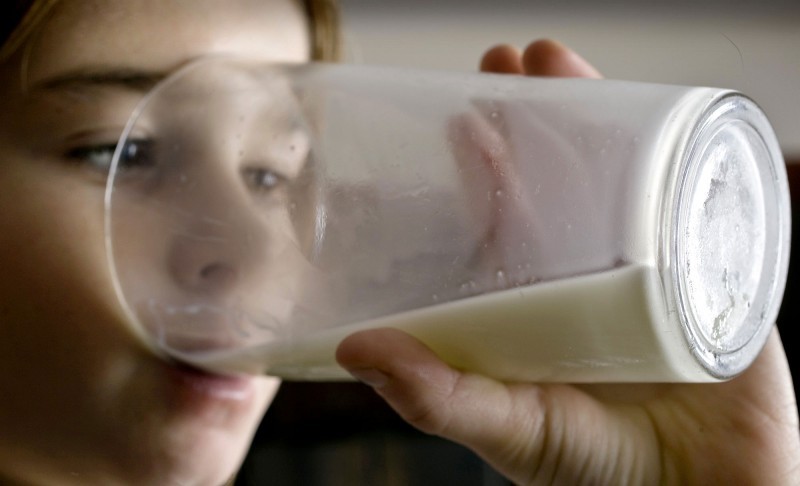 Ahh, behold the power of cheese.
The catchy phrase made popular by a national dairy ad campaign nearly a decade ago proved true in Wisconsin last week, when an effort to legalize raw milk sales on a trial basis was quashed at the final stage of approval after an 11th-hour push by the state's $26.5 billion dairy industry.
Raw milk supporters — including small-dairy farmers that sold the product, consumers and one of the bill's primary sponsors — say they are upset the dairy industry was able to change the course of the bill's momentum by swinging in after the end of the legislative session, prompting Gov. Jim Doyle to veto it.
He did so on Wednesday, one month after the Senate passed it on a 25-8 vote and the Assembly passed it on a 60-35 vote.
"We had insiders watching this thing," says Joe Plasterer, a raw milk consumer and the consumer representative on a state raw milk study group. "They told us to rally the troops. Doyle was backing out."
Initial indications were that he supported it. Just after the Assembly passed the bill in April, Doyle told reporters that "unless there is something that's going to surprise me when I really get into the bill, I would assume I will sign it," according to the Milwaukee Journal Sentinel.
Industry lobbyist Shawn Pfaff of Madison-based Capitol Consultants, whose client list includes the Dairy Business Association and the Wisconsin Cheese Makers Association, says he didn't think the industry was able to adequately convey its public safety message during the legislative session.
Because pathogens such as E. coli and salmonella can exist in raw milk, Pfaff says the industry was concerned that a viral outbreak could harm the image of the state's dairy and cheese. During pasteurization, which is now required for all milk sold in Wisconsin, milk is briefly heated to a high temperature to kill bacteria.
"Knowing Gov. Doyle is a strong proponent of the dairy industry, we were able to weigh in with our concerted message. You cannot make an unsafe product safe unless you pasteurize it," Pfaff says.
Plasterer says it was "handy" that Pfaff previously served as Doyle's deputy political director during his 2006 re-election campaign and spent three years as a member of his staff.
Despite the fact that opponents of the raw milk bill cited public health concerns as a reason for outlawing its sale, many who drink it believe it is nutritionally superior — even able to ward off diseases like autism — compared to its pasteurized counterpart sold in stores. Supporters contend that until the sale of all raw products — including sushi — are also banned, small dairy farmers are the victims of a double standard.
Raw milk supporters, including one of the bill's main sponsors, Rep. Chris Danou, contend that the dairy industry has become too powerful if it is able to change the governor's mind on the bill after it received broad support from the Legislature and the public. At a hearing in March, roughly 650 people registered or spoke in favor of the bill compared to roughly 20 who spoke or registered against it.
Danou, a freshman lawmaker, says he went to the Capitol the day after the governor's veto, did a little poking around, and didn't like what he heard. He says powerful industry interests and their lobbyists played too big a role.
"They couldn't convince the public or the legislators, so they headed to the governor's office," says Danou, D-Trempealeau. "I think if the governor was running for office again, things would have been different."
The governor's office did not return a call for a comment for this story, but in a statement following the veto, Doyle said: "I recognize there are strong feelings on both sides of this matter, but on balance, I must side with the interests of public health and the safety of the dairy industry."
With players in the Capitol and the governor's office set to change with the November elections, Danou says he has every intention of reintroducing the bill with the start of the next legislative session in January.
Until then, the bill is dead. A committee appointed in January by Department of Agriculture, Trade and Consumer Protection Secretary Rod Nilsestuen to study the raw milk issue, however, will continue to meet. Its next meeting is June 11, with two more sessions scheduled for July.
Richard Barrows, the group's chairman, says the group is still trying to find common ground between the dairy industry and health professionals on one side, and small farmers who want to sell raw milk and their consumers on the other.
"That's assuming we can find a common ground," says Barrows, a retired professor from UW-Madison's Department of Agricultural and Applied Economics and UW-Extension.
That likely will be tough.
John Umhoefer, executive director of the Wisconsin Cheese Makers Association, says he is content to let the matter rest with the governor's veto because, among other things, the bill's safety standards were too lax.
For example, in California, Washington and New York, raw milk is tested and can only be sold if fewer than 15,000 bacteria per milliliter are found in the milk sample.
The Wisconsin bill would have allowed farms with a Grade A classification to sell raw milk. That classification, the most stringent, allows for up to 100,000 bacteria per milliliter.
"We were going to set a standard that was much weaker," Umhoefer says.
Yet unlike those other states, Wisconsin's bill would not have allowed retail sales of raw milk. Consumers would have had to purchase it by going to a farm. When asked if he thought the Wisconsin Cheese Makers Association would support a bill that was similar to California's, Umhoefer said he had no comment.
Pam Ruegg, another raw milk committee member and a UW-Madison associate professor in the Department of Dairy Science, says it is difficult to speak in absolutes when dealing with pathogens in raw milk samples. In other words, because the closest thing to ridding milk of potentially harmful bacteria is pasteurization, it may be difficult to convince some committee members, from a scientific perspective, that raw milk can be safe all the time.
She says studies indicate one or more dangerous organisms can be found in zero to 5 percent of milk samples obtained from milk bulk tanks on dairy farms. Potential dangers include: salmonella spp., Listeria monocytongenes, a strain of E. coli and Campylobacter.
Campylobacter is particularly difficult to test for, she says, because it cannot be recovered from frozen milk samples. It can, however, be detected in animal feces.
This is how the pathogen was traced to raw milk sold from the Zinniker Family Farm in Elkhorn last fall after 35 people got sick.
Since then, the farm has lost its dairy license and has not been able to sell any of its dairy products in nine months, says owner Mark Zinniker. He now has virtually no income.
"My reason for joining the raw milk committee was to try and push for people's right to choose," he says. "Obviously in Wisconsin, we don't have that right."
Zinniker says the obvious next step for the committee would be to compare the incidence of illness for raw milk with other products.
Barrows, like Zinniker, agrees that everyone wants to set guidelines that offer consumers a safe product. Until demand no longer exits, the need for the committee to complete its task — despite the governor's action — continues, Barrows says.