In 2009, it looked like Wisconsin was going to be a leader in passing progressive marijuana legislation. Democrats controlled the Legislature and a bill that would have made Wisconsin the 15th state to legalize medical marijuana had the support of Democratic Gov. Jim Doyle. Polls showed wide public support.
But the bill died in committee when Democratic Rep. Julie Lassa voted with Republicans to tank it.
Nearly a decade later, Wisconsin remains on the sidelines, watching as Michigan and Illinois battle it out to see which state can attract marijuana tourists first. 
During eight years of Republican control, marijuana legislation in the Badger State has gone nowhere. Meanwhile, 19 more states have legalized medical marijuana, for a total of 33. Ten states have legalized marijuana for recreational use, including Michigan, the first in the Midwest to do so.
But almost certainly not the last.
In Minnesota, a newly elected Democratic governor has backed full legalization, and Republicans, who control the Senate, have not counted it out. In Illinois, where the new Democratic governor campaigned on the issue and Democrats control the Legislature, it's no longer a question of if, but when.
"Before too long, we're going to find ourselves to be landlocked by Midwestern states that have done the right thing," said state Rep. Melissa Sargent, D-Madison, who plans to introduce a bill to legalize marijuana at the start of the new legislative session, her fourth attempt to get a public hearing on the proposal.
During their eight-year reign, Republicans have staunchly opposed legalization. They've stymied Democratic proposals to legalize medical marijuana. Even a bipartisan proposal to lessen marijuana penalties languished without a hearing.
But Sargent sees momentum. Incoming Democratic Gov. Tony Evers supports medical marijuana and says he'll side with voters on recreational use.
And pressure is building from outside the state. Many Wisconsinites could soon find that access to legal marijuana is only a short drive away, which raises a host of concerns.
"The prohibition will increase the danger because when folks are on one side of the border, what they are doing will be considered legal, and when they step two feet onto the other side of the border what they are doing is considered to be highly illegal, may lead to felony charges and change people's lives in a really negative way," Sargent said. "It's way past time and Wisconsin should be joining in legalizing marijuana all the way, for recreational purposes as well."
That's not likely to happen soon. Asked about medical marijuana, Senate Majority Leader Scott Fitzgerald, R-Juneau, recently said, "I don't see the support. I don't support it."
Assembly Speaker Robin Vos has said he's open to legalizing medical marijuana, but he opposes recreational use.
"Tides turn, people change their minds," said Sargent. "Who would have thought a year and a half ago that Speaker Vos would be interested in having a conversation about medicinal marijuana?"
But some fear that legalizing marijuana for medical use would pave the way for wider use. And some contend that marijuana is a gateway drug that leads to harder drugs.
Marijuana proponents, ranging from veterans groups to longtime legalization advocates, say that marijuana is effective treatment for chronic pain, PTSD, nausea and discomfort of chemotherapy and in many cases is an effective alternative to highly addictive opioids.
And legal or not, marijuana is readily available through illegal means and widely used, leading many proponents to argue that the state should regulate and profit from its sale. In Colorado, legalization has led to $1 billion in annual sales, bringing in $200 million in taxes.
Sargent said Wisconsin could see the same economic benefits and job creation, and without public outlays like the billions the state is shelling out to lure Foxconn to southeastern Wisconsin. Republican lawmakers, she said, "believe very strongly in economic development to the point that they put $4.5 billion into a Foxconn deal."
"If we would legalize marijuana in the state of Wisconsin," she said, "we would create more jobs, we would have more tax revenue, there would be more economic development and stimulus than what it is that this Foxconn boondoggle is going to do for the state of Wisconsin."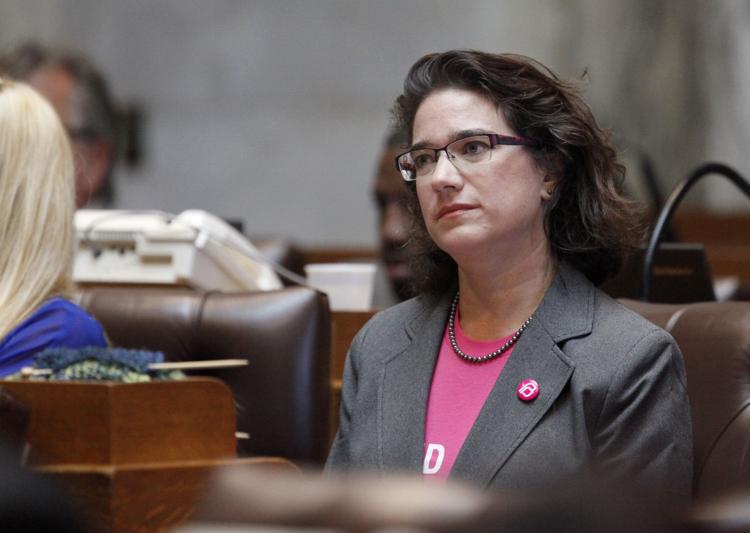 Legalization has most often occurred in states where voters, not lawmakers, have had the last word. And voter sentiment has been surprisingly bipartisan.
Medical marijuana, which first became legal in California in 1996, is now legal in deep red states like Oklahoma and Arkansas. Recreational marijuana has been approved in swing states that include Maine, Michigan and Alaska.
In Wisconsin, however, ballot initiatives are merely advisory.
Last November, more than half the state's voters weighed in on marijuana legalization, either medical or recreational, in local referenda. Voters in Brown, Forest, Kenosha, Landglade, Lincoln, Marathon, Marquette, Portage and Sauk counties, and the city of Waukesha, supported medical marijuana by a margin of three-to-one or better, and in Clark County by more than two-to-one.
At least 60 percent of voters in Dane, La Crosse, Milwaukee, Racine and Rock counties, and in the city of Racine, supported recreational use. And in Eau Claire County, where voters chose between three options, 54 percent gave a thumbs-up to recreational use, 31 percent for medical use only, while 15 percent said it should be illegal.
Statewide, a Marquette Law School poll last year found that 61 percent of voters supported full legalization.
"Over 50 percent of the state had an opportunity to vote for it in the November elections, and it was overwhelming," said Sargent, "even in very red parts of the state."
The city of Eau Claire responded to the results by reducing fines for possession of small amounts of pot to $1.
Sargent said that when she was first elected in 2012, she had no clue that marijuana legalization would rise to the top of her legislative priorities. But then she started hearing from constituents.
"It was amazing how many different people would come to my listening sessions, meet me in my office, join me for office hours, stop me in the grocery store, just in my everyday life and share stories about how the prohibition of marijuana in the state of Wisconsin has negatively impacted them or someone that they love," she said.
She said she came to realize that marijuana laws were needlessly drawing more people into the criminal justice system and contributing to racial disparities.
"It became really clear to me that I needed to stand up and do something about this," she said, "and I started working on the bill then."
With the current Republican leadership, any proposal to loosen marijuana laws isn't likely to go far. A bipartisan effort last session — a bill to reduce fines from $1,000 to $100 for possessing 10 grams or less and eliminate felony charges for a second offense — was never given a public hearing, despite the fact that the lead sponsor, Rep. Adam Jarchow, is a Republican, and five other Assembly Republicans signed onto the bill.
Sargent said that some Republican lawmakers have "expressed curiosity and interest" in her proposal to legalize marijuana, but GOP leadership is discouraging Republicans from sponsoring the legislation.
"I've been told that if it came to the floor they would vote for it," she said. "But we know how challenging it is to get something to the floor if you can't even get a committee hearing."
With GOP leaders opposed to medical marijuana, Sargent said it makes sense to abandon incremental approaches and go for full legalization.
"I think that when we look at the economic benefits as well as our ability to address racial disparities and wrongs in our criminal justice system, as well as the medicinal benefits, it just makes sense to look at full legalization," Sargent said. "Most states that were medicinal are going in that direction, and there are many states that are simply skipping the medicinal step and going toward full legalization."
She acknowledged that the current legislative leadership stands in the way. But the issue isn't going to go away.
"One of the things I heard from some folks the first time I put the bill out is we want to see what happens in Colorado and a few of these other states and make sure the bottom doesn't fall out," she said. "We haven't seen the bottom fall out in those communities. In fact, we've seen a lot of positive impacts from legalizing and we can point to that. I'm hopeful that we can do this, but it might be in another session."
Share your opinion on this topic by sending a letter to the editor to tctvoice@madison.com. Include your full name, hometown and phone number. Your name and town will be published. The phone number is for verification purposes only. Please keep your letter to 250 words or less.