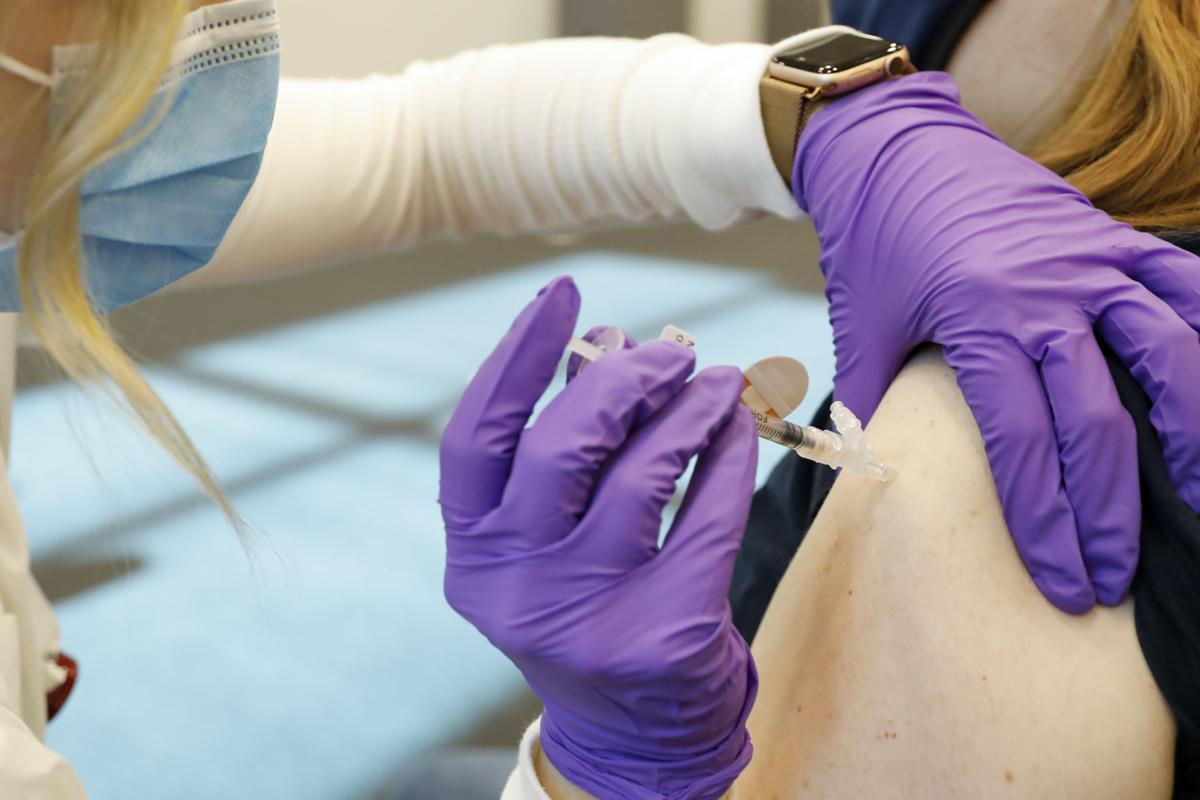 Wisconsin has now administered more than 1 million doses of COVID-19 vaccine and is expanding its vaccine infrastructure by adding four new community vaccination clinics. 
Declaring the Rock County clinic that opened last week at Blackhawk Technical College "a success," Gov. Tony Evers said: "We are continuing to work to get vaccine doses across our state as soon as we have doses available. These community-based sites are going to be critical to our work making sure that Wisconsinites can get vaccinated so we can put this pandemic behind us." 
But the state still needs vaccine. 
With President Joe Biden's recent comments that a semblance of normal life might not be in grasp until Christmas, a quick end to the pandemic seems out of reach, mainly because of a lack of vaccine. 
"If we as a state received a massive increase in vaccinations, that date would be probably sometime next summer," Evers said Tuesday during a press briefing. "That's not gonna happen." 
So far, about 47% of the 700,000 Wisconsinites who are 65 and older have received at least one shot of the two-shot series, and vaccinations are nearly complete at the state's nursing homes, according to Julie Willems Van Dijk, deputy secretary of the state Department of Health Services. 
About 88% of people in assisted living facilities have gotten at least one shot, she said. 
About 14% of the state's total population, or 815,516, have received at least a first shot, and 370,578 people have gotten their second shot. 
The state's allotment of vaccine from the federal government has increased this week to 115,000 first doses, a 64% increase over mid-January. 
But demand for the vaccine far exceeds supply. 
Willems Van Dijk said the state's 1,800 registered vaccine providers requested 350,000 doses for this week, about three times the state's allotment. 
Walgreens, which contracted with the federal government through the Federal Retail Pharmacy Program to vaccinate people in underserved areas at 178 sites, used up its first allotment of 18,000 doses in just three days, the Milwaukee Journal Sentinel reported. This week, the federal government doubled the amount for Walgreens to 35,350 doses. 
Willems Van Dijk said supply will likely increase in coming weeks as a one-shot candidate from Johnson & Johnson is expected to win emergency use approval from the Food and Drug Administration possibly this week. 
While progress in vaccinations is being made, health officials say the emergence of fast-moving COVID-19 variants has added urgency to the effort, and they're urging the public to double down on wearing masks, social distancing and avoiding gatherings.
So far there have been six cases of a variant that originated in the United Kingdom reported in the state — one of them in Dane County — but given the small number of cases that are analyzed, the spread of the variant is likely more extensive. 
"The fact that we've found this variant in multiple counties among people who have not had international travel, and the fact that other states in the country have found the same thing on a larger scale, gives a reasonable amount of certainty that this is spreading in the community from person to person," said Dr. Ryan Westergaard, the state's chief medical officer. 
Numbers of cases in the state continue to drop, with a seven-day total of 604, the lowest seven-day average since July 9. The seven-day average for deaths is 16, the lowest since Oct. 13. There were 33 deaths reported on Tuesday. 
The UW-Madison campus, however, has seen a spike in recent days, with the seven-day average doubling from 33 to 66 in just one week, prompting officials to increase testing at certain dorms to once every two days — up from twice a week — and warning of new restrictions if the situation doesn't improve. 
The university also has reported a small number of reinfections, possibly because students who had tested positive earlier in the year had lost their immunity in the months since. 
While reinfections are believed to be rare, Public Health Madison & Dane County reported 150 people who have tested positive in the past have had another positive test at least 90 days later, the threshold to list a case as "suspect" for reinfection.
Reinfections can't be confirmed without further testing, which in many cases isn't possible because specimens from the first infection haven't been retained. 
It's still unclear how long natural immunity lasts, but Dane County reported that the median time between the two infections is about five months. 
The new clinics, located in La Crosse, Racine and Marathon counties, with the fourth split between Douglas and Barron counties, are slated to open within two months.
Not included is Milwaukee County, where vaccination rates have lagged the state as a whole, and where there is a greater proportion of African Americans, who have received vaccinations at far lower rates than whites. 
Willems Van Dijk said the state is considering Milwaukee for a site administered by the Federal Emergency Management Agency, but at this point, she said, the site wouldn't bring new doses to the state. 
"We were hopeful in the beginning that FEMA was coming with vaccine," she said. "It appears that is not the case, so we need to factor this into the state allocation." 
The community clinics are a collaboration with AMI Expeditionary Healthcare, the University of Wisconsin System, and local public health departments. The sites were chosen on the basis of demographics, local healthcare capacity and the availability of vaccine providers. 
Anyone eligible will be able to schedule an appointment at the clinics. Current eligible groups include frontline healthcare workers, long-term care residents and staff, police, fire and correctional staff and adults over 65. The state has set a tentative date of March 1 to add teachers and daycare workers, people in Medicaid long-term care programs, essential but non-frontline healthcare workers, people in congregate living facilities, including prisoners, public transit workers, utility workers and food chain workers.