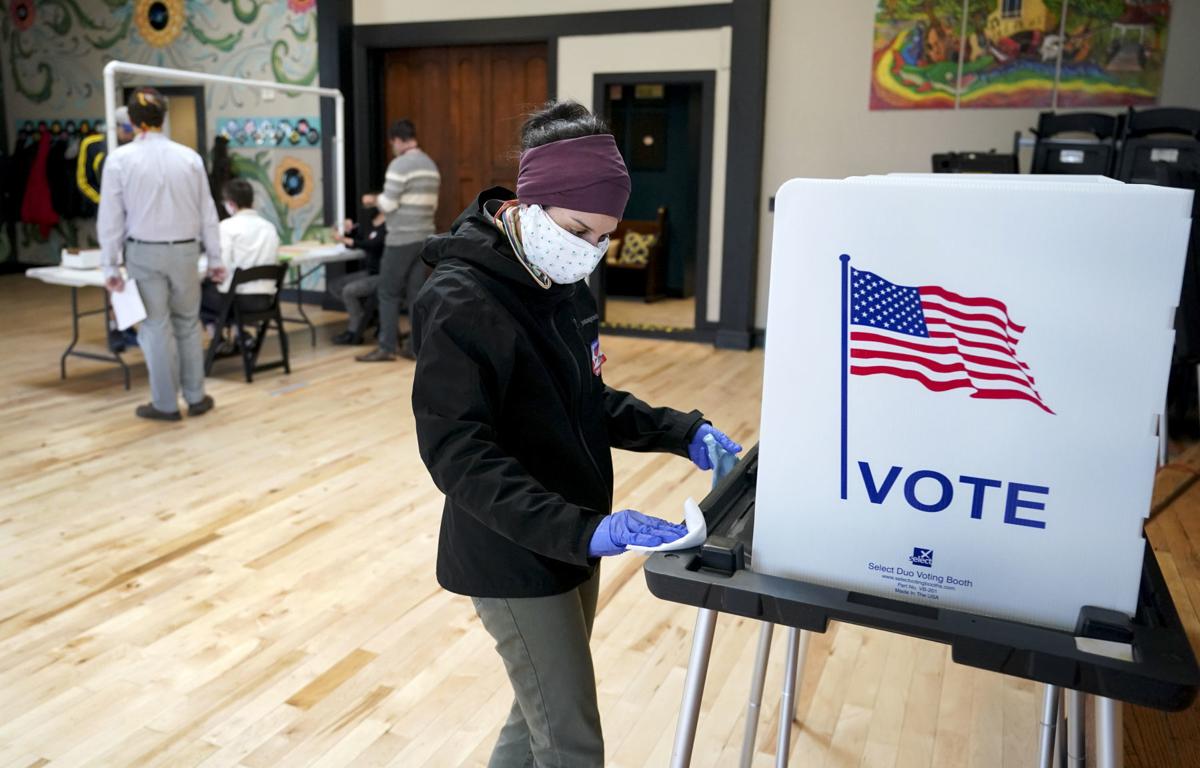 Wisconsin won't know the results of Tuesday's election until next Monday, but chances are the results will be challenged via a cascade of lawsuits in state or federal court if the margins in major races are as razor-thin as they have been in recent years.
Possible legal challenges to the election results, fueled by voter complaints about voting hurdles Tuesday, threaten to further undermine the perceived integrity of the election and the legitimacy of those elected as a result.
"In every election there's a stray story of a voter who got stuck in a long line or had difficulty getting their ballot, but those stories are pretty widespread in this election, and especially in some communities like Milwaukee," said UW-Madison political science professor Barry Burden. "That will certainly lower people's confidence that the election was run properly and that all voters were treated equally and fairly."
Due to federal court orders, Wisconsinites won't find out the results of the election until Monday. Elections clerks are barred from disclosing them partially because absentee ballots postmarked on or by April 7 will be received until Monday.
Voting in most cities appeared to go smoothly, especially given the immense challenges elections officials faced from the COVID-19 pandemic. But some voters, particularly those in Milwaukee, which includes a large portion of the state's African American population, faced snaking lines and long waits at far fewer polling places than usual.
Statewide, more than 10,000 voters who didn't receive requested absentee ballots by Election Day, according to Wisconsin Elections Commission data, were forced to make the choice between sitting out the election or voting in person and risking their health.
On top of that, there are some eligible voters whose ballots have been disqualified. During a roughly 24 hour window last week, a federal court ruling gave voters the option to certify on their absentee ballot they could not find a witness and have it counted. A later appellate court ruling invalidated that option.
Voters who used that option during the legal window were left without an option. They can't have their absentee ballots counted, and they were barred from voting in person under Wisconsin law.
If the results of Tuesday's state Supreme Court election, the Milwaukee mayor's race or other races are close next Monday, election law experts say the conditions on the ground on election day would make a recount or lawsuits highly likely.
It's unclear, if not doubtful, however, that the Wisconsin Supreme Court or U.S. Supreme Court, which created some of the voting difficulties with a ruling on the eve of the election that canceled a lower court's absentee voting accommodations, would welcome any challenges based on voter suppression or disenfranchisement, and the likelihood of a complete election do-over very low.
"The losers are going to be upset that because of the way the election was conducted under the pandemic circumstances, it was fraught with problems and wasn't fair and didn't comply with the voting rights act," said Michael Maistelman, a liberal Milwaukee attorney. "My guess is that the folks that feel disenfranchised will bring lawsuits to try to undo the election or for other similar relief."
Maistelman and others, however, say those lawsuits are unlikely to be successful. Rick Esenberg, president of the conservative Wisconsin Institute for Law and Liberty, expects the U.S. Supreme Court would be unlikely to favor arguments of voter suppression or disenfranchisement if such voting difficulties affect the broad population. If hurdles for voting do affect a specific voting group more than others, he said, the majority conservative court would likely need to find that it was targeted.
"I think the (U.S. Supreme) Court signaled that a state elections scheme does not have to be perfect," Esenberg said.
Doug Poland, a voting rights attorney, said the likelihood of litigation being filed related to the election results pivots on whether the margins are narrow. He also said a lawsuit will hinge on which races are affected.
Liberal-backed Supreme Court candidate Judge Jill Karofsky said it's too early to think about legal remedies for the election, but said it put voters in an impossible position. A spokesman for her opponent, conservative-backed Justice Daniel Kelly, said the campaign is preparing for the possibility of litigation if he wins.
Burden said the result of the April 7 election, especially if it's close, is likely to further erode confidence in the Wisconsin Supreme Court given the winner of the Supreme Court race could very likely face criticism over whether they legitimately won.
"If there is a narrow outcome in this April election, and there are obvious flaws in the election as everyone can see, it just becomes so easy to say the winner is not legitimate," Burden said. "That temptation is always there, but it will be stronger and easier to allege if the election's close."
Voting difficulties
People who didn't receive their absentee ballots by Tuesday's deadline to turn them in faced a difficult decision — prioritize their health or their right to participate in democracy.
"We frankly have hundreds of people on record as facing this issue," Democratic Party of Wisconsin spokeswoman Courtney Beyer said.
Aly Robinson, 23, woke up Tuesday morning in her Milwaukee apartment and checked the mail one last time. The absentee ballot she said she requested about three weeks ago still had not arrived.
Then she saw pictures online of her polling station, Riverside High School, where the lines snaked for blocks and people reportedly waited more than an hour to cast their ballot while donning masks.
Robinson spent most of the day wracked with indecision on whether to brave the lines and cast her ballot, opening herself up to potentially contracting the coronavirus or missing out on having her voice heard. In the end, she stayed home.
"I don't think this is the sort of thing that happens in a legitimate democracy," she said. "Asking people to put their lives on the line if they want to cast their vote isn't right or fair. This is just blatant voter suppression."
Stories like Robinson's may become the basis in the next round of litigation related to Tuesday's election.
Milwaukee resident Saul Newton said he requested his absentee ballot March 20 and the Wisconsin Election Commission website indicates his ballot was sent two days later. But he said he never received it.
Newton, who serves as executive director of the Wisconsin Veterans Chamber of Commerce, is sitting this election out because he has family members at increased risk of the virus and he does not want to risk it. The only other elections Newton has missed came in 2010 and 2011 when he was deployed to serve in Afghanistan.
"No one should have to choose between their health and safety or casting their ballot in a free and fair election," he said. "It's hard not to feel disenfranchised."
Adding to Newton's frustration were all of the changes and legal decisions that came Monday.
"There was so much conflicting information" on where to vote and when and how, he said. "No one seemed to know what was going on."
Madison vs. Milwaukee
Milwaukee, the state's largest city with just under 600,000 people, had just five of 180 polling stations open whereas Madison, with a population of 260,000, had 66 of its 92 sites open.
About 1,700 Madison poll workers sat out of working this election, according to deputy city clerk Jim Verbick. Many of them were older and at greater risk of contracting the coronavirus.
But the city was able to fill the shortage and had nearly 1,400 workers on hand for Tuesday's election, he said. The clerk's office recruited new poll workers by contacting city staff, emailing licensed bartenders and coordinating with UW-Madison.
"A lot of good collaboration," Verbick said.
The clerk's office has been swamped with processing absentee ballot requests, so four members of the city's planning division offered their assistance in identifying which sites to keep open and which to consolidate, he said. They cross-referenced the number of registered voters at each site with how many had already requested an absentee ballot to minimize the number of people — and potential disease spread — at any particular site.
While few, if any, lines were reported at Madison polls, some residents still voiced frustration at having to show up because their absentee ballot didn't arrive in time.
Milwaukee Election Commission executive director Neil Albrecht said the reason for Milwaukee's low polling site number is because there wasn't enough time to expand voting sites once they learned in recent days how much support the city would get from National Guard members. He also said Madison may have had more success finding poll workers because it tends to be more politically engaged than Milwaukee.
---
A city changed: See photos of Madison before and after COVID-19