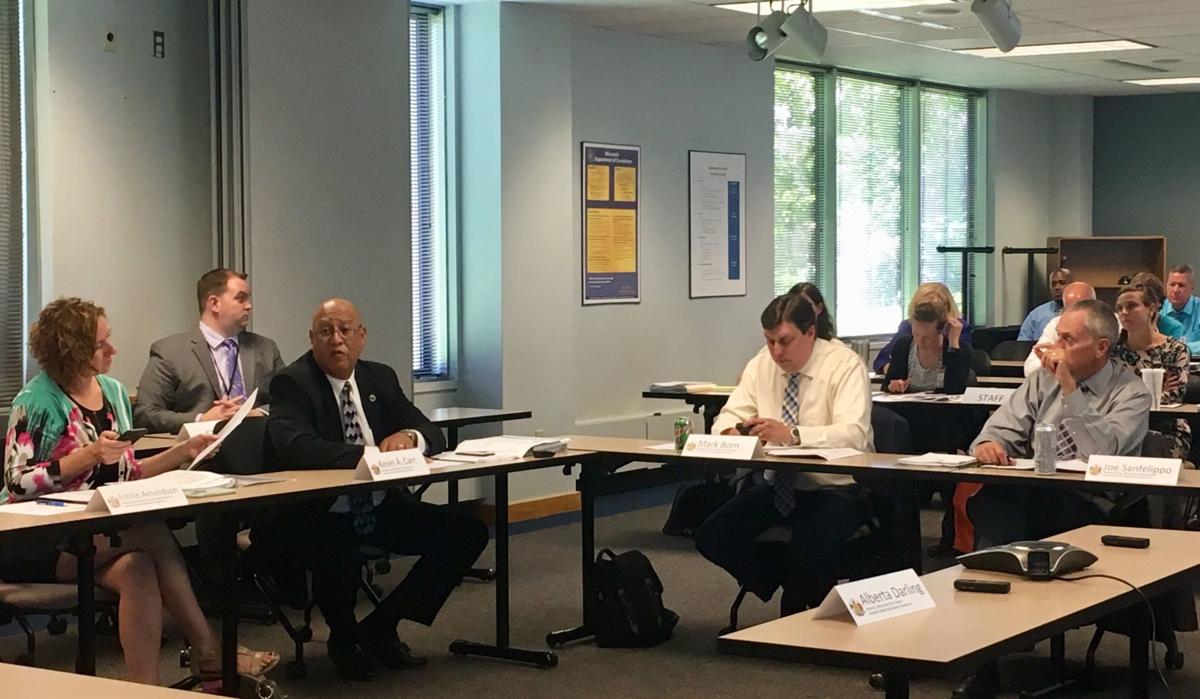 Officials in two counties vying for state funding for juvenile detention facilities touted their plans in Madison Monday.
The plans, from northeastern Brown and southeastern Racine counties, were presented to the 10 members of the Juvenile Corrections Grant Committee, which consists of seven lawmakers, two agency heads and Urban Underground co-founder Sharlen Moore.
The panel is set to make recommendations to the Legislature's budget committee next month about which of the four total proposals to house youth inmates should receive funding. 
For Brown and Racine counties, staff are looking to fund both a secure residential care center and a secure detention center that would serve more than just the youth in their respective counties — a point that led to questions from lawmakers on the committee about whether the plans constituted a "proper use of funds," in the words of Rep. Joe Sanfelippo, R-New Berlin.  
But officials defended the applications' inclusion of the detention centers, with Brown County's Foster Care and Child Protection supervisor Kevin Brennan telling members: "There's a regional need for all of these services, not just one."
Both of the plans would cost in the neighborhood of $40 million — a level on par with what Milwaukee County is seeking for its own 54-bed project. Dane County, meanwhile, has the cheapest proposal of the four applicants at between $3.5 million and $5 million, as it that seeks to update the downtown Juvenile Detention Center. 
Both Dane and Milwaukee counties are planning to present their proposals to committee members next week, largely to buy Milwaukee officials more time to get additional information over potentially leasing a space for the center. 
The counties officially submitted their application materials to the state in early July to construct facilities for the inmates, who are to be displaced from the two state-run youth prisons, the Lincoln Hills School for Boys and Copper Lake School for Girls in Irma in the wake of allegations of misconduct and abuse. 
Lawmakers and former Gov. Scott Walker last year approved a plan to replace the youth prisons with smaller, regional facilities, an expanded youth treatment center at Mendota Mental Health Institute in Madison and a few state-run facilities for youth who have committed more serious crimes.  
Dane County's plans include adding space on the west side of the City-County Building. It also includes using a vacant housing pod in the detention center for an 18-bed program for boys and about five beds for girls.  
You have free articles remaining.
The county included $3.96 million in its 2019 capital budget for renovations to the detention center, which would be mostly reimbursed by the state. In the application, officials said Dane County would need $4.5 million to safely budget for the project. 
As for the other counties' applications, Brown County and Racine County are looking to build new regional facilities at a cost of $43 million and $40 million, respectively. The Brown County facility, which looks to serve 21 northeastern Wisconsin counties, would consist of two components: a secure residential care center with 24 beds, and a secure detention center with 32 beds, which is more than the 15 beds in the current detention facility within the sheriff's office. 
In addition to the detention part of the plan, committee members also raised questions about the availability of transportation options for families to see their children in Brown County. 
Rep. David Crowley, D-Milwaukee, noted that the county's intention to serve a wide swath of the state would require planning in terms of transporting the youth inmates from their home counties to the facility and helping parents and families visit the centers. 
Brennan acknowledged the importance of connecting youth and their families, responding: "That's a legit barrier, the amount of distance, and we'd have to find workarounds around that." 
The Racine County facility would hold 48 beds, 32 of which would be for a secure residential care center while the remaining 16 would be for the detention center. The existing county facility is already a regional one, local officials said, and serves the neighboring Walworth and Kenosha counties. Under the expanded plan, Racine's center would serve six other counties: Washington, Ozaukee, Jefferson, Waukesha, Walworth and Kenosha. 
Questioned by Rep. Mark Born, R-Beaver Dam, about the cost difference in including a detention center in the proposal, Racine County Human Services Director Hope Otto said it was "essential" to have both parts. 
"We wouldn't want to build a separate facility (as a detention center)," she said. 
Born, though, noted members couldn't only consider what might be best for those two counties and regions of the state in their determinations.
"It's pretty clear that what Brown and Racine are presenting is the best way to do what you're trying to accomplish for you and your regional partners, but we have to look at the two other proposals, total funds that might be available," he said. 
The biennial budget allocated $80 million in borrowing for county-run facilities, though altogether, the four applicants are seeking $130 million. The two-year spending plan, which Evers signed in July, also includes $47 million in funding for state-run facilities for more serious juvenile offenders and $59 million in borrowing for an expansion of Madison's Mendota Juvenile Treatment Center.  
The panel has until Oct. 1 to review the applications and pass them along to the Legislature's budget committee.
Abigail Becker contributed to this report.
Share your opinion on this topic by sending a letter to the editor to tctvoice@madison.com. Include your full name, hometown and phone number. Your name and town will be published. The phone number is for verification purposes only. Please keep your letter to 250 words or less.