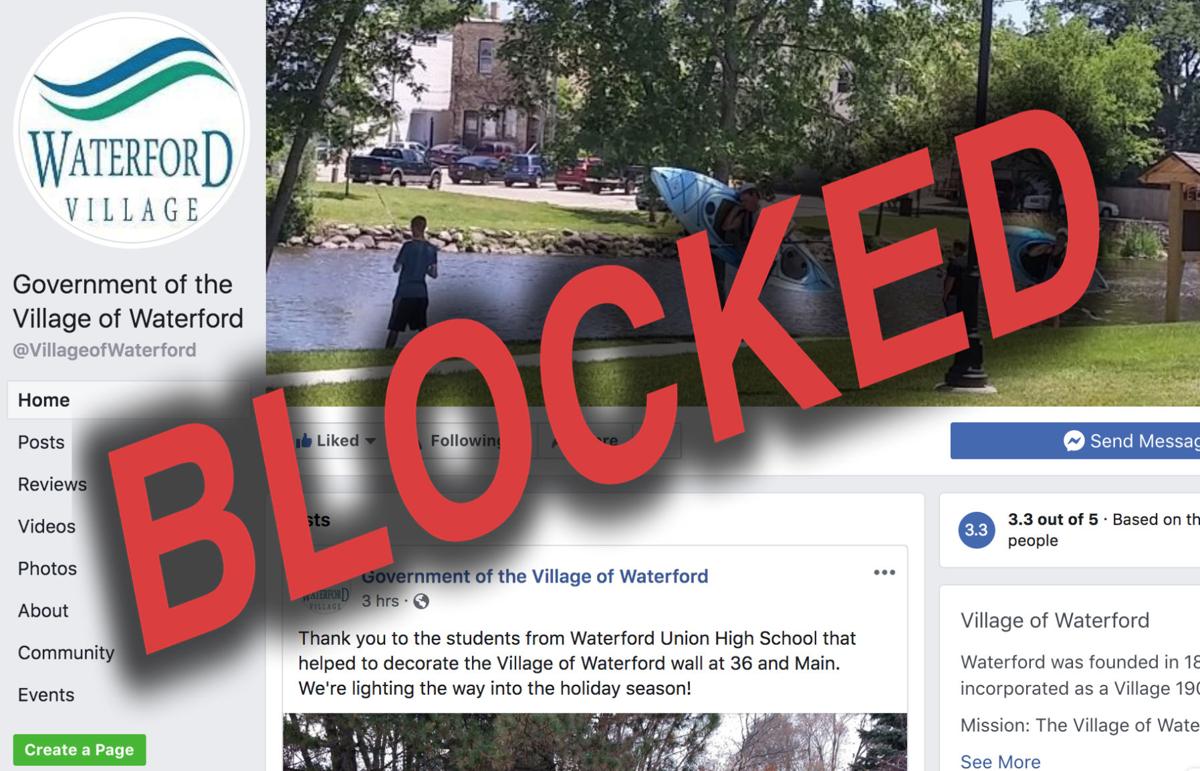 WATERFORD — The Village of Waterford may have violated the First Amendment by blocking a member of one of its own committees on Facebook, The Journal Times has discovered.
The village's action comes amid a series of high-profile cases nationwide in which courts and free speech advocacy groups have ruled government officials violated the First Amendment's guarantee of free speech by blocking members of the public on social media. Elected officials from President Donald Trump to U.S. Rep. Alexandria Ocasio-Cortez, D-N.Y., to Wisconsin Assembly Speaker Robin Vos, R-Rochester, have been found in violation of the First Amendment in the past year for blocking critics on Twitter.
"There is a bit of a re-education going on right now about how to square the First Amendment with modern governance happening via social media," said Francesca Procaccini, a lecturer in law and associate research scholar at Yale Law School who specializes in First Amendment law.
And now that reckoning has come to Waterford, as a voting member of one the village's own committees found herself unable to "like" or comment on posts made by the village's official Facebook page, or even send the village a direct message.
What happened in Waterford
Maureen Vander Sanden, a town of Waterford resident and member of the village's Heritage District Design Committee, said she was blocked the night of Nov. 11 after she left comments on a livestream of a Village Board meeting; The Journal Times verified Vander Sanden's claims by having her demonstrate in person that she was blocked.
As a member of the Heritage District Design Committee, Vander Sanden can vote on motions to award grants to Downtown businesses and set visual standards of Downtown buildings — a level of responsibility and trust from the village that stands in stark contrast to the indignity of the Facebook block.
"This is very much my home, and I call this my home," said Vander Sanden, a longtime Waterford-area resident who represents Absolutely Waterford on the committee. "And for the first time in my life, I feel like I am not welcome to come to our Downtown, the same Downtown that I have been actively volunteering for."
Vander Sanden, who is Facebook friends with Village Administrator Zeke Jackson, messaged his personal account requesting to be unblocked three times since the official page blocked her, according to messages reviewed by The Journal Times. He had not responded as of Thursday.
"It's very disheartening that I've essentially been silenced," she said. "And I find hypocrisy in the fact that Village Administrator Zeke Jackson has time and time again accused town officials of not letting the public speak, and here I am trying to be heard."
Jackson and Village Public Information Officer Colleen Schauer, who primarily manages the village's Facebook page, did not respond to requests for comment. However, Vander Sanden was quietly unblocked Wednesday evening after The Journal Times left email, phone and text messages regarding the block.
Vander Sanden's comments reappeared on the village's page after the block was lifted.
None of the nine comments and subsequent replies she left on the Nov. 11 livestream was overtly hostile, and none contained vulgarity. The most critical one reads: "Classic example of people taking half-truths put out by officials and running with them."
Legal precedent
That same legal standards that landed Vos, Ocasio-Cortez and Trump in hot water appear to apply to Waterford's silencing of Vander Sanden, Procaccini said.
"It does seem like she (Vander Sanden) has a very strong First Amendment argument, and the facts do appear very similar to the instances in which the courts have found that the government entity or government official has violated a citizen's First Amendment rights from prohibiting them from partaking in the dialogue with other citizens on their forum," Procaccini said.
The fact that Vander Sanden is not a Village of Waterford resident has no bearing on the village's ability to block her, Procaccini said, because freedom of speech is not a right that can be selectively applied.
If comments are "libelous or obscene ... there would presumably be no First Amendment violation with a government official removing that content from their feed," Procaccini said in a follow-up email. However, she added, "merely offensive speech" would be protected, and harassment "is hard" because courts must weigh an individual's protection from harassment against another individual's right to free speech.
The American Civil Liberties Union of Wisconsin offered a more blunt assessment, saying recent cases have made it "clear that blocking private critics from accessing a social media account operated by a public official or government body is unconstitutional."
"Courts have held that government-affiliated social platforms, including Facebook pages, act as public forums and therefore must allow for uninhibited public participation and commentary," said a statement from ACLU of Wisconsin Executive Director Chris Ott. "The Village of Waterford cannot legally ban people from accessing its official Facebook page because it doesn't like the content of their comments."
If an official blocks someone from viewing their personal Facebook account, there is not a constitutional issue, Procaccini said, because officials have their own right to free speech in their private life.
Well-known cases
Likewise, a federal judge ruled in January that Vos, fellow Republican state Rep. John Nygren of Marinette and former state Rep. Jesse Kremer, R-Kewaskum, violated the First Amendment when they blocked liberal group One Wisconsin Now. The lawsuit cost Wisconsin taxpayers $200,000.
Ocasio-Cortez this month settled a lawsuit against her just before it went to federal court. The lawsuit alleged Ocasio-Cortez had violated a critic's First Amendment rights by blocking him on Twitter. As part of the settlement, she apologized and unblocked the critic, The New York Post reported Nov. 4
Awareness of the potential repercussions of blocking citizens has been spreading recently, Procaccini said, largely due in part to the case involving Trump.
"I think there was really not much of a consideration that this could be a First Amendment issue (the Trump case)," Procaccini said. "It was probably more of just a reflexive thing. It was a tool that is common to social media and they were just kind of using it and not really understanding the First Amendment implications."
The fallout
When governments block a citizen, it "has a chilling effect" on free speech, Procaccini said.
"If I'm worried that the president's going to block me for responding negatively some policy that he has tweeted out … that's not only a loss to me, but that is a real curtailment of my ability to engage with the political process," Procaccini said. "And so the fear is that I will moderate my own speech in order to avoid risk of being blocked."
Typically there are no specific penalties when a government or elected official blocks someone on social media, Procaccini said. The most common recourse she said she is aware of is a court order to unblock the affected individual.
Other social media woes
Vander Sanden's blocking is just the latest in a series of issues involving Waterford's social media presence.
It is unclear who left the comments from the official government page.
The Journal Times has filed an open records request for documentation of disciplinary measures resulting from the allegations.
"It's very disheartening that I've essentially been silenced." Maureen Vander Sanden, who was reportedly blocked from the Village of Waterford's Facebook page
"It's very disheartening that I've essentially been silenced."

Maureen Vander Sanden, who was reportedly blocked from the Village of Waterford's Facebook page