Once a go-to spot for school picnics, a tiny pagoda built to shelter a natural spring on the shores of Lake Monona could get its first makeover in the historic structure's 130-year history — or it could go the way of those quaint school picnics.
Monona officials are trying to decide whether the Springhaven Pagoda is worth saving, given what have so far been inconsistent opinions on the viability of the metal-reinforced concrete structure built on land once owned by a former Madison mayor.
The pagoda has since the 1950s been part of the diminutive ¾-acre Stone Bridge Park off Winnequah Road on the city's north side, according to Monona city planner Douglas Plowman. It's mostly hidden from view by the park's sloping landscape, which until this year was more akin to an empty lot than a park.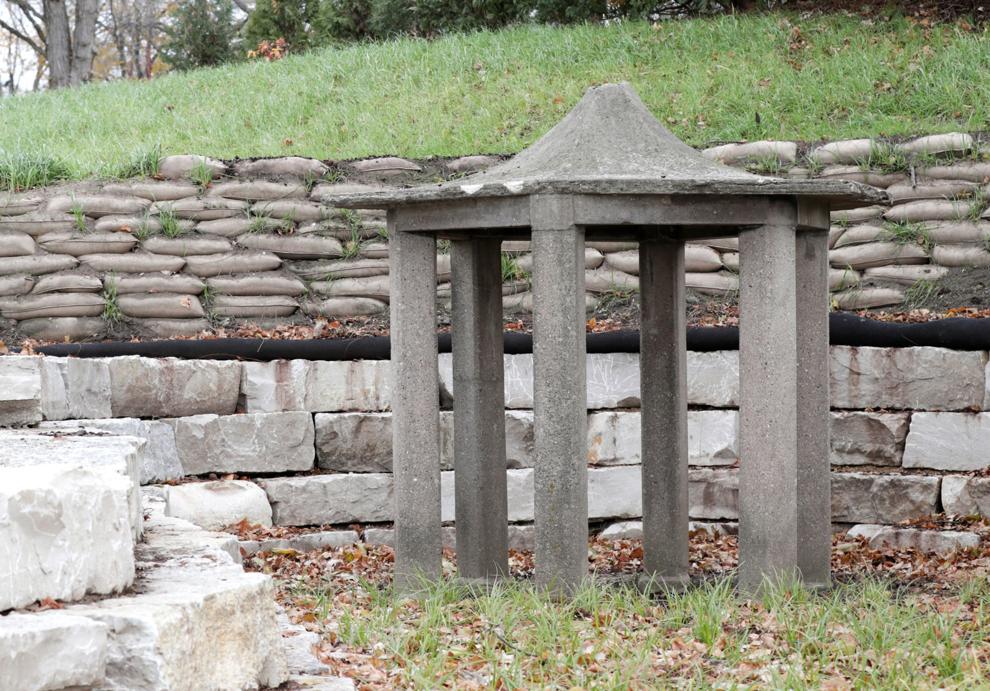 The city had planned to spend about $31,000 to replace the pagoda's crumbling roof as part of an approximately $360,000 park renovation, but that plan changed after city staff and an engineer determined the "pagoda foundations and columns were in a much worse condition than expected," according to a Sept. 2 memo from Plowman.
"One of the concrete columns is no longer attached to the foundation and is hanging from the roof structure," engineer Patrick Eagan says in a Sept. 1 letter. "The steel dowels at the bottom of the column are exposed, heavily corroded, and are not embedded into the stone foundation."
Three weeks later, though, a concrete and masonry restoration firm, hired by the city for a second opinion, found "the base, columns and roof support beams appear to be in good shape with no restoration required," although CMR Concrete and Masonry Restoration agreed the roof was in need of major repair.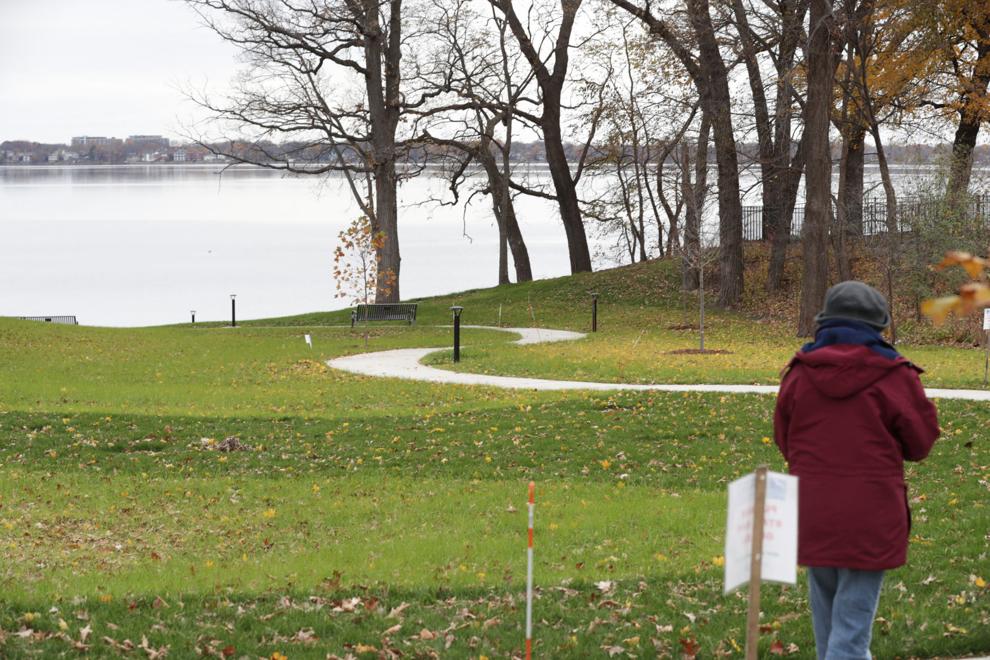 Plowman said the city is pursuing the opinion of a structural engineer in time for the Monona Landmarks Commission's December meeting.
"Anything can be saved at a cost," said the commission's chair, Ald. Kristie Goforth. "Right now we still just don't know. We don't know its fate. We don't know its future."
Landmark since 1979
It would be a shame to let the piece of the area's history be removed, said Ann Waidelich, president of the Historic Blooming Grove Historical Society. The town of Blooming Grove, now just a patchwork of parcels scattered south and east of Lake Monona, used to include all of the city of Monona.
"This poor little park had been neglected for so long and then (the pagoda is) way down by the lake. You can't really see it from the street and I think that's why it's been vandalized as much as it has," she said. "It's an important landmark."
The pagoda was built by Judge E.W. "Boss" Keyes — a Madison mayor in 1865 and again in 1886 and a former member of the state Assembly — sometime in the late 1880s, according to the city's 2016 pagoda preservation plan.
He so "treasured" the spring "that he not only built this housing for it, but also named his farm Springhaven," according to a city history of its landmarks.
Children from what was then Nichols School on Monona Drive — now home to Monona Grove School District administrative offices and the district's charter school — used to hold their end-of-school-year picnics there, using the spring water to make lemonade.
Declared a city landmark in 1979, the approximately 8-foot-tall, 7-foot-diameter pagoda is "significant as an extant example of early Wisconsin pioneer handmade architecture created with a high level of craftsmanship as evident in the details," the plan says. "Simple and efficient in the use of materials, this concrete structure is a good remaining example of rural pioneer architecture and traditional craftsmanship."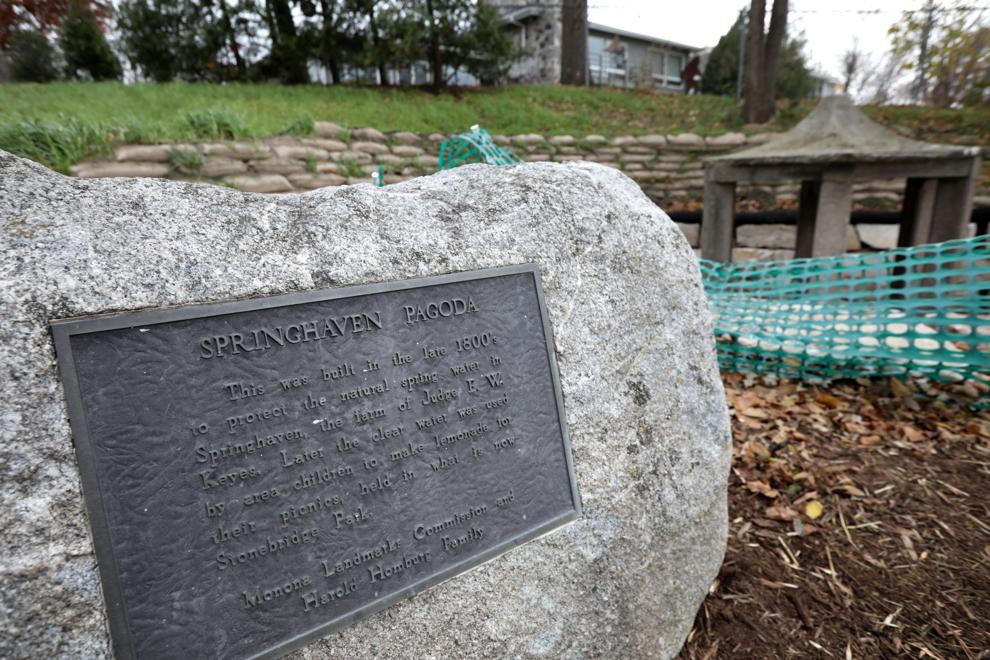 During a visit to the park earlier this month, the pagoda was showing its age. Parts of the roof and the bases of some of its six columns were crumbling, and debris filled the basin and obscured its original foundation.
There was no sign of any clear, gurgling water, although Plowman said it does occasionally flow, possibly as a "result of either high ground water or the spring itself."
"Such springs were once common around the shores of the Madison lakes," according to the preservation plan, but they've disappeared "as more water is pumped to serve the area's growing population."
Surrounding the pagoda is the renovated park, with a new winding sidewalk to the lake, lighting and and block retaining walls on the shore and around the pagoda. New plantings include sandbag-like "earthen bags" just above the Pagoda, Goforth said. Over time, plants sprout from between them, creating a kind of natural retaining wall.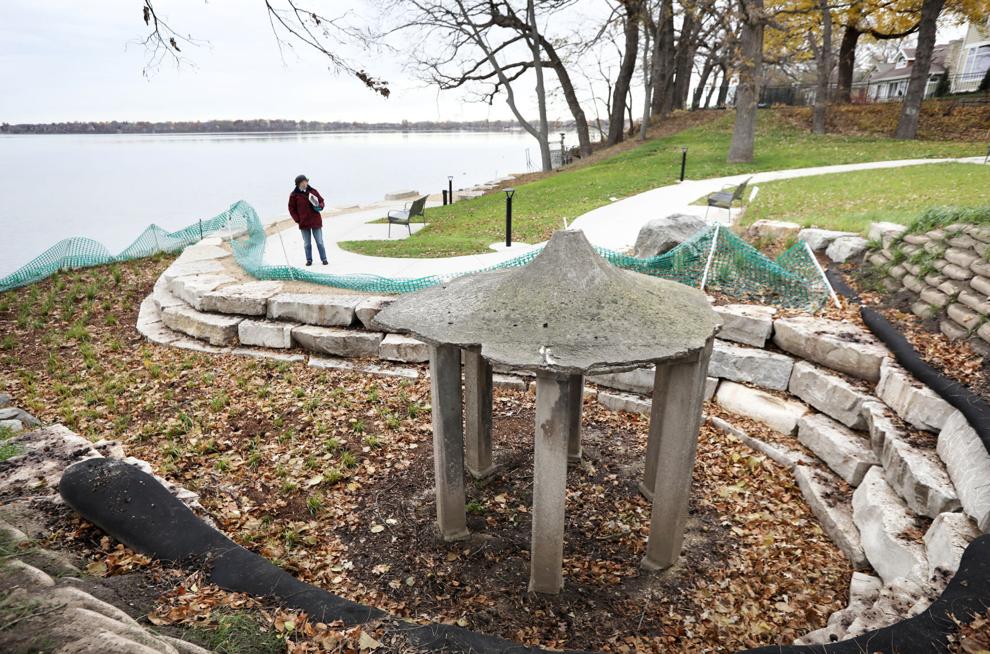 Out of sight ...
Goforth and Mayor Mary O'Connor said that if the city decides the pagoda isn't worth saving, it can't just be left to crumble because of the danger that, in crumbling, it could hurt someone.
So far there isn't a lot of evidence that residents would much mind seeing it bulldozed, presuming they know it exists.
"A lot of people have an emotional connection and it's been there so long," Goforth said, but only Waidelich has spoken in favor of saving it before Landmarks, and Goforth had only heard from one other person who wants it preserved.
There's "not a huge public outcry," O'Connor said. "I think a lot of people don't know it's there."
She said a group of residents once suggested moving it closer to the road, but that would defeat its purpose — to protect the spring. Goforth said it's not generally considered best practice in historic renovation to create a replica of a historic structure to replace the original structure.
O'Connor, who said she's been interested in doing something about the pagoda since she served on the City Council and Landmarks, said part of the problem in restoring it is that no one's entirely sure what went into the concrete mixed more than 130 years ago or what kind of skeletal structure it was applied to, although she said there may be chicken wire involved.
She said she was waiting to see the results of the most recent assessment before taking a position on whether to save it, but that if it's removed, something would be put in its place to mark the spot's role in the area's history.
---
Here are all the Madison-area athletes who committed to play college sports this week
DeForest
Max Weisbrod, Northern Michigan University, men's basketball
Deven Magli, University of Wisconsin, football
McFarland
Zach Nichols, University of Missouri-Kansas City, men's soccer
Jaelyn White, UW-Green Bay, women's soccer
Maddy Fortune, UW-Stevens Point, women's volleyball
Grace Breuchel, Viterbo, women's soccer
Elise Gillen, Edgewood, women's soccer
Madison Edgewood
Abby Reid, University of Wisconsin, women's swimming
Anna teDuits, University of Wisconsin, women's swimming
Natalie Ring, Marquette University, women's volleyball
Ally Barth, North Dakota State, women's volleyball
Brynn Leonard, Gonzaga University, women's rowing
Jackson Trudgeon, University of Wisconsin, football 
Katie Stigsell, Old Dominion University, women's lacrosse
Colin Senke, University of Wisconsin, men's swimming
Amber Grosse, UW-La Crosse, women's track and field
Madison West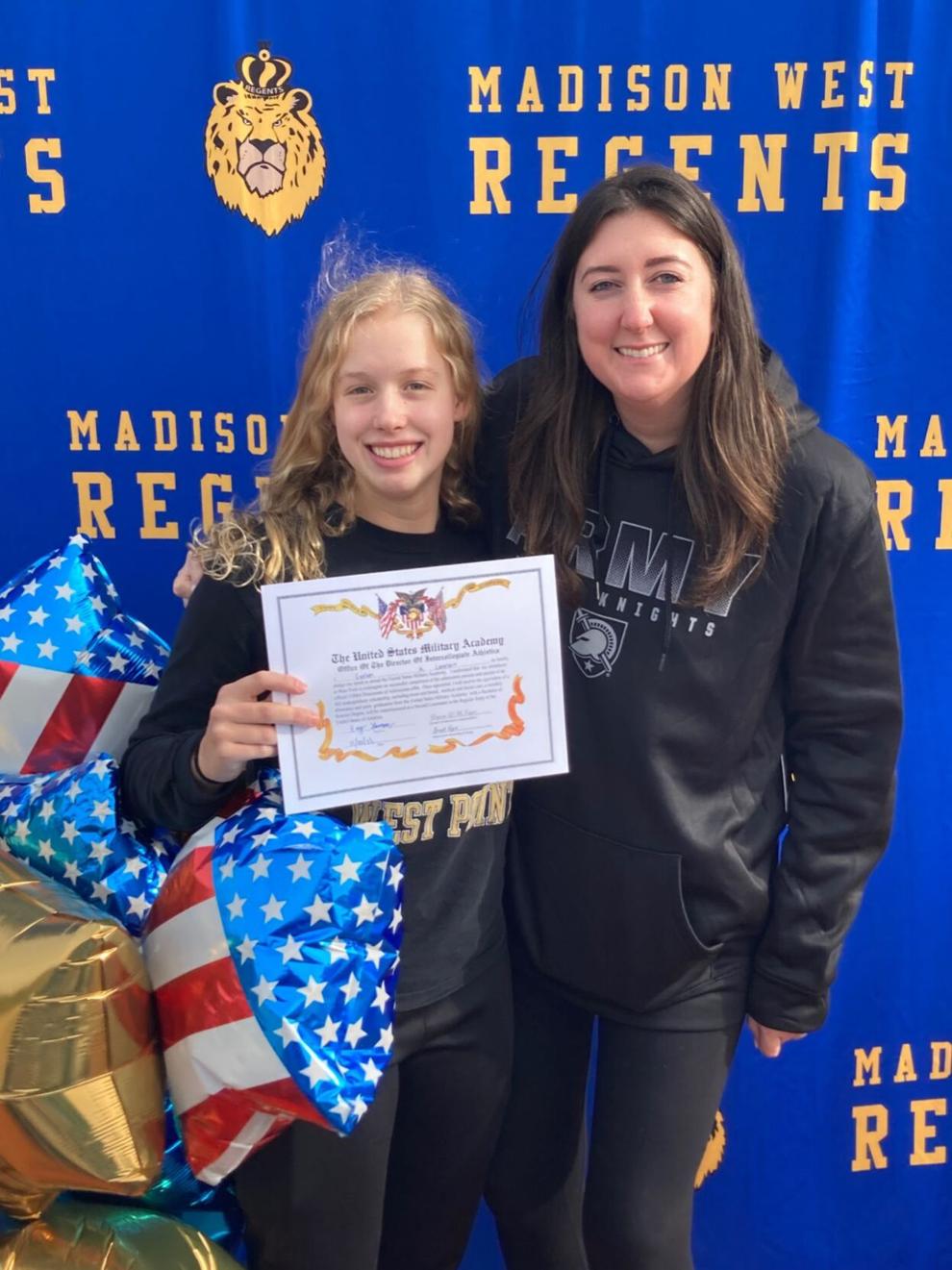 Evy Laursen, Army West Point, women's swimming
Middleton
Robert Erickson, Milwaukee School of Engineering, baseball
Preston Roell, Rock Valley, baseball
Easton Zempel, Winona State University, baseball
Ellie Frisch, UW-Green Bay, women's golf
Stephen Paulsen, Macalester College, baseball
Kylie Hellenbrand, UW-Platteville, women's soccer
Molly Haag, Kenyon College, women's swimming
Maddie Ruszkiewicz, University of Colorado-Colorado Springs, women's cross country/track
Lauren Pansegrau, University of Michigan, women's cross country/track
Griffin Ward, University of Minnesota, men's cross country/track
Elijah Gray, Winona State, football
Caden Gmur, UW-Eau Claire, football
Cole Toennies, University of Wisconsin, football
Jack Alexander, Augustana, football
Monona Grove
Paige Hanson, UW-Green Bay, softball
Karlie McKenzie, Kaskaskia College (Ill.), softball
Avery Poole, UW-Oshkosh, women's basketball
Emily Clevidence, Millikin University (Ill.), women's basketball
Emma Dyer, Aurora University (Ill.), women's basketball
Stoughton
Ava Loftus, Minnesota State-Moorhead, women's basketball
Adam Slager, Marquette University, men's lacrosse
Cambelle Christensen, University of Minnesota-Duluth, women's soccer
Sun Prairie
Sienna Rolling, Lee College, women's volleyball
Davis Hamilton, North Dakota State University, baseball
Wyatt Christensen, William Penn, men's lacrosse
Ethan Petsch, UW-Whitewater, baseball
Addison Ostrenga, University of Iowa, football
Evan Malcore, Northern Illinois, football
Nick Oehrlein, UW-Oshkosh, football
Isaac Hamm, University of Wisconsin, football
Verona
Claudia Bobb, Southern Illinois University, women's volleyball
Delaney McIntosh, Colorado State University, women's volleyball
Waunakee
Lauren Meudt, University of Illinois-Springfield, women's basketball
Lexis Savola, Northern Michigan University, women's soccer
Ashley Sawicki, St. Cloud State, women's basketball
Ava Bryan, Loyola University Chicago, women's soccer
Andrew Keller, Iowa State, football
Baylor Smith, UW-Platteville, men's cross country
Brayden Olstad, Le Moyne, men's lacrosse
Kaden Hooker, UW-Parkside, men's wrestling
Alexis Daugrid, University of South Carolina, equestrian
Alexa Berg, Sewanee University of the South, women's lacrosse
Jack Dotzler, Iowa, football 
Andrew Keller, Iowa State, football