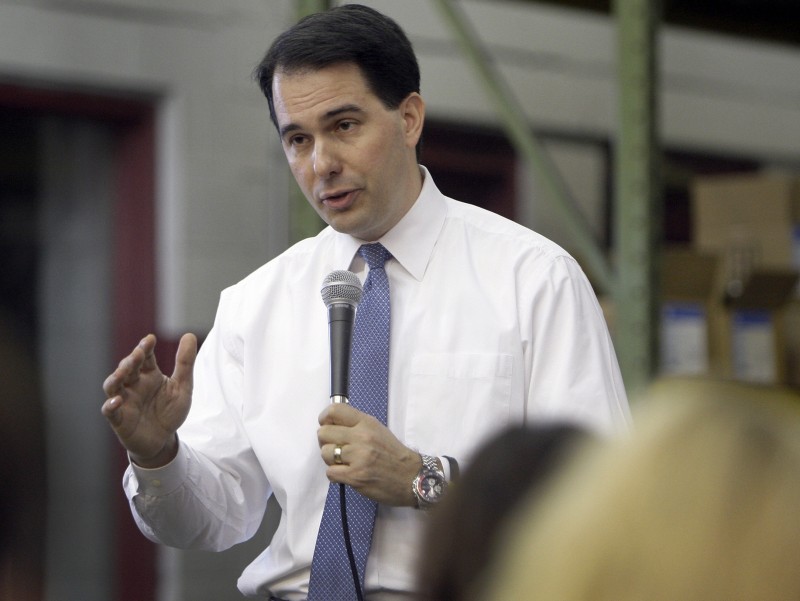 MILWAUKEE — A day after investigators accused his former top aides of using a secret computer system to do political work on the taxpayers' dime, Gov. Scott Walker denied knowledge of illegal activity taking place during his time as Milwaukee County executive.
"I think it's very clear when all this is done, no matter how much time it takes — and again, my campaign has been involved in cooperating with them for more than a year — but I have every confidence that when this is completed, people will see that our integrity remains intact," Walker said.
It was the first time he spoke publicly about the allegations unveiled Thursday by Milwaukee County District Attorney John Chisholm, the latest charges in a nearly two-year-old investigation into Walker's former and current aides.
The two former staffers charged, Kelly Rindfleisch, 43, and Darlene Wink, 61, are accused of crimes linked to illegal campaign activities while they pulled double duty as Milwaukee County employees and campaign workers. Both are accused of doing political work while being paid by tax dollars. Walker said Friday that his staffers knew such activities were prohibited.
"Throughout all my time as the Milwaukee County executive, I had an expressed and clear policy that county employees — in my office, in my Cabinet, elsewhere — were prohibited from using county resources or county time to be involved in political activities," Walker said.
The governor's critics pounced on the revelation that, according to investigators, a group of Walker "insiders" used laptops and a secret Internet and email system to circumvent campaign laws and perform political activities to evade discovery from authorities.
"This was a shadow government meant to further the political career of Scott Walker," said Graeme Zielinski, spokesman for the Democratic Party of Wisconsin. "All of them knew what was right and what was wrong, and they chose the crooked path."
The governor addressed the investigation during a visit to Tool Service Corp. in Milwaukee, where he went to promote his job creation plans. During his visit, Walker told reporters that his office took action as soon as it learned of Wink's activities by asking her to resign.
"We had an expressed policy (and) we enforced it with individuals," Walker said.
The governor reiterated that his staffers have been cooperating with prosecutors and said he did not believe he was the target of the ongoing John Doe investigation.
But Democrats on Friday accused the governor of being either willfully ignorant or complicit in the crimes alleged by prosecutors. Some pointed to an email between Walker and his one-time deputy chief of staff, Tim Russell, as an admission on Walker's part.
In the email, Walker discusses the resignation of Wink, who was asked to leave her county job after admitting to the Milwaukee Journal Sentinel that she frequently posted political comments online during working hours.
"We cannot afford another story like this one," Walker wrote. "No one can give them any reason to do another story. That means no laptops, no websites, no time away during the work day, etc."
Zielinski called that "a clear admission that Scott Walker knew what was going on."
Wink has reached a tentative settlement with prosecutors, under which she has agreed to plead guilty to misdemeanor charges and provide information in a related investigation into possible destruction of digital evidence, and to cooperate in further prosecutions and proceedings.
The settlement, outlined in a letter from prosecutors to her attorney, was the first hint that the sprawling investigation may also involve tampering with or destroying evidence.
Russell, who has already been charged in the John Doe, set up the secret system and kept it hidden from county rank and file workers, according to one of the criminal complaints. Rindfleisch, who succeeded him as deputy chief of staff, was a frequent user of the system, which was housed in her office down the hall from Walker's office, prosecutors said.
"It is just not believable that this all happened 25 feet away from his office and he didn't know about it," Zielinski said.
When asked Friday about the computer system and proximity of staff, Walker cited the ongoing investigation and his campaign's cooperation, adding that he was "really not in a position to comment in much more detail."