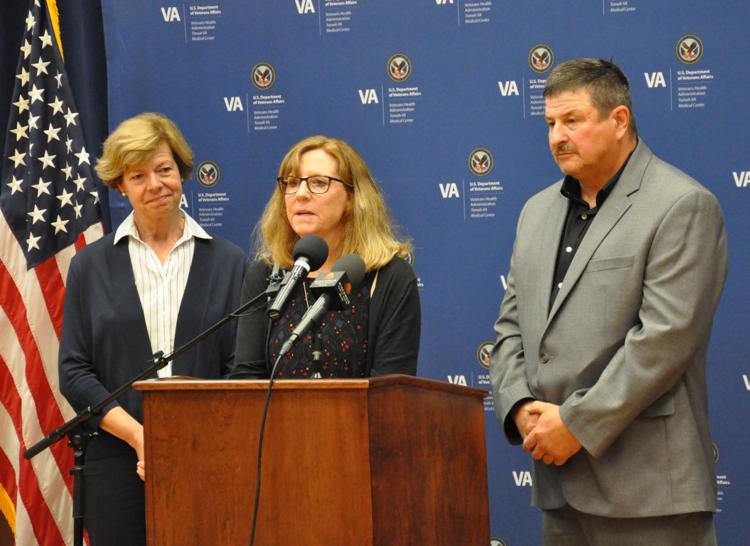 Robert Wilkie's father served in the U.S. Army's 82nd Airborne Division and jumped out of airplanes during two tours of Vietnam. The physical toll was immense: two new hips, two new knees, a bad back and a lifetime of pain.
"The old way of doing business was to give him a bottle of pills and say, 'Thank you very much,'" Wilkie said.
Wilkie said times have changed. As the U.S. Secretary of Veterans Affairs, he toured the Tomah Veterans Administration Medical Center Tuesday and spoke of the facility's efforts to alleviate pain without the devastating side effect of drug addiction.
He was joined by Wisconsin U.S. Sen. Tammy Baldwin, D-Madison, and Marv and Linda Simacakoski, parents of Jason Simacakoski, a Tomah VA patient who died of a drug overdose while being treated by the Tomah VA in 2014.
Jason Simacakoski's death triggered an investigation of how opioids were administered in Tomah and led to the resignation of the facility's director and medical chief of staff. It also led to legislation that overhauled how VA hospitals treat pain and administer prescription drugs.
Wilkie said the Tomah VA has been at the forefront of the "whole health" approach that seeks alternatives to drug therapy and makes patients active participants in their treatment. It includes a wide range of therapies, including enhanced nutrition, physical therapy, exercise, yoga, aromatherapy and tai chi.
"In my father's day, that would have been unfathomable," Wilkie said. "I'm not exaggerating when I say that the change began here ... this place went from turbulence to transformation."
President Barack Obama signed the Jason Simcakoski Memorial Opioid Safety Act in 2016, and Baldwin said President Donald Trump has supported its implementation "wholeheartedly." She said Tomah has become a "flagship medical center" for pain treatment and that other VA hospitals are following Tomah's reforms.
"We want to see the type of reforms that have happened in this VA hospital happen in every medical center in the VA system," Baldwin said.
She also said it's important to make sure that civilian hospitals apply what the VA has learned.
Linda Simacakoski said she's gratified that veterans are receiving more effective pain therapy. Her family launched the Jason Simcakoski Foundation, which seeks to help veterans facing addiction and mental health issues.
"Something bad happened, but we're trying to make the best of it for other people," she said.
Wilkie said the VA is still trying to stem the tide of suicide among veterans, who take their own life at twice the rate of civilians. He said 70 percent of veterans who commit suicide aren't connected to the VA system.
"We have to go out and find them, change the culture and encourage them to come in and talk," Wilkie said.
Get Government & Politics updates in your inbox!
Stay up-to-date on the latest in local and national government and political topics with our newsletter.