Theater student Chasten Buttigieg grew accustomed to being in the spotlight as a regular performer in plays at UW-Eau Claire.
But the audience size has increased exponentially for his latest role.
Chasten, the husband of Democratic presidential candidate Pete Buttigieg, is hoping to break ground by becoming the nation's inaugural first gentleman.
Indeed, the August 2014 graduate of UW-Eau Claire and his spouse, the mayor of South Bend, Ind., were pictured on the cover of the May 13 issue of Time magazine under the headline "First Family."
Chasten, whose last name was Glezman when he studied theater and global studies at UW-Eau Claire, has been no shrinking violet in the early days of the campaign. He has amassed 323,000 followers on Twitter, generated significant media coverage in his own right and been a fixture alongside "Mayor Pete" on the campaign trail.
"Chasten's humor and openness have been his defining features since the national spotlight found him and 'Mayor Pete' earlier this year," a Washington Post profile said recently. "It has made him a force on Twitter ... and a not-so-secret public-relations weapon for his husband."
Business Insider declared last month: "The 29-year-old junior high school teacher's wit, intimate social media musings, and polished speeches have prompted glowing media coverage and declarations that he's 'winning the 2020 spouse primary.' "
Chasten uses his social media accounts to share photos of the couple's dogs, talk "Game of Thrones" and poke fun at the campaign lifestyle and even his husband, such as in this tweet last week, "tfw (that face when) you buy a pint of ice cream for date night but the husband only brings you one scoop in a bowl," over a photo of an appalled actress.
None of this comes as any surprise to his former adviser and play director Jennifer Chapman, associate professor of theatre arts and theatre program coordinator at UW-Eau Claire.
"I would say that his humor and the lightness that he expresses in such short little blips on Twitter are just him," Chapman said. "That is the exact same person that I know. That's not a performance or some highly cultivated image that emerged from a petri dish."
The Washington Post even mused that "sometimes it seems like (Chasten) is having more fun than anyone else on the campaign trail" before quoting him acknowledging the pressure that goes along with his latest role
"There's so much more on the line than, 'Man, I don't want to forget a line and mess up the show.' It's like, 'Oh, I don't want to say the wrong thing and ruin my husband's political career,' " Chasten told the Post.
Sharing their stories
Chapman is particularly impressed with the Buttigiegs' willingness to be open and honest about their personal lives, knowing that some people won't like or accept them.
"I think they are very brave," she said. "They are ordinary people who have really offered themselves to the American people."
Their courage goes beyond the presidential run, which could be daunting enough, Chapman said.
"What's unique about Pete and Chasten is that they are using this campaign as an opportunity to make their own identities visible and tell their own personal stories so America gets to see two young gay men who have overcome obstacles," she said.
Chasten told the Washington Post about being bullied and called homophobic slurs while attending a high school in Traverse City, Mich., with zero students who openly identified as LGBTQ.
In a speech last month at a Human Rights Campaign annual banquet in Houston, Chasten shared his poignant coming-out story.
Though he reported having a great relationship with his parents now, Chasten told the crowd how he didn't feel welcome at home after working up the courage to tell his parents he was gay at age 18.
"Eventually, I thought to myself, I can't be here anymore, so I moved out without a plan," Chasten said, detailing how he was scared and homeless, living between his car and friends' couches.
True to his personality, however, Chasten also laced the presentation with campaign humor.
"Never underestimate what can happen when you agree to go on a date with a cute guy from South Bend, Ind.," Chasten quipped. "Truthfully, being Pete's husband has already been the adventure of a lifetime. I now live in a world where people take photos of me in the deodorant aisle at the grocery store."
After pointing out how much progress gay Americans have made in the past decade — achieving marriage equality and ending the military's don't ask, don't tell policy regarding homosexuality — Chasten pointed out that safety of LGBT Americans remains an issue and that protections vary from state to state. That problem could be solved, he said, if Congress passes the Equality Act, a bill seeking to amend the Civil Rights Act to prohibit discrimination on the basis of sexual orientation and gender identity.
"We need someone in the White House who will sign the Equality Act into law, and, luckily, I know a guy," Chasten said, eliciting laughs from the crowd.
People person
Back in college, Chasten starred in several plays, including "Anatomy of Gray" and "Fuddy Meers," both of which Chapman directed.
In addition to being funny and talented, Chasten was good at rallying people and including everybody in the room, Chapman said. She also recalled that Chasten had a particular interest in theater education and joined her on a tour of elementary schools and at an American Alliance for Theater in Education national conference.
Chasten went on to work for theater education organizations in Milwaukee and Washington, D.C., and earn a master's degree at DePaul University. He taught humanities and drama at a Montessori middle school in Indiana before taking a leave of absence to join Pete on the campaign trail, according to a profile in the Indianapolis Star.
Chasten and Pete met on the dating app Hinge in 2015. They got married in June 2018 at the Cathedral of Saint James Episcopal Church in South Bend. Chapman met Pete for the first time while attending the wedding and said he, too, seemed the same in person as he appears on the news.
Chapman said she believes Chasten's public presence is "terrific publicity" for UW-Eau Claire because her friend and former student is displaying, for the world to see, the leadership, interpersonal and problem-solving skills the university seeks to impart to its liberal arts students.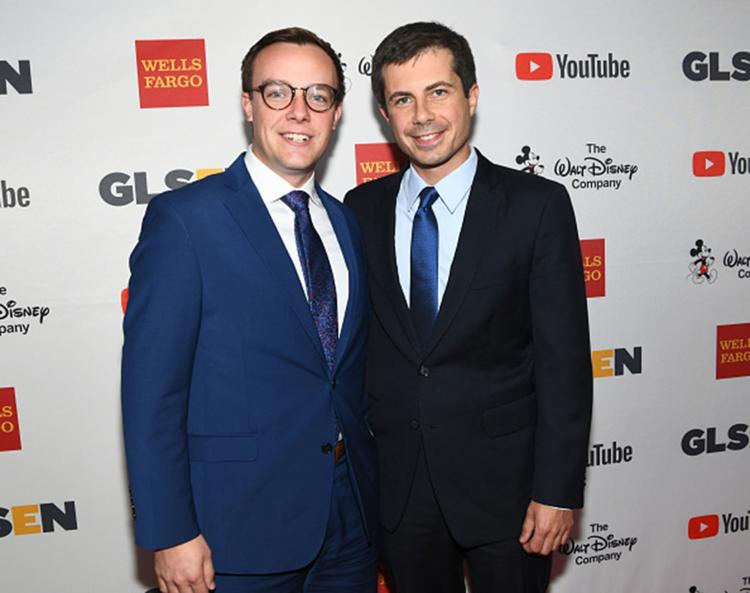 Election challenge
Though Time called Pete, 37, the first openly gay person to make a serious bid for the presidency and the "early breakout star" of the 2020 Democratic presidential primary, the November 2020 election is still 18 months away — an eternity in politics. And some question whether Americans are ready to send a gay couple to the White House.
Chapman, for one, maintained the question is problematic and said choosing a president should be about the person's vision for the future rather than his or her sexual orientation.
U.S. Rep. Ron Kind, D-La Crosse, agreed, saying, "If a candidate is qualified and can do a good job, then why not, whether it's a woman or someone who is gay."
Kind said Pete is an intriguing candidate because he's young, forward-looking, a military veteran and a mayor in a red state with a record of getting people to work together to get things done. That's a style that could appeal to voters at a time of constant polarization, Kind said.
Research shows that a candidate's homosexuality might not be near the hurdle it once was, especially with younger voters, said Peter Hart-Brinson, an associate professor of sociology at UW-Eau Claire and the author of a recent book that explores the nation's shift in thinking about gay marriage.
In his book, "The Gay Marriage Generation: How the LGBTQ Movement Transformed American Culture," Hart-Brinson shares his historical analysis of gay marriage as well as stories gleaned from nearly 100 interviews with two generations of Americans about their views of gay marriage.
His conclusion: Young people generally understand homosexuality as part of someone's identity, much like their race, while older Americans tend to think of it as a lifestyle choice, much like gambling. He classifies the younger generation as those reaching adulthood in the early 1990s or later.
Those generational attitudes cut across race, religion and even political beliefs, Hart-Brinson said, noting that polls now show about 70 percent of Americans support gay marriage.
"For most Americans, because they see homosexuality as being like race, they really wouldn't see a vote for Pete Buttigieg as much different than a vote for Barack Obama," elected the nation's first African-American president in 2008, said Hart-Brinson, who just learned last week about Chasten's UW-Eau Claire connection.
"In a crowded Democratic field, what's going to matter will be how much a candidate can excite the voters," he said. "It won't have to do with his sexuality, but with what he says and how that resonates."
If Hart-Brinson is right, then it's possible Chasten could complete the improbable journey, in barely over a decade, from being homeless to living in the White House.
As Chasten said in his Human Rights Campaign speech, "I could be the first man in history to pick out the White House china."