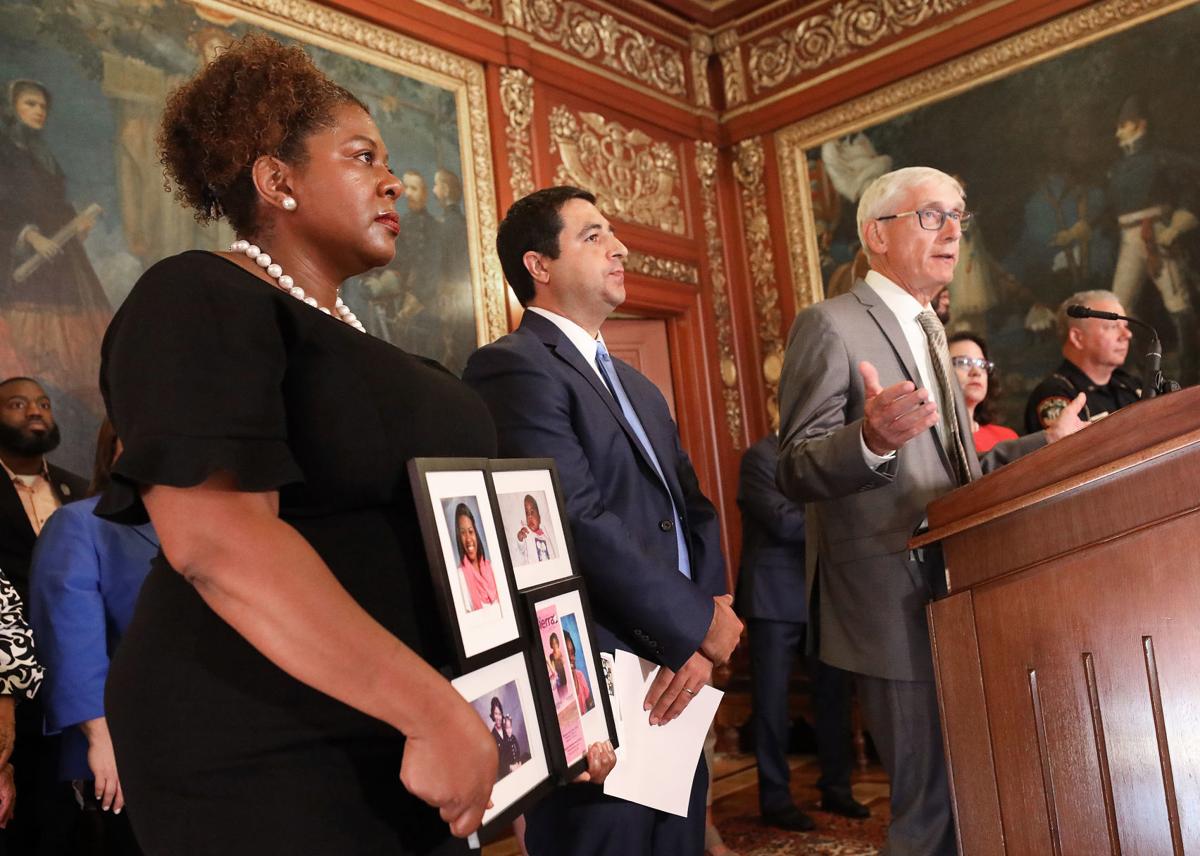 Two decades after the Columbine High School massacre and just weeks after twin mass shootings in Ohio and Texas, there is little to indicate Wisconsin lawmakers will adopt any significant measures in an effort to help stem the American gun violence epidemic.
Rather, the gun debate in Wisconsin that has ramped up after each major American mass shooting over the past two decades typically fizzles out with the response from lawmakers falling along predictably partisan lines. So far, there are few signs pointing to a different outcome.
"It's important to recognize there's a pattern here," said UW-Madison journalism professor Dhavan Shah. "We see this with (U.S. Senate Majority Leader) Mitch McConnell right now. He'll probably slow walk any legislation regarding gun control for it to end and the calls to fade, and it'll have a vote in the Senate and it'll fail."
In Wisconsin, gun-control advocates have called for enhanced measures they say will curb gun violence, only to see their appeals largely dismissed. After this month's gun tragedies, Democrats want universal background checks and measures requiring firearm surrender for those perceived to be dangerous, but Republican lawmakers and some researchers aren't convinced such proposals would do anything meaningful to prevent gun homicides.
Road to nowhere
Since the Columbine tragedy in 1999, which claimed the lives of 13 people and injured more than 20 others, the debate over gun control in Wisconsin has come in a variety of flavors.
In the weeks following the dual massacres in El Paso and Dayton this month, Gov. Tony Evers, fellow Democrats and gun-control advocates called on lawmakers to implement universal background checks and a so-called "red flag" law, or extreme risk protection order, which would require a person perceived to be a threat to surrender his or her firearms. Connecticut in 1999 became the first state to implement red-flag laws. Currently, 17 states and the District of Columbia have implemented a version of the measure.
So far, Republicans have expressed concern toward both measures, contending red-flag laws may violate due process and universal background checks the Second Amendment. Instead, they've doubled down on defending gun rights while emphasizing the need to focus on mental health.
Immediately after Columbine, lawmakers of both political stripes in Wisconsin offered legislation addressing school safety. Democrats called for a school safety plan that would require schools to develop safety plans and report all incidents of violence. Republicans pressed for a toll-free hotline for students to report guns in schools, but also introduced legislation that would provide gun manufacturers limited immunity from lawsuits when their guns are used to kill people.
Nearly 20 years later, in 2018, school safety would again become a focus when former Republican Gov. Scott Walker called a special session of the Legislature to pass a $100 million school safety package in the wake of the Parkland, Florida, school shooting.
After Columbine, then-Attorney General Jim Doyle, a Democrat who later became governor, went further, proposing to raise the legal age for owning or buying a gun from 18 to 21. He also called for more police officers in schools. Some Republicans, meanwhile, turned their focus to anti-violence measures, calling for parents to filter their children's use of the internet and even proposing a bill that would ban violent music for young people.
After the mass shooting at Virginia Tech in 2007, which killed 32 people, the political conversation turned toward mental health and regulations for gun sales. Sen. Alberta Darling, R-River Hills, introduced a bill meant to allow the state to send information from mental health rulings to the National Instant Criminal Background Check System. A version of the bill passed in 2009.
Doyle, by then governor, called for eliminating a loophole allowing gun purchasers to circumvent background checks at gun shows. He also pushed for a bill that would have increased monitoring of people who have been civilly committed or prohibited from using or obtaining a firearm.
He again proposed raising the age at which someone can purchase a gun to 21, allowing local governments to enact more stringent gun ordinances, and banning the possession and purchase of firearms for people convicted of misdemeanors involving firearms.
His push made little headway. Wisconsin still does not regulate gun shows, nor have lawmakers implemented statewide monitoring for subjects of restraining orders, which Walker called for in 2012.
In 2012, lawmakers again were obliged to respond after mass shootings at Sandy Hook Elementary School in Connecticut and in Wisconsin, where shootings occurred at a Sikh temple and at a spa.
Democrats proposed outlawing assault rifles and certain ammunition, requiring mental health evaluations for concealed carry permits and requiring background checks for gun show sales. Walker emphasized help for mentally troubled individuals and increased monitoring for subjects of domestic violence restraining orders, but stopped short of calling for measures that would expand background checks or limit the types of weapons sold.
After the high school shooting in Parkland, Florida, which killed 17 people, lawmakers passed Walker's $100 million school safety package, but stopped short of imposing tighter controls on gun ownership, as Democrats wanted, or arming teachers, as some Republicans wanted.
Proposals questioned
After this month's shooting rampages, Democratic lawmakers are repeating calls for universal background checks and red-flag laws, while Republicans have largely distanced themselves from gun-control measures, instead advocating for gun rights and addressing mental health issues.
Experts such as Cassandra Crifasi, deputy director of the Johns Hopkins Center for Gun Policy and Research, say mental health shouldn't be part of the debate over gun violence. She said people with mental illness are far more likely to be victims of violent crime than perpetrators. She said only about 4% of violence in the U.S. can be attributed to those with diagnosed mental illness.
Just because somebody commits a violent act does not necessarily mean they are mentally ill, she added.
"Bringing up mental illness as the cause of gun violence or mass shootings gives people the ability to distract from their responsibility to have a reasonable conversation about gun violence," she said.
Senate Majority Leader Scott Fitzgerald, R-Juneau, said he would be open to expanding a law already on the books that prohibits the possession of a firearm for those enjoined under a restraining order or injunction for domestic abuse, child abuse, harassment or elder abuse.
Research is mixed on the effectiveness of universal background checks and nascent on red-flag laws as standalone measures. Experts on gun violence prevention instead say a combination of gun-control measures is a proven and effective deterrent.
"It's not going to be one policy that's the solution," Crifasi said. "We're going to have to come up with a range of policies because there are different facets to gun-related deaths."
Key 'foundation'
Crifasi said universal background checks are "a really important foundation" for other measures to work, but that background checks by themselves are insufficient. Among the most effective measures, she said, are universal background checks accompanied with a licensing system for gun owners. Such systems typically require an in-person application at law enforcement agencies before someone purchases a gun.
Such systems often require fingerprinting to ensure the identity of the gun purchaser, which can help prevent fraud, Crifasi said. Such systems also have a "built-in accountability system," she said, since guns can only be transferred to those who have a license. That could dissuade gun owners from transferring their guns to people who aren't licensed because they could be held liable in the commission of a crime.
In states with background checks and licensing systems, researchers have found reductions in firearm homicide, suicide, deaths of law enforcement officers and guns used for crime.
Crifasi said the research on red-flag laws is too early to provide a definitive answer on their effect, although early evidence shows reductions in suicide by firearm in the states that have implemented the laws.
Enhanced focus
David Keck, an attorney and project director for the Battered Women's Justice Project, said red-flag laws have one benefit when compared to gun prohibition through restraining orders and injunctions: the entire focus of a red-flag court hearing is gun possession, while that factor is secondary in hearings for restraining orders.
"There's less reluctance to follow through with actually seizing firearms or ordering the surrendering of firearms in extreme risk protection orders, or red-flag laws, than there is in domestic violence protection orders," Keck said.
Jeri Bonavia, executive director of the Wisconsin Anti-Violence Effort, which promotes gun-control measures, said she supports Fitzgerald's proposal if gun possession prohibitions are extended to cover crimes that research shows are associated with a likelihood of committing future violence. Such crimes, she said, include violent misdemeanors and violence toward animals.
Crifasi added that such laws could be expanded to include restraining orders against dating partners to reduce intimate partner homicide.
Currently, federal law only generally prohibits gun possession for those convicted of domestic violence misdemeanors, those determined to have a severe mental illness and those convicted of crimes punishable by more than year in prison.
Gun-control advocates say few measures will be effective if prohibited purchasers can evade the background check system through private sellers.
"It's not going to be one policy that's the solution." Cassandra Crifasi, deputy director of the Johns Hopkins Center for Gun Policy and Research
"It's not going to be one policy that's the solution."

Cassandra Crifasi, deputy director of the Johns Hopkins Center for Gun Policy and Research
Get Government & Politics updates in your inbox!
Stay up-to-date on the latest in local and national government and political topics with our newsletter.