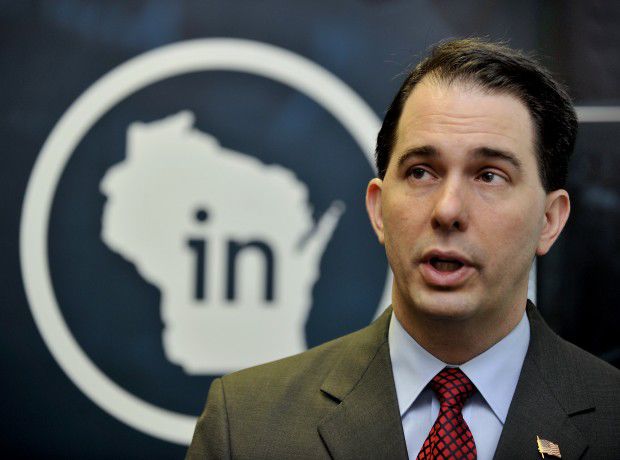 Wisconsin's flagship jobs agency has routinely failed to follow state laws, didn't track loans and awarded money to ineligible projects, a scathing audit released Wednesday found.
Auditors also said employees of the Wisconsin Economic Development Corp., a quasi-private entity, made a number of questionable and unexplained purchases, including season tickets to UW-Madison football games and iTunes gift cards, and contracted for services without conducting open and competitive selection processes.
The nonpartisan Legislative Audit Bureau said WEDC, which was launched by Republican Gov. Scott Walker nearly two years ago, needs to overhaul numerous policies and should report back to the Legislature's audit committee later this year.
The agency has struggled with problems since its creation and, in the wake of the audit, some Republican lawmakers joined with long-time Democratic critics in calling for action.
Sen. Robert Cowles, R-Green Bay, co-chairman of the audit committee, said WEDC needs to immediately fix its problems.
"This audit shows there is a significant disconnect between our expectations of WEDC and the reality of their performance with regard to transparency and accountability," Cowles said. "WEDC needs to take this audit seriously and correct these deficiencies immediately. There is no excuse for breaking state statutes."
Democratic lawmakers said Wednesday they warned more than two years ago of potential problems with the agency, which Walker created to lead his efforts to help create 250,000 private sector jobs by 2015.
"This is what we were saying from the beginning when this was coming through the Legislature is (that) there needs to be more accountability; there needs to be more reporting. We need to be able to know what's going on," said Senate Minority Leader Chris Larson, D-Milwaukee. "When you create a pseudo-government corporation, you want to make sure that you're having the benefits of both, not the downsides of both. But it looks like they've inherited the downsides of it. They've got all of the bureaucracy with none of the oversight."
But Walker spokesman Tom Evenson said many of the issues in the audit have already been addressed.
"This audit dates back to 2011 and largely reflects information that WEDC has known for some time," Evenson said. "This new agency has taken proactive and positive measures to address its issues, and Gov. Walker is confident in the direction of WEDC as an agency that aims to promote job creation and economic growth for Wisconsin."
Last fiscal year, WEDC spent about $80.1 million, auditors said. The public-private entity administered 30 economic development programs and authorized local governments to issue $346.4 million in bonds, awarded $41.3 million in grants and $20.5 million in loans, and provided $110.8 million in tax credits, according to the audit.
Auditors found a number of serious problems with the agency, among them that WEDC didn't have sufficient policies — including some that were statutorily required — to administer its programs effectively. It also found that WEDC awarded some money to ineligible recipients, for ineligible projects, and for cash amounts that exceeded specified limits.
Problems auditors found included:
Among unexplained transactions were six season tickets to UW-Madison football games and four iTunes gift cards.
Information provided by WEDC indicates that 59 award recipients submitted just 45 percent of their contractually required progress reports.
The report WEDC submitted in November 2012 to the Legislature about its economic development programs, which is supposed to include information about expected and actual program outcomes, did not contain all of the required information, contained some inaccurate information, and did "not clearly present information about the number of jobs created and retained as a result of the programs."
WEDC had incomplete policies pertaining to staff acceptance of gifts from businesses and other organizations. Auditors said WEDC reported 40 gifts worth a total of about $55,000 between July and December 2011. More gifts provided in 2012 included Amazon gift cards and personal items, the audit said.
Before contracting with Baker Tilly in May 2012 to help improve its IT systems, WEDC didn't solicit proposals from other companies and, as a result, didn't require Baker Tilly to disclose potential conflicts of interest. Auditors said they found seven potential conflicts of interest with Baker Tilly. A spokeswoman for Baker Tilly couldn't be reached immediately for comment.
WEDC contracted with Schenck SC to conduct an audit while Schenck was representing a company and negotiating a financial award for it with WEDC. William Goodman, Schenck's president, said the company stood by its professional conduct and findings about WEDC. "We're very confident that our services to WEDC comply with our professional code of conduct," Goodman said. "We stand by our audit opinion on the WEDC financial statements and our resultant findings that were previously published."
Assembly Minority Leader Peter Barca, D-Kenosha, said the audit's findings help explain why Wisconsin is lagging in job creation, noting the state ranks 44th in the nation when it comes to creating jobs.
"Up until now it has been a complete failure," Barca said of WEDC. "Ultimately, the buck should stop with the governor."
He said WEDC should have no more than one year to correct its problems before the effort is abandoned and replaced with the former state Department of Commerce model.
But Reed Hall, the CEO and secretary of WEDC, said in a letter to auditors and again in an interview that agency leaders have already begun implementing changes and working on improvements. He said there were no "intentional violations" of state statutes and said the problems at WEDC were internal issues that were not hurting Wisconsin businesses.
"I don't think that our operations are doing anything but helping to create jobs in Wisconsin," Hall said in an interview.
Hall added WEDC shares auditors' concerns that Schenck failed to disclose it was representing a company applying for assistance from WEDC at the time it performed the audit of the agency.
"We have to be concerned about that," Hall said.
— State Journal reporter Dee J. Hall
contributed to this report.
— State Journal reporter Dee J. Hall contributed to this report.