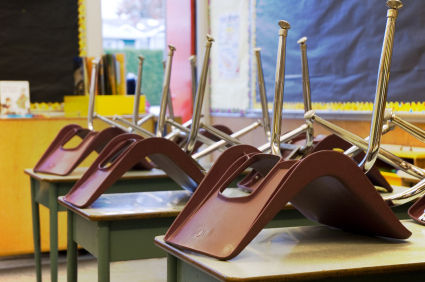 Wisconsin lawmakers have passed a bill to permit off-duty and former police officers to carry guns on school premises.
The Senate voted 22-11 to pass the measure Tuesday. The Assembly followed suit shortly thereafter on a voice vote with no debate. The bill goes next to Gov. Scott Walker.
Walker spokeswoman Laurel Patrick said the governor will evaluate the bill.
Current state law generally prohibits a person from possessing a firearm on the grounds of a school or within 1,000 feet of the grounds of a school.
An exception already exists for police officers who are on duty. The bill that passed the Legislature on Tuesday would create exceptions for off-duty and former police officers.
The Senate bill passed with all Republicans voting in favor. Three Democratic senators broke with their party to support the bill: Janet Bewley of Ashland, Julie Lassa of Stevens Point and Kathleen Vinehout of Alma.
The bill's Assembly author, Rep. Joel Kleefisch, R-Oconomowoc, told reporters before today's Assembly session that he has children in public schools. Under current law, Kleefisch said the only person who would bring a weapon into their school is someone who wishes to do harm.
"I'd feel a heck of a lot better if there were an off-duty law enforcement officer on those school grounds who has a weapon with them and has been trained and can protect my kids," Kleefisch said.
The Senate tabled a proposed amendment to the bill that would require school principals to be notified that the firearm would be brought into their school.
Dan Rossmiller, government relations director of the Wisconsin Association of School Boards, said his association had hoped to see such a provision included in the bill.
Rossmiller said the school boards association had mixed views on the bill. The association supported an exception for off-duty police officers but had reservations about one for former officers, he said.
SAGE program
The Assembly passed a bill that would end Wisconsin's SAGE program.
The Student Achievement Guarantee Program provides aid to schools that maintain an 18-to-1 or 30-to-2 teacher-student ratio for poor students in kindergarten through third grade. Schools enter into five-year contracts under the program.
The bill would prohibit new SAGE contracts or renewals beyond one-year extensions for deals expiring at the end of this school year. The measure would create a program called Achievement Gap Reduction. That program would allow existing SAGE schools to earn aid by implementing tutoring, coaching for teachers or maintaining SAGE class ratios. Unlike SAGE, all participating grades wouldn't have to meet the ratios.
The Assembly passed the bill 62-37 Tuesday. The Senate passed it in May. It goes next to Walker.
Minimum gun sentences
The Assembly passed a bill on a voice vote that would impose mandatory minimum prison sentences for violent felons who illegally possess a gun. It goes next to the state Senate.
Under the bill, that felon would face a mandatory minimum of three years in prison. If a felon uses a gun to commit a violent felony, he or she would face a mandatory minimum of five years in prison plus the three years for possession.
Felons who commit less severe violent felonies with a gun would face a mandatory minimum of three years for possession plus a minimum of 1½ to three years depending on the crime.
The mandatory sentences would end in mid-2020.
False claims


The Assembly passed a bill that would make lying about serving in the military a crime.
The Republican-authored bill would make falsely claiming military service or a military award a misdemeanor punishable by up to nine months in jail and $10,000 in fines. If someone makes those claims intending to commit or aid another crime he or she would be guilty of a felony punishable by up to six years in prison and $10,000 in fines.
The bill now goes to Walker.
Election recount fees
The Assembly approved a bill reworking election recount fees; it goes next to Walker.
Currently recounts are free if the margin is fewer than 10 votes with fewer than 1,000 votes cast or less than a half-percent in larger elections. Requesters pay $5 per ward if the margin is 10 votes in smaller elections or falls between a half-percent and 2 percent in bigger contests. Requesters pay full costs if it's greater than 2 percent.
Under the bill, recounts would be free if the margin is fewer than 10 votes with fewer than 4,000 votes or no more than 0.25 percent in larger elections. Otherwise, requesters would pay full costs.
Epinephrine injectors
Both chambers passed a bill that would allow businesses to keep a supply of epinephrine injectors to combat life-threatening allergic reactions. The measure now goes to Walker for his consideration.
Schools are already allowed to keep a supply of the auto-injectors. The bill would allow camps, colleges, restaurants and other businesses to carry and administer the drug. Under the proposal, businesses may offer the drug but aren't required to have it on hand.
Auto-injectors are used to treat anaphylaxis, a potentially life-threatening allergic reaction that causes constricted airways and makes it difficult to breathe.
Pollution limits
The Assembly passed a Republican bill that would prohibit state environmental officials from enforcing new federal pollution limits on residential wood heaters.
The U.S. Environmental Protection Agency plans to phase in regulations on pollution from new wood heaters over the next five years. Opponents fear the regulations could force smaller manufacturers to shut down.
A number of states including Missouri and Michigan have barred their environmental agencies from enforcing the regulations. The Wisconsin bill would prohibit the state Department of Natural Resources from enforcing any federal regulation that's more stringent than what was in place at the end of 2014.
The Assembly passed the bill 63-35 on Tuesday. It now goes to the Senate.
The Associated Press contributed to this report.