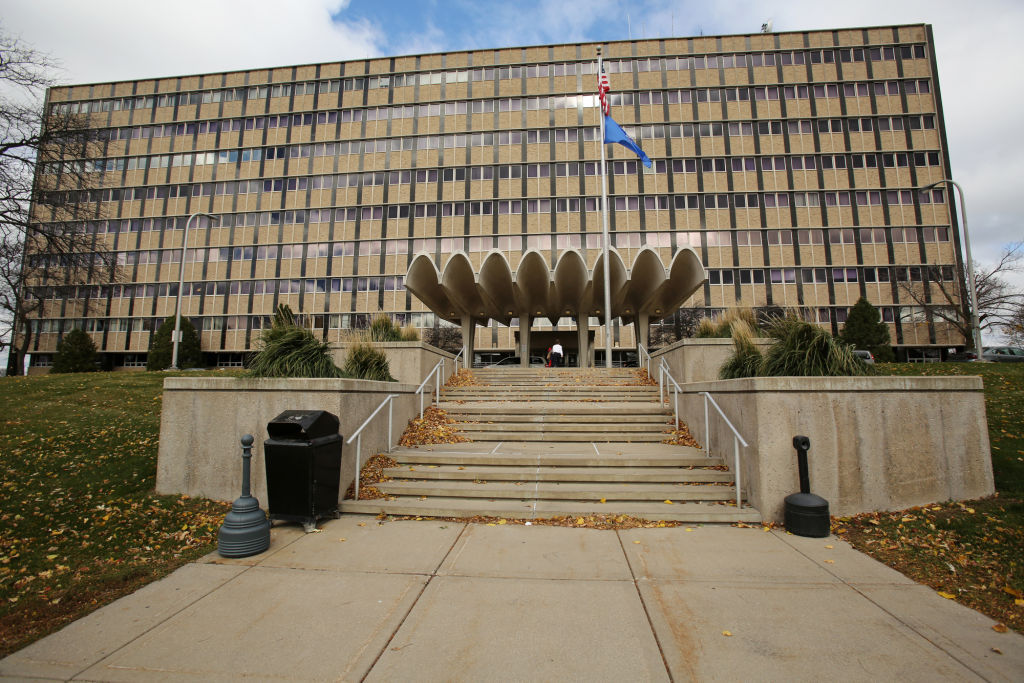 The state would have to consider relocating its agencies to buildings outside of Dane and Milwaukee counties before renewing current leases under a Republican budget proposal unveiled Wednesday.
The move could have a dramatic effect on Madison's commercial office market, workforce and retail economy.
Also, the Legislature's GOP-led budget committee exempted a redevelopment of the Hill Farms state office building from Madison zoning ordinances; provided $86.2 million to renovate and expand UW-Madison's outdated chemistry building; and altered Madison's ability to direct the use of its room tax.
One change to Gov. Scott Walker's 2015-17 budget proposal requires the Department of Administration to solicit lease options outside Dane and Milwaukee counties "before signing or renewing any lease for space."
DOA would have to prepare a cost-benefit analysis to determine whether the state could save money from moving a state agency, department, division, bureau or office to a new location outside of the state's two largest counties.
Sen. Fred Risser, D-Madison, a former long-time member of the state Building Commission, which oversees the planning, maintenance and improvement of state facilities, said the proposal could cost Madison millions of dollars in lost leases and economic impact from thousands of state employees who live and work here. It could also cost state taxpayers millions of dollars to relocate state agencies outside of Dane County, he said.
Risser noted one of the commission's policies is that state leases "shall give first consideration to central city locations, including areas recommended by local officials."
"This is beyond comprehension that you would turn around and ask that all leases be located out of this area," Risser said. "It would cost millions, too, to the area and the state."
The measure, part of an omnibus motion that included several other provisions, passed on a party-line 12-4 vote with Republican lawmakers making no statements.
Risser also questioned the proposal to exempt the Hill Farms redevelopment from local zoning. He said he hadn't heard of any snags in the ongoing discussions between city staff and the state's preferred developer.
"This to me is just another affront to both local control and the city of Madison," Risser said. "It serves no useful purpose."
Mayor Paul Soglin said the city is reviewing the legislative proposals, but declined further comment Wednesday evening.
The state announced in February it had selected a development team spanning the Midwest for the 57-year-old Hill Farms state office building redevelopment, which could cost taxpayers $196 million.
The project involves buying the existing 400,000-square-foot Hill Farms state office building at 4802 Sheboygan Ave., and the rest of the 21-acre site; designing and constructing a 600,000-square-foot new building on the site; providing up to 2,500 parking spaces; and purchasing a separate state office building on Badger Road for additional redevelopment.
The state has not yet announced the overall cost and specific project details, which it has been negotiating for the past few months.
DOA spokesman Cullen Werwie said project details are still being negotiated.
The budget motion would "exempt from compliance with municipal zoning ordinances the structure or facility that is to be constructed for the benefit, or use, of the state."
A Legislative Fiscal Bureau analyst said at Wednesday's Joint Finance Committee meeting that it appeared the intent of the proposal was to apply to only the new state building, and not any surrounding redevelopment.
But he said it was unclear if someone could interpret the language as applying to the entire 22-acre redevelopment.
Sen. Lena Taylor, D-Milwaukee, a member of the budget committee, highlighted that the provision was being added to the budget without consulting Madison city officials.
"This is the only way Madison has been able to make sure that there's compliance with municipal zoning ordinances, that a big complex fits in the neighborhood, and I don't think that's an unreasonable request," Taylor said. "To shove something in the budget without local people's input really is not good."
The UW-Madison chemistry building was requested in the UW System's proposed capital budget, but was not included in Walker's budget proposal. In late March, the State Building Commission deferred the project.
The budget committee's proposal would fund 80 percent of the $107.8 million addition and renovation with tax-supported borrowing.
Another $21.6 million would come from gifts, grants and other funds.
"The chemistry building is a very important project to UW-Madison and we're glad to see that it appears it will be moving forward," UW-Madison spokesman John Lucas said.
In a final motion, the committee voted 9-7 to adopt changes to the local room tax.
Current state law requires municipalities to use at least 70 percent of its room tax on tourism-related activity, but Madison's room tax, which was adopted by local referendum to help fund Monona Terrace prior to the state law, is grandfathered and not affected by the state law.
The budget committee motion eliminates Madison's grandfathered status and puts the 70 percent of room taxes that go to tourism under the control of a new local board made up of representatives from the tourism industry.
Rep. Chris Taylor, D-Madison, railed against the measure saying it could harm Madison's ability to use the room tax to pay for Monona Terrace.
"Why would you do this?" she asked. "We're reinvesting in our community so we can attract people to the state. What you're doing to us is you're hamstringing us. … When you do things like this, you don't just hurt us, you hurt your people too, you hurt the state."
Rep. Amy Loudenbeck, R-Clinton, said the measure was meant to prevent "egregious" use of room tax dollars, such as for a private park in a gated community. She noted that it would phase in over five years.
The Joint Finance Committee expects to wrap up its changes to Walker's budget proposal by the end of this week. Next it heads to the Assembly and Senate, which must pass identical versions of the budget, before it goes to Walker's desk for final approval.