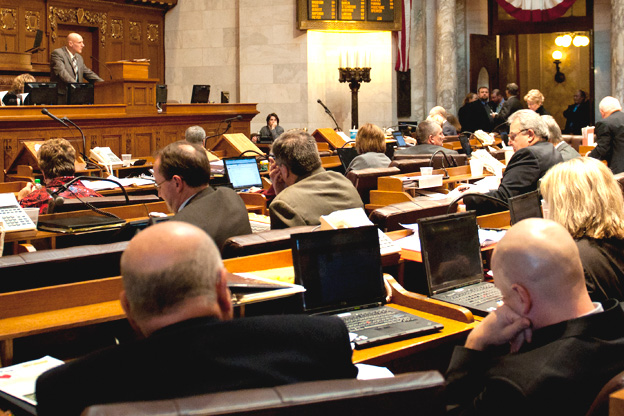 Gov. Scott Walker is taking his fight for passage of a controversial mining bill to the public in a last-ditch effort to save the legislation — and possibly, salvage the legislative session.
The governor on Tuesday urged crowds in Milwaukee, Rhinelander and Green Bay to push lawmakers to pass the measure, which streamlines mine permitting and could clear the way for a $1.5 billion open-pit mine and the 700 jobs officials said it could bring the state.
"What we are talking about is jobs," Walker told the crowd at Feeco International, a mining equipment manufacturer in Green Bay. "Those are good careers. We need a balanced approach. Streamlining that makes sense."
The problem for Walker and his fellow GOP leaders is the bill remains stuck in the Legislature and time is running out. If the session ends March 15 without a passed bill, Republicans will have concluded their work without passing their two biggest agenda items: mining regulation reform and expanding state venture capital funding.
That would be a humble finish for a party that controls the governor's office, the state Senate and the state Assembly; made even more so by the fact that both issues enjoyed bipartisan support, even if the respective bills didn't.
"Unless they work something out last minute, I think it will be hard to see this session as anything but unsuccessful," said Charles Franklin, Marquette University Law School political scientist.
Venture capital effort already dead
The venture capital bill effectively died earlier this month when Republicans decided the state did not have the cash for the proposal, which was bogged down by months of debate. Venture capital basically is money provided by investors to startup companies and small businesses. Such investments typically carry high risk but also the potential for high returns.
The mining bill has had an equally torturous trip. Lawmakers worked on the proposal for months. The Assembly passed a version. The proposal was then handed off to a special Senate mining committee chaired by Sen. Neal Kedzie, R-Elkhorn.
Unhappy with the direction Kedzie's committee was heading, State Senate Majority Leader Scott Fitzgerald, R-Juneau, dissolved the committee in mid-February and sent the Assembly bill directly to the Legislature's budget committee for approval.
Both the bill approved by the Assembly and the version released by Kedzie's defunct committee set a 360-day time limit for the state Department of Natural Resources to act on a mine permit application. Kedzie's version would allow additional time in 30-day increments. It also differs from the Assembly bill in that it allows public legal challenges and provides more mining tax dollars to local communities. A Kedzie staffer said the senator is no longer involved in the mining legislation and had no comment.
Since then, state Sens. Dale Schultz, R-Richland Center, and Robert Jauch, D-Poplar, authored a compromise bill that would set an 18-month approval process and allowed public legal challenges. Republicans hold a slim 17-16 advantage in the Senate, so Schultz's vote could kill the Assembly proposal.
Schultz couldn't be reached Tuesday, but his chief of staff, Todd Allbaugh, said the senator is working with all sides to move the measure forward. "The Assembly leadership is well aware of Sen. Schultz's positions regarding mining, and he's awaiting a response as to what they feel the Assembly can pass in their house," he said.
Said Rep. Robin Vos, R-Rochester, a leading Assembly Republican and member of the budget committee: "We continue to try to find common ground. Sen. Schultz doesn't support the Assembly bill; Assembly leadership doesn't like his proposal. It would be great to take the best of both bills. We can't let politics get in the way of jobs."
Jauch said the governor has not talked to him or other Democratic lawmakers about a compromise on the bill. He said that if Walker wants to see changes to the Schultz-Jauch compromise bill, he should provide specific examples.
"He owes the public more transparency," he said. "It is very strange behavior because his rhetoric does not match with his actions."
Cullen Werwie, Walker's spokesman, said the fight going on isn't about getting 17 votes in the Senate, "it's about passing legislation that makes Wisconsin an attractive place to build an environmentally safe mine and create thousands of jobs." Werwie said the governor still believes a compromise can be worked out.
But state Rep. Brett Hulsey, D-Madison, one of the biggest environmental critics of the Assembly's mine proposal, said he thinks passing any mining reform is a longshot.
"The odds of it passing get slimmer every day."
Get Government & Politics updates in your inbox!
Stay up-to-date on the latest in local and national government and political topics with our newsletter.