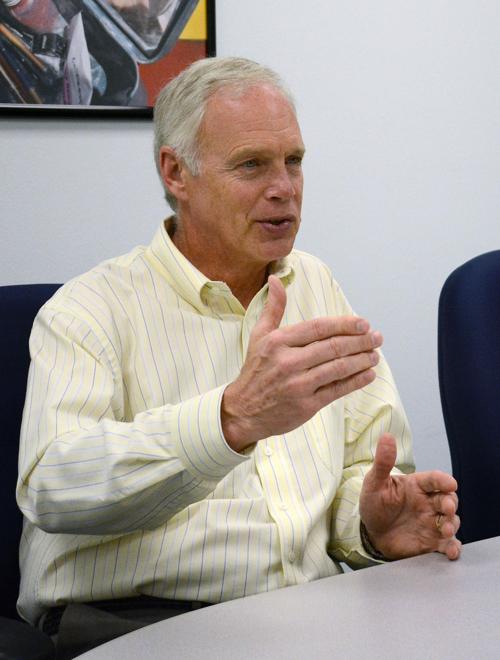 Republican U.S. Sen. Ron Johnson said Thursday if he wins re-election over challenger Russ Feingold in November, he would step down at the end of his second term.
Johnson has painted his campaign as that of a businessman facing off against a "career politician" in Feingold, a Democrat who served in the Wisconsin Legislature for 10 years and was a U.S. Senator for 18 years before Johnson defeated him in 2010.
Johnson said he is driven by a desire to use his knowledge as an accountant and manufacturing business owner to fix issues facing the state and nation, not to seek reelection. He made the comments during an interview at the Baraboo News Republic office before traveling to Reedsburg to speak with supporters.
Senate race
The rematch between Johnson and Feingold has been considered one of the more compelling races in the country, as it could determine which party holds the majority in the Senate. The most recent Marquette Law School poll has Johnson trailing Feingold 42 percent to 46 percent among registered voters.
Johnson said despite his status as an incumbent, he believes he is the underdog.
"It's always a challenge," he said. "When you look historically at Republican candidates running statewide during a presidential (election), it's always been a challenge. I don't think we've won a statewide race since 1984 with Reagan."
Adding to the differences between himself and his opponent, Johnson said he wants to reduce government regulations, whereas Feingold wants to expand big government.
"He wants to grow government and take more money out of Wisconsin taxpayer's pockets – I want to grow the private sector so the people have more money in their pockets," he said. "It's an enormous difference – a significant difference in attitude."
Security
Through all of his campaigning across the state of Wisconsin, Johnson said he can sum up his supporters' greatest concerns with one word: security.
"It's not just with ISIS. It's not just about homeland and national security. It's job security, it's income security, it's retirement security, it's healthcare security," he said.
He said progressive, liberal policies haven't provided people with that security.
Instead, he said they've added to the debt and made people dependent on the government. Johnson said he plans to improve security across the board with a "conceptually simple," three-step solution to grow the economy: reduce the regulatory burden of the federal government, establish a competitive tax system and use the nation's energy resources to remain independent.
Johnson said ever-increasing government regulations make it harder for people who operate businesses.
"You comply with this regulation over here and you're in violation over there," he said. "It becomes so complex. A business owner is spending more time trying to follow the law and not break these rules and regulations, as opposed to thinking about how you survive in a competitive marketplace."
National debt
Johnson said unsustainable debt and deficits are the greatest issue concerning the country. He said trillion-dollar spikes in the national debt — which is now nearing $20 trillion — since 2011 will lead to a $103 trillion deficit in 30 years.
"We're mortgaging your future. We're mortgaging our children's future," he said. "We actually need people who understand numbers, because these are financial situations, and we need people who are willing to run for office not with a primary motivation for being reelected, but who actually want to solve these problems."
Johnson said President Barack Obama has not been serious about addressing the national debt and has put the country on an unsustainable path, which prompted him to seek reelection in the Senate.
As chairman of the U.S. Senate Committee on Homeland Security and Governmental affairs, Johnson said he will continue to try to pass bipartisan legislation and lower the national debt.
"My technique has been to move the bipartisan bills that identify a problem in a bipartisan fashion and fix them," he said. "Most of the stuff we pass makes government a little more efficient, a little more effective and a little more accountable. That's a good thing."
Affordable education
In addition to reducing regulations, Johnson also expressed concern about skyrocketing college tuition costs. Whereas Feingold's campaign has focused on initiatives that would make refinancing student loans an option for borrowers, Johnson said the real problem is in collegiate spending and federal subsidizing.
He said the government poured money into a limited-supply marketplace by offering massive amounts of student loans, which drove up the cost of tuition and now students are left to pay for the artificially inflated cost of higher education.
"It's interesting because when Sen. Feingold was no longer senator, he became a college professor; let's put it that way, he went to Stanford, got paid $150,000 for 19 lectures – kind of an example of why college tuition has increased so drastically. That's almost $8,000 a lecture," Johnson said. "Those must have been some smoking good lectures, I guess."
To combat the issue, Johnson said there are 38 programs currently run by the federal government to help alleviate student debt. The problem, he said, is the Department of Education does an inadequate job telling borrowers about the various repayment options.
"I look at 38 programs, I just don't think you need another one," he said. "Why don't we have the education department make students who have graduated with debt aware of what help there already is?"
Presidential election
When asked if he believed a presidential candidate like Donald Trump could have an adverse effect on his campaign, Johnson reiterated his claim that he is not a career politician.
"I'm not a politician. I'm not a political pundit," he said. "I'm an accountant. I'm a manufacturer from Oshkosh, Wisconsin who stepped up to the plate, and now I'm a U.S. senator. And I'm a U.S. senator who is focusing on these problems."