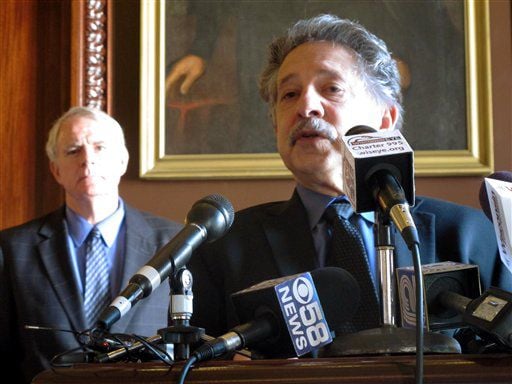 Gov. Scott Walker on Monday welcomed the possibility of a 2018 gubernatorial matchup against Madison Mayor Paul Soglin, saying "it would make for a lively race."
"He's an unabashed throwback to the 1960s radical liberal," Walker said. "I'd love to have that battle."
Soglin, 72, who has served as Madison mayor a total of 20 years over three separate terms dating back to 1973, said at the state Democratic Party convention over the weekend that he was considering a run for governor.
He previously said he wasn't interested in running, but was surprised by the widespread appeal of Democratic presidential candidate Sen. Bernie Sanders of Vermont. He has also been an unabashed Walker critic, clashing with him most visibly in the aftermath of the announcement that Oscar Mayer would be closing its Madison headquarters.
Walker, 49, who is expected to announce a campaign for a third term after the state budget wraps up, said the idea that Soglin thinks Sanders is a good role model for a potential campaign "makes for a great contrast."
Soglin knocked Walker for "running around the state claiming economic victory" while much of the state's job growth is happening in Dane County — a liberal bastion with a political philosophy that Soglin said is antithetical to Walker's.
Walker chalked up the success of the Dane County economy to it being the seat of state government and UW-Madison. He noted employers such as Epic and Spectrum Brands have moved out of Madison into the Dane County suburbs, suggesting it reflected poorly on Madison's political leanings.
Walker said the state economy is doing well "because we changed the business climate."
"Government didn't have a direct role," Walker said. "It's the people of the state."
You have free articles remaining.
Wisconsin's unemployment rate at 3.2 percent is nearing an all-time low, though job creation last year was the slowest of Walker's six years in office. Walker has attributed the sluggish economic growth to a dearth of qualified workers for certain professions and has turned his focus from job creation to workforce development.
In response to Walker's comments Monday, Soglin noted the Madison-area unemployment rate is 2.1 percent and 60 percent of private-sector job creation in the state since Walker took office is in the Madison area despite Walker's cuts to the UW System, state government and state employee pay.
"I don't know why the entire state of Wisconsin wouldn't want that kind of unemployment," Soglin said. "He's sadly mistaken to say that's because of the university and the state because he's been slashing those."
Political observers were surprised by Soglin's interest in the race, noting that while he has some statewide name recognition and a voter base in Madison, he won't necessarily play well in rural parts of the state that view Madison liberals with disdain.
"He doesn't quite fit the bill of a newer, fresher face in the field," said Joe Heim, a UW-La Crosse emeritus professor of political science.
Mordecai Lee, a UW-Milwaukee political science professor and former Democratic legislator, said Soglin should be viewed as a serious contender because of his long history in politics.
"Democrats are in such a state that they should welcome anyone who is seriously considering running, especially anyone who has experience in elected office," Lee said.
Former Republican Gov. Tommy Thompson said he was surprised to hear about Soglin's interest, but cautioned that Walker shouldn't underestimate him.
"He's mayor for life of Madison, which is no easy task," Thompson said. "He's got some strengths, but it's going to be difficult coming out of Madison, a liberal community, to play in northern and central Wisconsin.
"It also depends on what kind of year it's going to be," he added. "If Trump doesn't get health care and tax cuts passed, a lot of Republicans will be looking in their rear-view mirror next year."