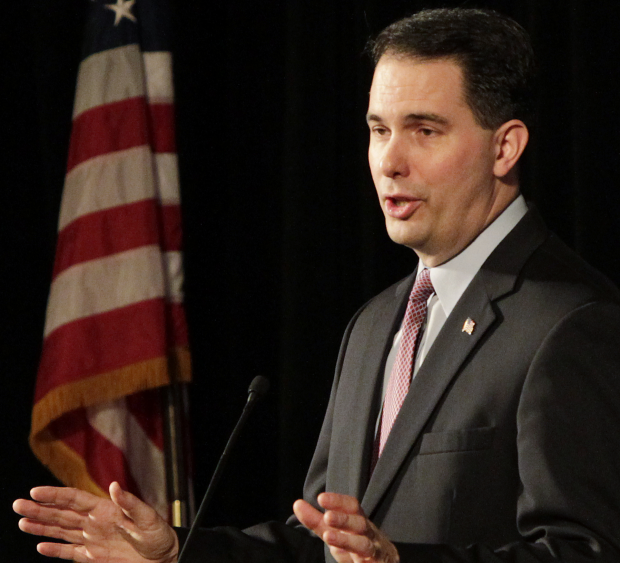 Wisconsin homeowners would get $100 million in property tax cuts under a plan unveiled Thursday by Gov. Scott Walker and Republican leaders.
If passed, the legislation would lower taxes on a typical home by about $13 for the December tax bill and $20 the following year.
Walker made the announcement three days after Madison School Board member Mary Burke said she would challenge the governor in 2014 as a Democrat.
Walker, flanked by Assembly Speaker Robin Vos, R-Rochester, and budget committee co-chairwoman Sen. Alberta Darling, R-River Hills, said he was calling a special legislative session to take up the bill, which he hopes to have on his desk for his signature as early as next week.
That would mean passing the Joint Finance Committee, the Assembly and the Senate in a matter of days. Two other measures will also be included in the session.
The property tax cuts would be paid for with money from the state's surplus, the governor said.
"It's what people are asking for. It's what they deserve," Walker said. "The taxpayers of the state helped us create the surplus, it's only right that we draw down their property taxes."
Walker and Republican leaders said they want the Legislature to act quickly to pass the legislation to guarantee it will take effect in time for the property tax bills mailed in December.
The tax cuts would be modest for most homeowners.
The property tax on the median-valued $148,000 home would be about $13 less — $2,925 — than what it would be under current law on the bill mailed in December, according to the nonpartisan Legislative Fiscal Bureau.
And the tax bill would be about $20 less — $2,954 — the following December, the fiscal bureau said.
But some homeowners wouldn't see any cut. The taxes that homeowners pay vary across Wisconsin based on home values and where they live.
"Jim Doyle did this. Scott Walker is doing this. It's the same thing," said Todd Berry, president of the nonpartisan Wisconsin Taxpayers Alliance. "The governors of both parties have a long history going back decades of buttering the bread going into election years."
Berry said many homeowners won't notice a difference in their tax bills.
But Republicans praised the move and said they hoped Democrats would join them in quickly passing the legislation.
"Today is a really good day for the taxpayers and the Wisconsin families that we are lucky enough to represent," Vos said.
"I'm very proud to be here," Darling said. "I know there are going to be a lot of Democrats supporting this initiative. And we can be saying, 'On Wisconsin.' What a great day for Wisconsin."
Democrats were not as enthusiastic. They accused Walker of announcing the plan in an attempt to draw attention from Burke.
"Scott Walker is announcing another tax gimmick," said Mike Tate, Democratic Party chairman. "Especially given that it's been less than a week since a challenger with a proven track record of creating jobs and opportunity for Wisconsinites announced her intentions to run for governor."
Tate added, "Just like he did in Milwaukee County, Scott Walker is kicking the can down the road in a blatant attempt to make himself look better in advance of an increasingly difficult election."
Democratic lawmakers are in the minority in both houses, and don't have the votes to block the proposal.
Assembly Minority Leader Peter Barca, D-Kenosha, voiced concern about Walker's plan to rush the plan through the Legislature in a week, saying the governor didn't mention the measure in his meeting with Democratic leaders on Wednesday.
But Barca didn't oppose property tax cuts outright.
"Middle-class taxpayers certainly deserve relief after Republicans gave their hard-earned money away to unaccountable private voucher schools, wealthy special interests and a health care plan that costs more and covers fewer people," Barca said. "But it's questionable at best as to whether the plan Republicans announced today would even do that."
Walker said the money to pay for the property tax cuts would come from the state's surplus and higher-than-expected tax collections.
Under the plan, the money would be split into $40 million this year and $60 million next year, and will flow through the school aid formula — but will not be available for schools to spend, Walker said. That means it could only be used to lower property taxes.
Burke, who previously served as a Trek Bicycle Corp. executive and as state Commerce secretary under Democratic Gov. Jim Doyle, was asked about Walker's tax cut plan while on a campaign stop in Green Bay.
"I'm all in favor of lower taxes and supporting our schools, but I'd have to make sure that it's doing that and it's doing it in a way that's fiscally responsible and balancing the budget," Burke said, according to video posted on the Green Bay Press Gazette's website.
Walker told reporters he was confident people would embrace the plan.
"The more we looked at, the more we looked at the size of the surplus, we said if we're going to do it, let's go big and go bold," Walker said. "Let's have dramatic impact on the people of the state when they're paying their property tax bill."
Get Government & Politics updates in your inbox!
Stay up-to-date on the latest in local and national government and political topics with our newsletter.