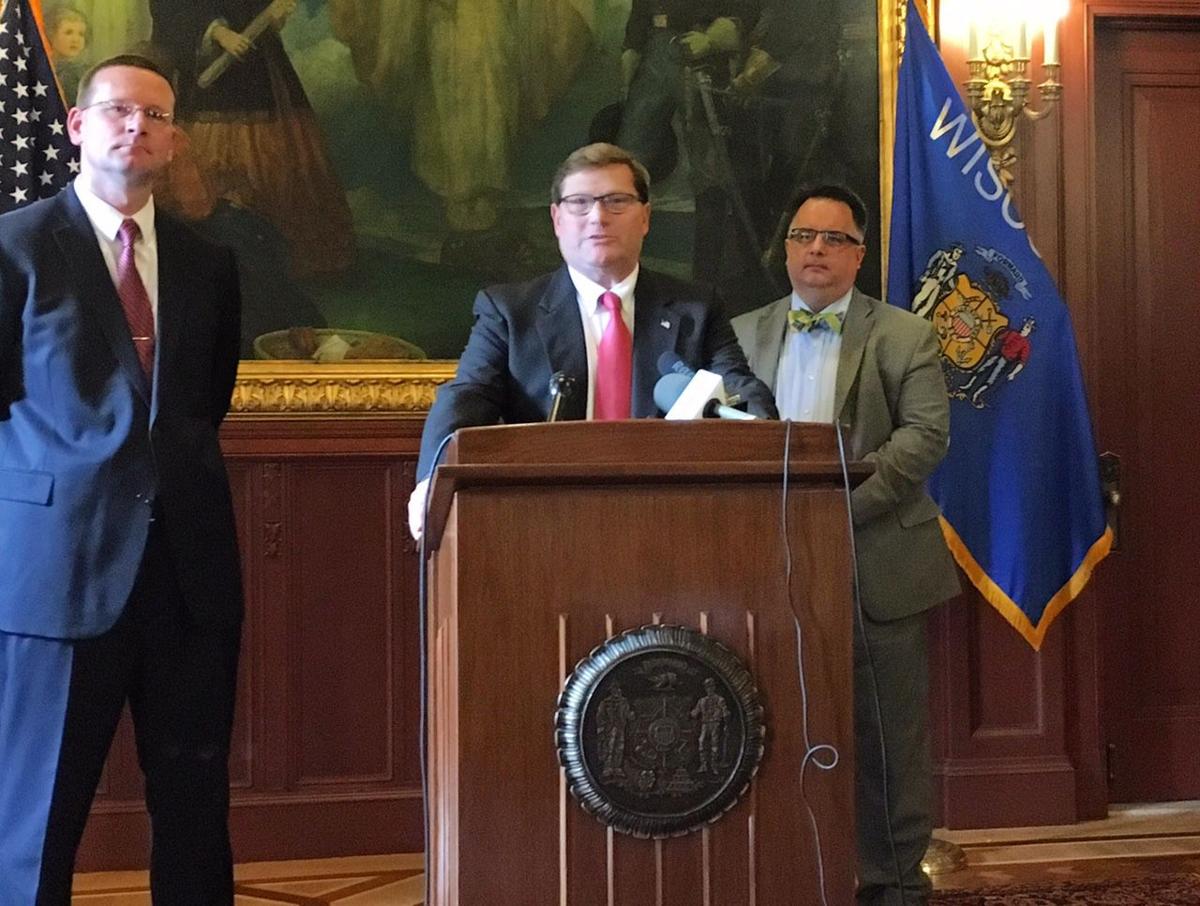 Refusing to self-insure state employees would trigger a 10 percent increase in health care premiums for 2018 — 3 percent more than what Gov. Scott Walker's budget plans for, state officials said Friday.
And revised estimates released by the Walker administration also show the state would save about $43 million more than the $60 million figure the governor had touted in the past while trying to persuade lawmakers to approve his plan.
The announcement from top officials in Walker's administration is part of a renewed push to convince lawmakers to move forward with Walker's self-insurance proposal despite a promise from the state's budget committee to reject the idea, and was met with questions from critics about the legitimacy of the new figures.
"Self-insurance allows us to get a taxpayer savings of $103 million with no changes to benefits to state employees," Department of Administration Secretary Scott Neitzel said Friday during a press conference with Walker's budget director Waylon Hurlburt and Deputy Insurance Commissioner J.P. Wieske.
The $103 million in savings includes the $60 million in general purpose revenue, a $22 million health insurer fee under the Affordable Care Act and $21 million worth of premium increases that would not materialize if the state self-insured, according to Hurlburt.
But critics say the Walker administration's numbers are misleading because bids for health plans aren't due until June 30, so the figures are based on assumptions.
And Joint Finance Committee co-chairman Rep. John Nygren, R-Marinette, said the administration released new, higher savings figures with "unsupported evidence" and in spite of health insurance sector experts disagreeing with their analysis.
"The projection violates the integrity of the state's proven bid-negotiate process and ignores its effectiveness," said Phil Dougherty, spokesman for the Wisconsin Association of Health Plans, which has opposed the proposal to move to self-insuring state employees.
Nygren said Friday in a statement that Walker administration officials are being disingenuous when saying by moving to a self-insurance model, the state could avoid paying the ACA health insurer fee, or what's known as an "Obamacare tax."
"The Obamacare tax has never been collected and there's no evidence to show it will be collected in the future," Nygren said.
Nygren also said the savings are largely based on the use of reserves collected by the Group Insurance Board by likely overcharging for health care coverage.
Dougherty said that the 7 percent increase in premiums that Hurlburt said the budget proposal expects is "nearly double the performance of the fully insured program over the last nine years."
"The only way the state can be certain of its costs — or savings — is to fix its payments with a fully insured benefit program," he said in a statement. "The health plans pay the cost of fully insured medical services and bear the risk of unexpected increases in medical costs. Fully insured premiums do not change during a contract period."
In the last nine years, final premium increases averaged 3.7 percent and the negotiated difference between preliminary and final bids equaled $283 million, Dougherty said. Fully insured premium rates increased 1.6 percent in 2017 after preliminary bids reflected a 5.4 percent increase, he added.
Walker in his 2017-19 spending plan proposed switching about 236,000 state workers and family members from a competitive HMO model, in place since 1984, to a self-insured program like that used in at least 20 states. The idea was one of the governor's most ambitious and contentious proposals this budget cycle.
Under Walker's plan, the state would pay benefits directly and assume the risk for losses instead of buying insurance from 18 HMOs. Self-insurance could save the state money or could cost more, according to consultants' reports.
Deductibles would
increase 400 percent
The new projections presented Friday also said annual deductibles would increase about 400 percent, or $1,000 per person and by $2,000 per family.
The public plea to revive the proposal comes days after the state's Group Insurance Board met and floated the idea of moving forward with self-insurance regardless of what the Legislature decides to do with Walker's proposal.
Wieske said Friday it's unclear how much savings that plan would generate because it's unknown which insurers would participate.
Officials with the Group Insurance Board and the Division of Personnel Management also on Friday sent a letter to the Joint Finance Committee detailing consequences of not moving to a self-insurance model.
"This new information confirms that the current fully insured model will be much costlier than moving to a self-funded approach," the letter from GIB chairman Michael Farrell and DOA deputy administrator Stacey Rolston said.