To whoops, cheers and a standing ovation, Satya Rhodes-Conway took the oath of office at 3:01 p.m. Tuesday to become Madison's first openly gay and second female mayor in a bittersweet day of transition that also welcomed nine new City Council members.
And in a bit of symbolism, Rhodes-Conway, who earlier this month defeated Paul Soglin, by far the city's longest-serving mayor, briefly left the meeting after the oaths to attend a pre-scheduled joint press conference with Dane County Executive Joe Parisi to announce the city and county had reached a compromise on maintenance for the reconstruction of Buckeye and Cottage Grove roads. Soglin and Parisi had earlier clashed over the topic.
Soglin showed up for the brief swearing-in ceremonies at the City-County Building but left without speaking before his successor offered "very deep and heartfelt thanks to Mayor Soglin for his decades of service to the community," which was followed by another standing ovation.
The newly seated council chose new leadership, with no discussion, before electing Ald. Shiva Bidar-Sielaff, 5th District, as its new president by a 13-7 vote over outgoing vice president Ald. Sheri Carter, 14th District, who would have become the first African American woman to hold the position.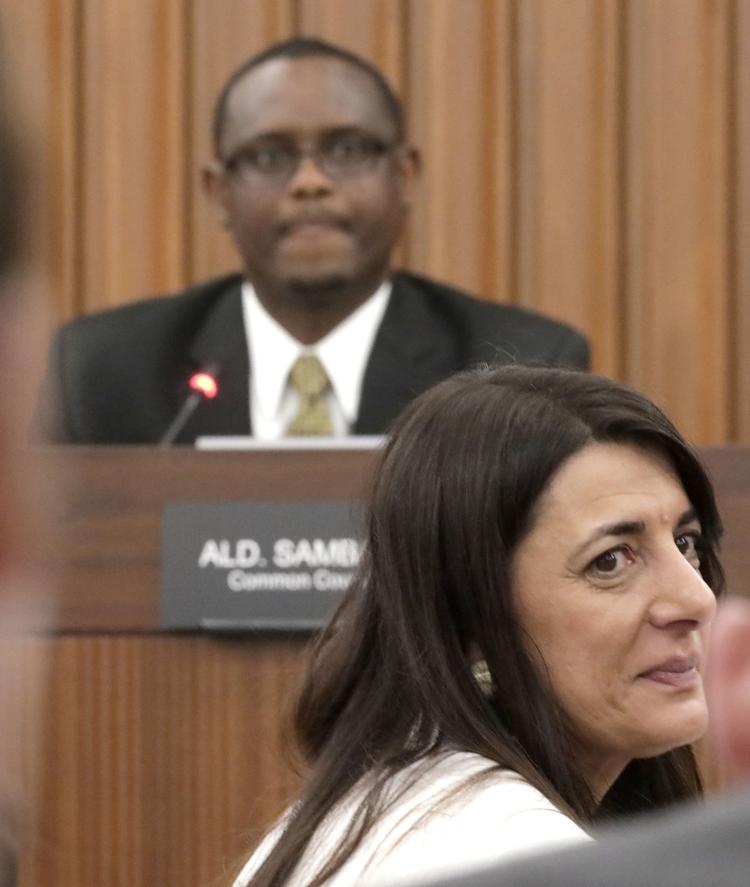 Then, the council took two ballots to elect Ald. Barbara Harrington-McKinney, 1st District, as vice president by an 11-9 vote over Ald. Rebecca Kemble, 18th District.
Nine new members who have never held public office — Patrick Heck, Tag Evers, Lindsay Lemmer, Donna V. Hurd Moreland, Arva Reddy, Zachary Henak, Syed Abbas, Grant Foster and Christian Albouras — were among the 20 council members taking the oath of office.
Eight departing members — Ledell Zellers, Steve King, Zach Wood, Maurice Cheeks, Larry Palm, Allen Arntsen, David Ahrens and Matt Phair — heard expressions of gratitude and said their goodbyes.
Returning are Bidar-Sielaff, Carter, Harrington-McKinney, Kemble and Alds. Mike Verveer, Marsha Rummel, Paul Skidmore, Arvina Martin, Michael Tierney, Samba Baldeh and Keith Furman.
After the swearing-in ceremony, Rhodes-Conway retreated to a temporary, sun-drenched office across the street in the Madison Municipal Building and reflected on the moment, with her proud father, Bob Conway, nearby.
"It feels good," she said. "I'm really excited to work with the new council and start getting things done. This is the spirit of how I want to move forward — collaboration and cooperation. There are a lot of challenges. There are a lot of opportunities. There is a lot of potential."
Fight for president
The council leadership elections, however, contrasted with the warm sentiment of the day.
Typically, the vice president is selected to succeed the president, and if a position is contested, candidates make their cases to colleagues. No one spoke in the contest for president, while both candidates for vice president spoke. Harrington-McKinney, who is African American, expressed discomfort about "jostling for votes" in the presidential race in the days before the election.
"We talk about equity. We are not practicing equity," she said. "We do not practice equity within these walls."
After the votes, Bidar-Sielaff, an Iranian native and former council president first elected in 2009, said anyone can run for the position and that she felt her experience and collaborative style would benefit a new administration and council with many fresh faces.
"I think this is a time of great excitement and transition," she said. "I bring a lot of experience."
Carter, reached later, said she learned late that she had competition and felt the council should have followed its common practice. "I was going to speak. There was not a pause," she said. "I definitely don't feel I was treated fairly. I feel like the goalpost changed."
She said she believed Harrington-McKinney was "sounding an alarm" and that she, too, believes race may have been a factor in her defeat.
"Personally, I don't feel it's the best foot to start off on," Carter said. "I think we're going to have to do a lot of healing."
Parting words
Earlier, in traditional final business before the transition, the outgoing council offered warm wishes for departing colleagues that brought reflection, laughter and tears.
Verveer, speaking of Zellers, who represented the 2nd District on the Near East Side for three terms, said, "She's such a conscientious and hardworking person. She made me look like a slouch for the past six years. I just couldn't keep up with her."
Some of the most moving comments came for Cheeks, who placed a close third behind Soglin and Rhodes-Conway in the six-way mayoral primary in February.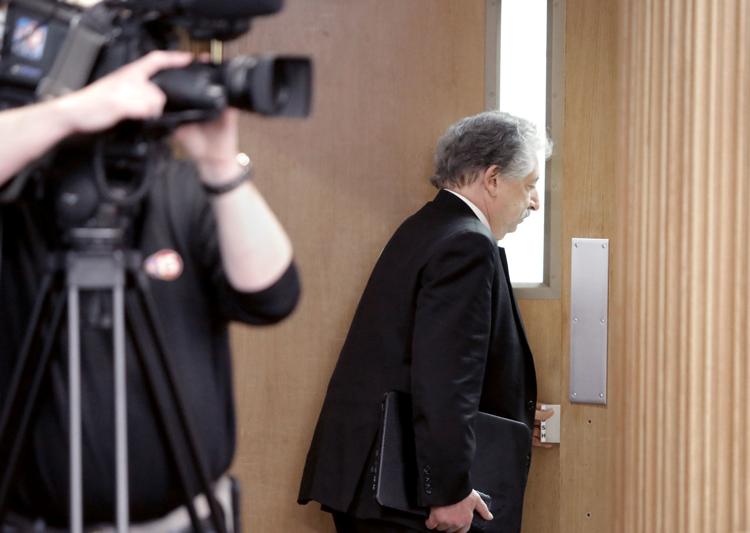 Phair, who became close friends with Cheeks during their tenure, said his colleague always remembered who he was fighting for — "the children of this city and the disadvantaged" — while Harrington-McKinney spoke of his "commitment to diversity and inclusiveness."
Cheeks said, "I desperately want Madison to be the kind of city where we set a high bar for all of our kids" and that local politics is an opportunity "to prove we can make a difference in the trajectory of life."
There were more kind words for Soglin. "He has been an institution," Wood said. "All of us owe him a debt of gratitude."
Speaking to the new council members, who were in the audience before taking their oaths and their new seats, Rummel summed it up.
"You will be tested," she said. "(But) all of us here do things that make Madison a better place."