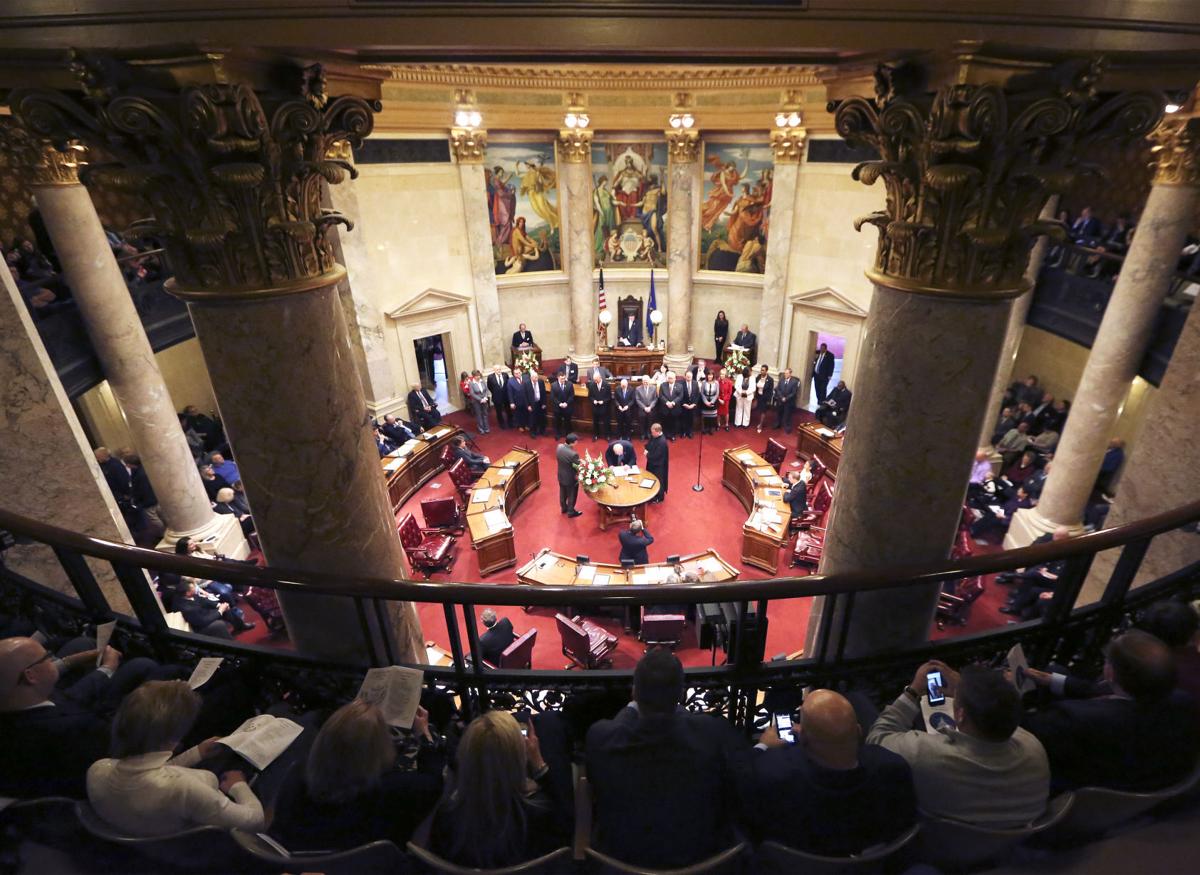 Senate Republicans on Wednesday passed legislation that would place limits on absentee ballot drop boxes, require disabled people voting absentee to provide photo IDs and impose more steps for others to vote by mail.
Senate and Assembly Republicans also passed legislation that would eliminate the state's participation in enhanced federal unemployment benefits, which provide individuals on unemployment an extra $300 per week.
GOP lawmakers said their election bills would help build trust in elections, but were panned by Democrats and many other organizations, including disability rights advocates. Some of the measures failed to get full Republican support, notably from the Senate elections committee chairperson, Sen. Kathy Bernier, R-Chippewa Falls, who previously said her Republican colleagues were pushing her to prematurely advance the legislation.
Senate Republican leaders scheduled the legislation for a vote despite Bernier's own committee voting against some of the bills, which lawmakers later consolidated for a floor vote.
The bills would also create new guidelines for election assistants who help long-term care facility residents vote in the event that access to their facility is restricted, such as in a pandemic, as well as limit mass absentee ballot applications. Another measure would severely limit the ability of municipalities to accept private grant money to assist with elections, a response to Republican concerns over election grants from a Mark Zuckerberg-funded organization to Madison and other cities last year.
The bills are nearly guaranteed to be vetoed by Democratic Gov. Tony Evers.
Democrats slammed the legislation as solutions in search of problems and contributing to an environment of misinformation and paranoia about the presidential election. Republicans pushed back against the notion that they are helping to push former President Donald Trump's "big lie," a reference to his false accusations of widespread voter fraud, but nonetheless said there were "irregularities" in last November's presidential contest.
Other GOP lawmakers defended the bills as bringing uniformity and standards to election processes, and addressing concerns about voter integrity, specifically indefinitely confined voters, who some Democratic municipal clerks in April 2020 falsely claimed could be used during a public health emergency to evade photo ID requirements to vote.
A step back
Senate Republicans changed their plan to require anyone under age 65 claiming indefinitely confined status to fill out a statement under oath with a medical professional's sign-off, and instead passed new rules for indefinitely confined voters requiring them to provide a photo ID.
Currently, those who are indefinitely unable to vote in person due to age, physical illness, infirmity or disability are exempted from having to provide a photo ID to vote absentee. They can also receive such ballots automatically.
The Trump campaign alleged that an explosion of such ballots last year suggested many of those voters were just using it as an excuse not to provide a photo ID. The Wisconsin Supreme Court found those claims lacked evidence.
The newly revised bill, which passed the Senate 18-14, would allow a voter to apply for indefinitely confined status using a form created by the Wisconsin Elections Commission, but would then have to annually reapply for absentee ballots to be sent automatically for the year. Without a photo ID, such a voter would need to have his or her indefinitely confined status witnessed by an adult citizen.
All Democrats and two Republicans, Bernier and Sen. Robert Cowles, R-Green Bay, voted against the bill.
The bill would also clarify that a public health emergency such as a pandemic doesn't qualify a person as indefinitely confined, and would also make it a Class I felony to provide false information in order to qualify as indefinitely confined.
"As much as possible, voting at the polls and voting by absentee ballot should follow the same process with the same rules," said Sen. Duey Stroebel, R-Saukville, the bill's author. "You show your voter ID, you receive your ballot, and you cast your vote."
Democrats, however, said there was a mismatch between the stated and actual intent of the legislation.
"We hear the words 'trying to be fair,' 'trying to create consistency,' when it seems like in fact we're creating confusion, confusion not only for this body, but for the voters," said Sen. Jeff Smith, D-Eau Claire. "It feels very much like that's the intent: confusion, chaos, why should people even bother?"
The bill would also prohibit governmental organizations, such as the Wisconsin Elections Commission or municipal or county board of election commissioners, from sending out mass absentee ballot applications unless the voter applies for a ballot. The measure would have prohibited the WEC from sending out more than 2.7 million absentee ballot applications and other vote-by-mail information ahead of the November election.
It would, however, allow candidates, political parties and other similar organizations to send out such applications if they include the return address of the correct municipal clerk.
Drop boxes
Another measure the Senate passed Wednesday would limit absentee ballot drop boxes, which cities and towns across Wisconsin made use of during the COVID-19 pandemic to provide more return options for the significantly higher number of voters choosing to vote absentee.
The bill, which passed the chamber on a voice vote, allows municipalities to have drive-up ballot drop boxes that are adequately secured and surveilled. It also allows municipalities with at least 70,000 people to have up to three additional drop boxes on municipal property other than a public park.
Current law doesn't mention drop boxes, but clerks made wide use of them last fall, and some cities, such as Madison, installed several of them.
The bill now goes to the Assembly.
Jobless aid
The Senate voted 20-12 and the Assembly 60-37 along party lines to end enhanced federal unemployment benefits, which provide individuals $300 in weekly unemployment benefits in addition to the state's maximum weekly benefit of $370. Enhanced benefits are slated to expire Sept. 6.
Evers is expected to veto the measure.
Republican lawmakers and several of the state's largest business organizations have said enhanced unemployment benefits have created a disincentive for some to find employment, which has exacerbated workforce shortage issues that were present before the pandemic.
Other organizations and several Democratic lawmakers have defended the enhanced benefits as necessary for those unable to find work as sectors of the economy continue to reopen, or for those who are reluctant to return to in-person employment during the ongoing pandemic. They also say it puts pressure on employers to raise wages.
Police tactics
The Senate also approved a bill on a voice vote that would ban police from using chokeholds, except to defend themselves or others during life-threatening situations. The bill would also prohibit law enforcement agencies from authorizing chokeholds in their use-of-force policies.
The bill stems from a bipartisan task force on policing and racial equity.
The Senate also passed a bill 20-12 along party lines that would punish municipalities that decrease funding for police by taking away an equivalent amount of state aid. Republicans said the bill was about promoting public safety, but Democrats said the bill would unnecessarily impose state control on localities and said the measure would hurt cities that are already struggling with the high costs of maintaining police departments.
Both bills have yet to be approved by the Assembly.
Gun laws
Future federal laws that would ban or restrict the use of guns could not be enforced in Wisconsin under a Republican-backed bill the state Assembly approved Wednesday.
The measure is part of a national wave of similar proposals intended to resist new gun measures. The bills are a reaction from Republicans to a push by President Joe Biden and congressional Democrats to tighten gun laws.
However, because the Supremacy Clause of the U.S. Constitution dictates that federal law trumps conflicting state law, many previous GOP-backed state efforts to thwart gun laws have been found unconstitutional. Several states passed similar laws under then-President Barack Obama, but judges ruled against them.
Even if the Wisconsin Senate passed the new bill, it would likely be vetoed by Evers, who supports tighter gun control limits.
The Associated Press and State Journal reporter Mitchell Schmidt contributed to this report.
Swinging away: Brewers maintain aggressive approach to roster building despite past strikeouts
January 2018: Signed Matt Albers to 2-year, $5 million contract
Albers was coming off a career-best season in which he went 7-2 with a 1.62 ERA in 63 appearances for the Nationals when Stearns signed him to help bolster a young bullpen.
Early on, the move looked brilliant as Albers posted a 1.93 ERA through his first 24 appearances. He got knocked around hard his next time out, allowing five earned runs in a loss to the Cubs that resulted in a stint on the injured list. He returned six weeks later but made only one appearance, allowing three runs, before landing back on the IL and posting a whopping 23.63 ERA in eight appearances after he returned in August.
Things didn't go much better in 2019, either. Albers posted a 5.13 in 67 games and became a free agent after the season but hasn't pitched in the big leagues since.
June 2018: Traded JiMan Choi for Brad Miller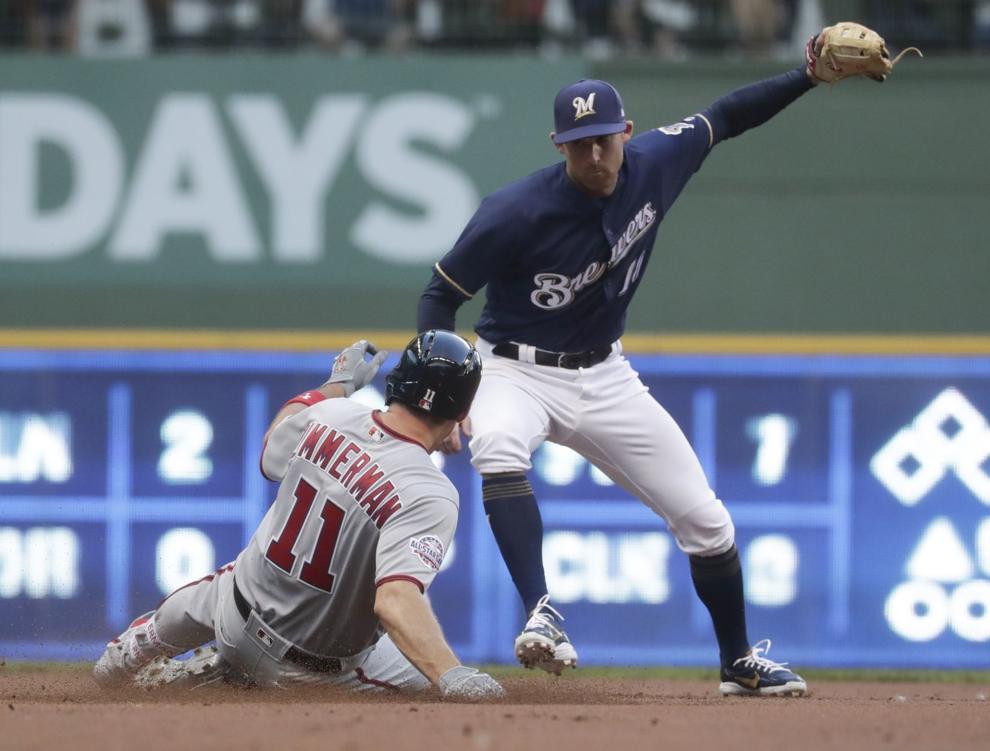 Milwaukee signed Choi to a minor league deal to provide depth at first base and he forced his way onto the Opening Day roster by batting .409 with three home runs, 10 RBIs and a 1.245 OPS in 27 Cactus League games.
He became expendable when Jesus Aguilar, who also played his way onto the roster with a mammoth spring, seized the starting job at first after Eric Thames' injury. So Stearns dealt Choi to Tampa for Miller, who was hitting .256 with five home runs and 21 RBIs while playing both first base and the outfield.
"At this point we thought that the positional versatility and the infield experience that Miller brings would be helpful," Stearns said. "He will head to Triple A, and when we have a need, I'm sure he will be ready to contribute."
Miller appeared in just 27 games and batted .230 with two home runs and a .666 OPS before he was designated for assignment on July 28.
July 31, 2018: Traded for Jonathan Schoop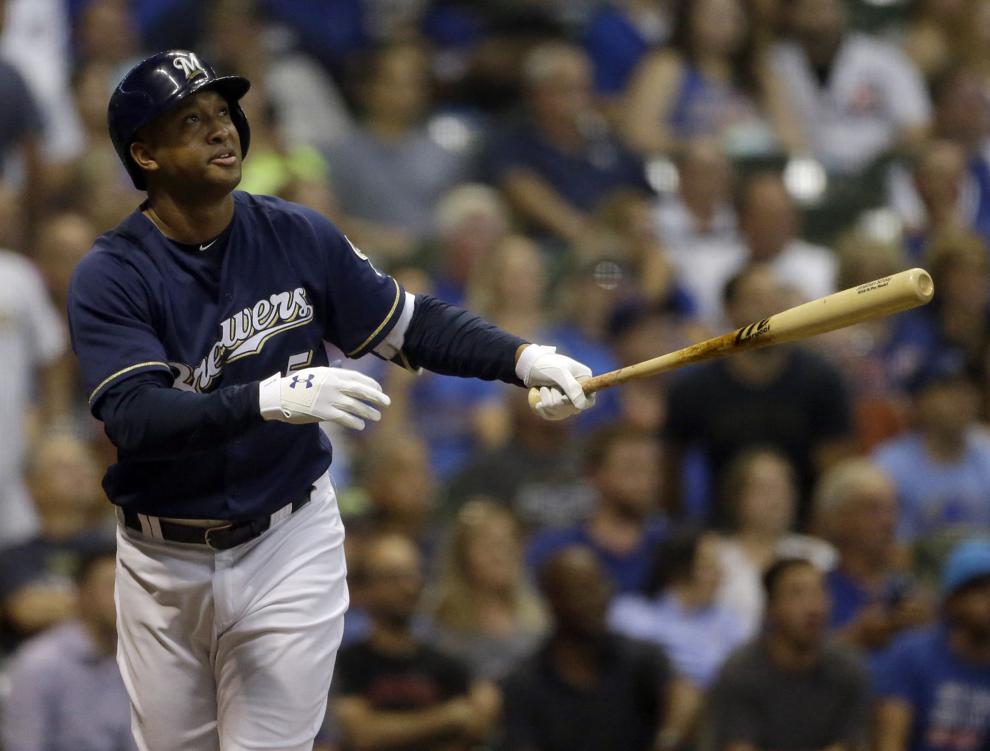 Stearns was reminded of one of his biggest busts Monday when Tigers infielder Jonathan Schoop put Milwaukee in a 1-0 hole with an RBI single off Corbin Burnes.
Stearns sent infielder Jonathan Villar and two prospects to Baltimore for Schoop at the trade deadline in 2018, despite having planned to shift Travis Shaw to second after Milwaukee acquired third baseman Mike Moustakas in an earlier deal.
By pairing the right-handed Schoop, who was hitting .244 with 17 home runs at the time of the deal, with Shaw, a left-handed slugger, Stearns thought he had the makings of a formidable tandem.
"Really, what it comes down to for us is we think we're getting better and we think we're adding to our overall depth," Stearns said at the time.
The move backfired as Schoop hit .202 with four homers and 21 RBIs in 46 games then went 0-for-8 in the playoffs leading Stearns to non-tender him after the season.
"Look, it was a bad deal, and that's on me," Stearns said. "We made a trade for a player we thought was going to be here for basically a year and a half, and I was wrong."
As for the players Stearns gave up in the deal, only Villar is in the big leagues this season. After batting .270 with 61 stolen bases and a .777 OPS in 216 games for the Orioles, he was traded to Miami in December 2019 and then to the Blue Jays at the deadline in 2020.
He signed with the Mets in February and is batting .231 in 41 games this season.
Dec. 20, 2019: Signed Justin Smoak to 1-year deal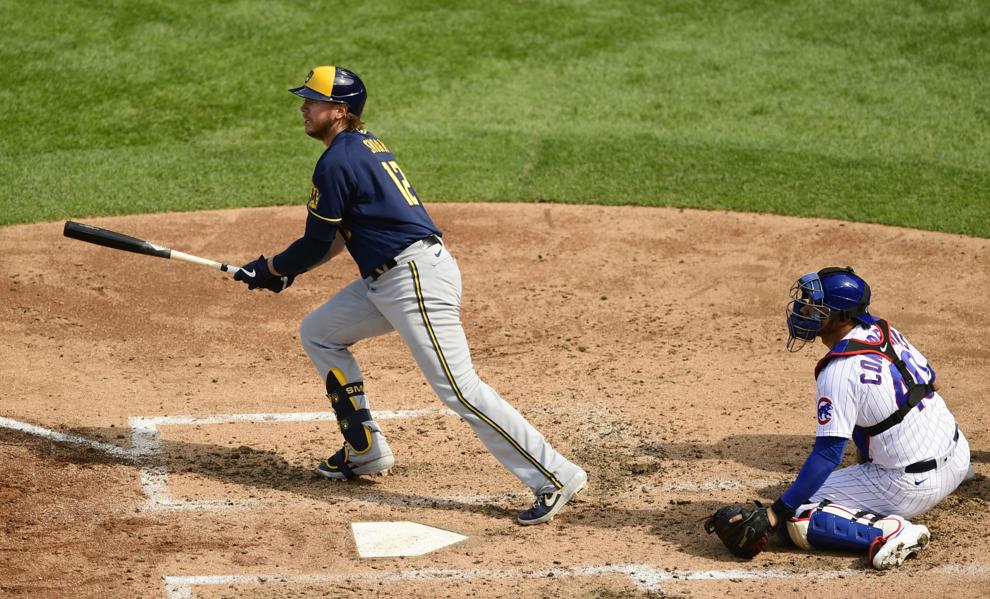 Stearns opted against picking up a $7.5 million option to bring back Eric Thames and instead took a chance on switch-hitting first baseman Justin Smoak, whose power from the left side projected to play well at American Family Field, with the idea of him sharing time at first base with Ryan Braun.
The COVID-19 pandemic thwarted those plans, though. When the Brewers returned from their hiatus, Braun was shifted into the designated hitter role leaving first base to Smoak, who never got his bat going and was designated for assignment after batting .186 with five home runs and a .642 OPS in 33 games.
"You never completely know when it is the right time, especially in a season like this," Stearns said at the time. "There is some feel involved in this.
"Determining whether and the likelihood of a player snapping out of a slump is always a really tough judgment call. In this case, with the volume of playing time that Justin had to try to get this going and where we are in the season, we felt like it was the right time."
Smoak's release came just weeks after Stearns cut ties with utility man Brock Holt, who signed his own one-year deal early in Spring Training but was let go after he hit .100 in just 16 games.