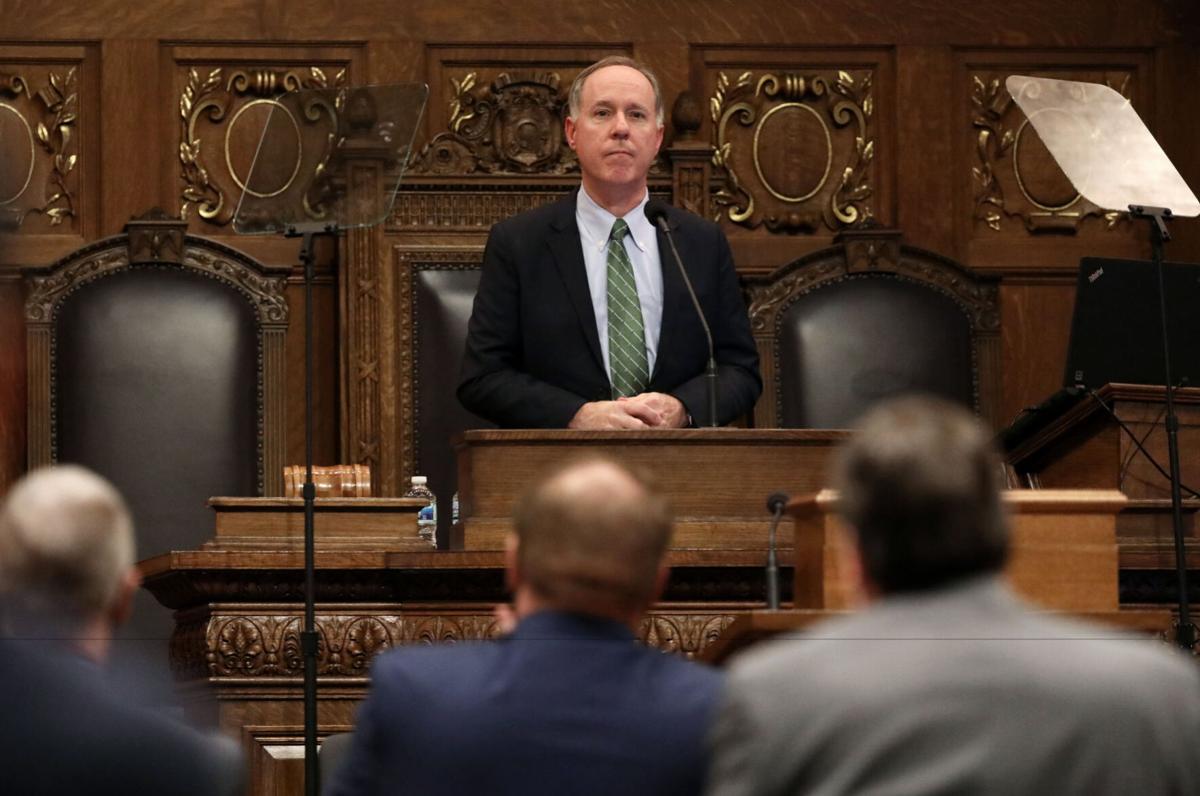 Republican legislative leaders on Thursday called on Democratic Attorney General Josh Kaul to join 13 other states in suing the federal government to allow states to use the latest influx of federal stimulus dollars to cut taxes.
Assembly Speaker Robin Vos, R-Rochester, and Senate Majority Leader Devin LeMahieu, R-Oostburg, sent a letter to Kaul to join other states in filing suit based on the argument that the federal government overstepped its constitutional authority in prohibiting states from cutting taxes with the money.
"A state's power to control its own budget and decide its state's tax burden is a core legislative function that is constitutionally protected," Vos and LeMahieu wrote. "(The latest stimulus') restriction that states may not reduce taxes — only raise them — is an unfair limitation on the sovereign authority of the states that acted responsibly and prudently during the trying times of this pandemic."
Republicans want a response by April 21.
"If the Majority Leader and Speaker would like to use federal funding to cut taxes, they should expand Badgercare, saving a huge amount of state tax money, rather than advocating for Wisconsin to join a strained lawsuit," Kaul said in a statement.
Wisconsin could save more than $1.6 billion over the next two-year budget cycle by expanding Medicaid.
The letter from GOP leaders comes as Gov. Tony Evers, who has authority to direct the use of stimulus funds within the bounds set by the federal government, has already largely determined how he plans to distribute the more than $3 billion directed to the state in the most recent stimulus package.
Still, that hasn't stopped Republicans, who have virtually no authority over the use of such funds, from introducing a series of bills that would provide an alternative plan for the money. Their plan would, among other things, provide $500 million to pay state debt, $275 million in assistance for small businesses and $1 billion in property tax relief.
Evers has signaled he will veto the Republican measures.
Recent analysis
In recent days, however, it's become clear that a majority of Republican plans for spending $3.2 billion in federal stimulus money either may not be allowed under the law or might have to be repaid, according to nonpartisan analyses of the bills that are moving quickly through the Legislature.
The Legislature's Republican-controlled budget-writing Joint Finance Committee passed a package of 11 bills on party-line votes following a hastily called hearing Wednesday with just a day's notice. Republicans argued the bills are their attempt to reach a compromise with Democrats.
The nonpartisan Legislative Fiscal Bureau determined that three of the proposals call for spending about $626 million on areas possibly not allowed under the federal law. Additionally, a proposed $1 billion property tax cut for all homeowners in Wisconsin and money earmarked for unemployment insurance may have to be repaid by the state, the Fiscal Bureau said.
The Fiscal Bureau said it appears that the federal law would not allow for the Republican proposals to retire $250 million in bonds used for transportation projects; $308 million in loans for local road projects; and $68 million to replace a statewide public safety communication system and expand the number of psychiatric beds at Sacred Heart Hospital in Eau Claire.
Other uses
The federal law generally allows for the money to be spent by the end of 2024 for responding to the COVID-19 pandemic; replacing revenues lost due to the pandemic; investing in water, sewer and broadband infrastructure; paying essential state workers up to $13 an hour; and paying non-government entities that transport passengers and cargo for the government.
However, specific guidelines on what the federal money could be used for have not been issued, leading the Legislative Fiscal Bureau to say it's unclear in many circumstances whether the Republican bills would be allowed.
Given that there's no federal guidance yet, concerns that the money won't be spent as proposed is "based on speculation at this point," LeMahieu said.
Republican spending proposals that would be permitted, according to the Fiscal Bureau, included $500 million for broadband expansion; $200 million for small businesses; $150 million for nursing homes and assisted living facilities; $75 million in tourism grants; $61 million to combat water pollution; and $50 million for rural economic development.
Evers last week said he plans to direct $600 million of the federal money to help small businesses; $50 million for the tourism industry; $200 million to upgrade infrastructure, including broadband access; and $500 million on pandemic response efforts.
The Associated Press contributed to this report.
Shining stars: Meet the Madison area's Top Workplaces
Make no mistake about it: The effects of the COVID-19 pandemic have left painful scars. But this year's Top Workplaces project shows that many employees across the Madison region remain resiliently upbeat and are clinging to their workplace cultures, even from a distance.