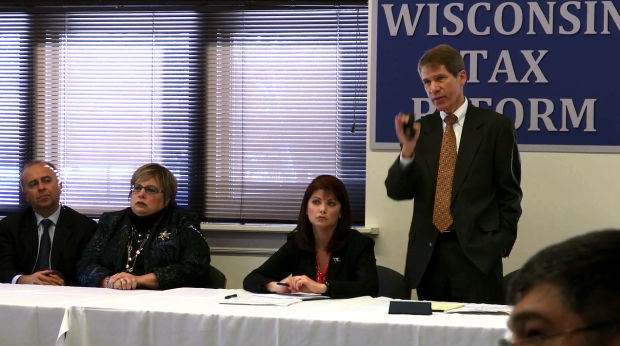 Top officials in Gov. Scott Walker's administration said in a report Tuesday that Wisconsin taxes are "too high and too complicated" but they offered no recommendations for making changes.
The 19-page report from Lt. Gov. Rebecca Kleefisch and Revenue Secretary Rick Chandler comes after more than a year of study. It identifies property taxes as the top concern raised at 22 tax reform roundtables held across the state with some 500 people, but does not contain suggestions for lowering them.
"Taxes are too high and too complicated," the report concludes. "They hinder economic growth, discourage job creation, and burden family budgets. And though we've made great progress in the last four years, we still have a long way to go."
Wisconsin Taxpayers Alliance president Todd Berry, who wasn't involved in the roundtables or consulted about the report, said he was surprised there were no recommendations.
"They certainly lay out the case that the governor made when he was running four years ago," Berry said. "But there's no fundamental comprehensive tax reform here."
The report comes as Walker prepares a biennial budget for release early next year. He already faces a difficult task in balancing a $2.2 billion budget shortfall, which includes a proposed increase in transportation-related taxes and fees.
Republicans in the Legislature are pushing for more tax cuts in the budget. Rep. Dale Kooyenga, R-Brookfield, a budget committee member and the architect of tax cuts in the 2013-15 budget, said Tuesday he wants to reduce the number of income tax brackets from four to three, eliminate the alternative minimum tax and cut the state forestry property tax.
He also wants to eventually eliminate the technical college property tax, which Walker and Republicans started to do with a tax cut enacted earlier this year.
"We know what we need to do," Kooyenga said.
Chandler declined an interview. Kleefisch is traveling in China. Walker's spokeswoman said he "looks forward" to lowering taxes.
Walker has promised to lower taxes every year he is in office. A year ago, as the roundtable discussions began, he floated the idea of eliminating the state's income tax and raising additional sales tax revenue.
A report from the conservative Wisconsin Policy Research Institute in late September suggested such a shifting of the tax mix could spur economic growth without costing state revenue. But Walker has ruled out broadening the sales tax base.
According to the tax reform roundtable report, the top concern expressed by participants, including about 330 comments submitted online, was the property tax burden, followed by income taxes, the complexity of the income tax code, taxes paid by small business and controlling the cost of government.
The first tax reform roundtable last December in Beloit stirred controversy when a reporter was barred from entry.
The report released Tuesday doesn't claim to be an in-depth analysis on the topic, instead describing itself as offering "a broad outline and common themes."
Half of the report describes nearly $2 billion in tax cuts that have already been enacted since 2011 and how Wisconsin has ranked among the top 10 states in terms of tax burden, as measured by the Washington D.C.-based Tax Foundation.
That ranking is based on the latest data, which is for 2011, before the tax cuts took effect. It doesn't account for the state's comparatively low fees and tuition.
Jon Peacock, director of the liberal-leaning Wisconsin Budget Project, said the report is "long on generalities and short on specifics."
"It's interesting and I think disappointing that the report doesn't acknowledge that the state's recent tax cuts are creating huge challenges for balancing the next budget," Peacock said.
"The desire to reduce taxes has to be balanced with the need to keep investing in things like education and a healthy workforce, which are critical to Wisconsin's economic competitiveness."