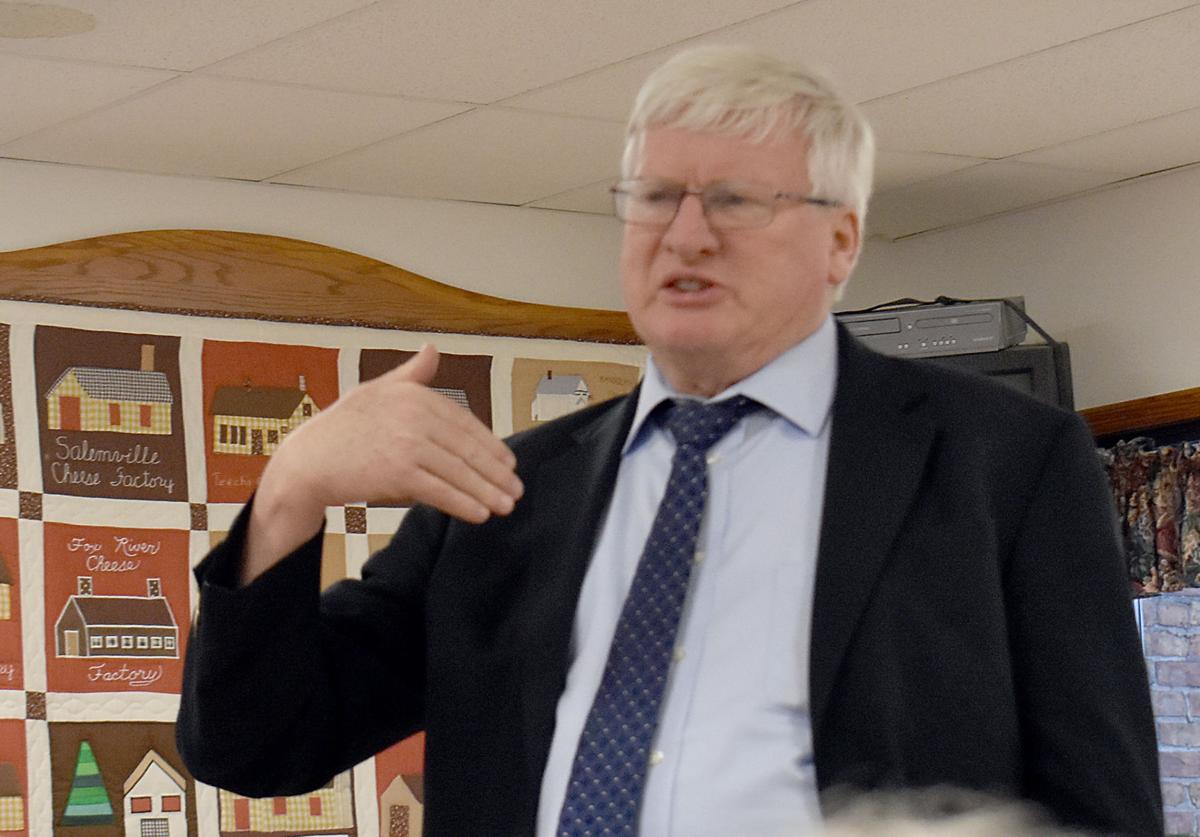 As President Donald Trump proposes to crack down on immigrants receiving welfare benefits, U.S. Rep. Glenn Grothman, R-Glenbeulah, is taking one of the most strict stances of anyone in Congress.
The third-term representative for Wisconsin's 6th District, who was in town for the Dodge County Fair, said he would cut off all welfare for anyone who isn't a U.S. citizen with no exceptions during a visit to the Daily Citizen office. The Trump administration's proposal would deny green cards to anyone predicted to be larger users of welfare programs.
Opponents say the policies would disproportionately affect, and target, immigrants of color from poorer parts of the would, while denying anyone who isn't already middle class the opportunity to come to the U.S.
"Quite frankly, we have too many people on welfare in our country. We can't be taking everybody from Brazil, Guatemala who wants to come to America and put them on welfare as well," Grothman said. "President Trump is 100 percent right. First of all, we're broke. Secondly, the immigrants of today are going to be the citizens of tomorrow. We want the best that other countries have to offer."
Grothman said "the best" would be people who can prove they have skills, can work hard and not break the law.
"I think we have good people from all countries. We have bad people from all countries," Grothman said. "It's already very expensive to take care of our citizens in need. We cannot afford to take care of citizens from other countries."
Grothman also is promoting "competency-based" learning in higher education, and introduced a related bill this summer. The concept would allow students to bypass the usual wait to the end of a semester to complete a course if they can show mastery of a skill in other ways.
You have free articles remaining.
For example, a nursing student can do a project to show what they've learned on the job in a hospital or retirement home. The idea is to lower the time it takes to finish a degree, reduce student debt and have more graduates in a field.
Grothman said he wants to align federal student aid with the concept, which already is in use at the University of Wisconsin.
"You can work on that project at 11 at night, 2 in the morning. You can work on four projects in a row," he said. "You can get through UW as quickly as possible. You'll wind up getting through quicker and taking out less student debt."
Grothman also said he supports making universities sign off before a student takes out a loan.
He also said he is working to make sure new rules don't threaten sheltered workplaces, which provide places to work for people with disabilities, like Green Valley Enterprises in Beaver Dam. A minimum wage below the normal one applies to people with disabilities, and Grothman said he opposes raising it as he believes it would endanger those jobs.
Lawmakers have introduced a bill that would end the sub-minimum wage, saying it's unfair and exploits workers.
"If you begin to say you have to pay people — even people with different abilities — at least $7.50 an hour or $15 an hour, a lot of people are not going to have jobs, and that would be a tragedy," he said.
While in the area, Grothman is hitting the booths at the Dodge County Fair and touring the Kraft factory. He also received the Spirit of Enterprise Award from the U.S. Chamber of Commerce at the Beaver Dam Chamber of Commerce.
"Quite frankly, we have too many people on welfare in our country. We can't be taking everybody from Brazil, Guatemala who wants to come to America and put them on welfare as well. President Trump is 100 percent right. First of all, we're broke. Secondly, the immigrants of today are going to be the citizens of tomorrow. We want the best that other countries have to offer."

— U.S. Rep. Glenn Grothman, R-Glenbeulah