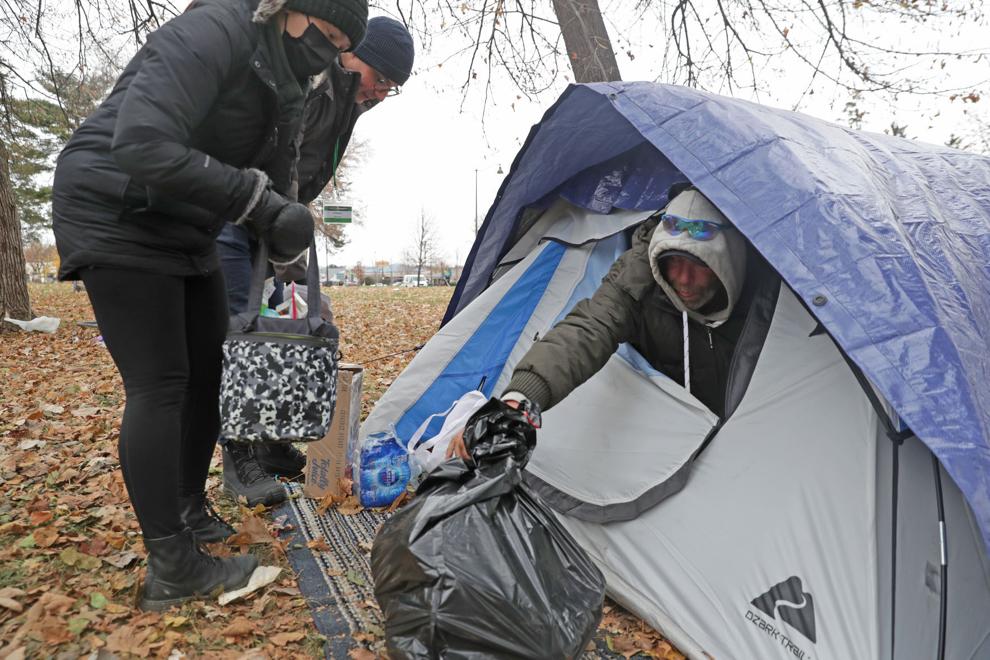 Around 10 a.m. Thursday, with the temperature below freezing and a stiff wind hinting at frigid days ahead, Jay Gonstead was asleep under layers of blankets in a tiny powder-blue tent pitched about 20 yards from busy East Washington Avenue amid a sprawling homeless encampment at Reindahl Park.
Maria Tran, an outreach worker, kneeled outside the tent to share the news that Gonstead, who has been homeless and living in the park since May, would be relocating that morning to a 64-square-foot, heated, tiny shelter, one of 30 at Madison's first shelter encampment opening at 3202 Dairy Drive on the Southeast Side.
"It's moving day," she said.
After gathering his belongings, and sharing hugs and handshakes with other campers who were warming themselves around two burn barrels, Gonstead hopped in Tran's car for the 6½-mile drive to the shelter encampment, where he would be among the first to move in as part of a process that's expected to take several weeks.
After Gonstead chose one of the gleaming white shelters near a bike rack and a picnic area with grills, Tim Jones, facilities leader for Madison Area Care for the Homeless (MACH) OneHealth, the city's chosen operator for the encampment, gave him a key. He stepped into his new, temporary home equipped with operable windows, fold-up beds, shelving, electricity, light, heater (an air conditioner is coming next spring) and mini-refrigerator.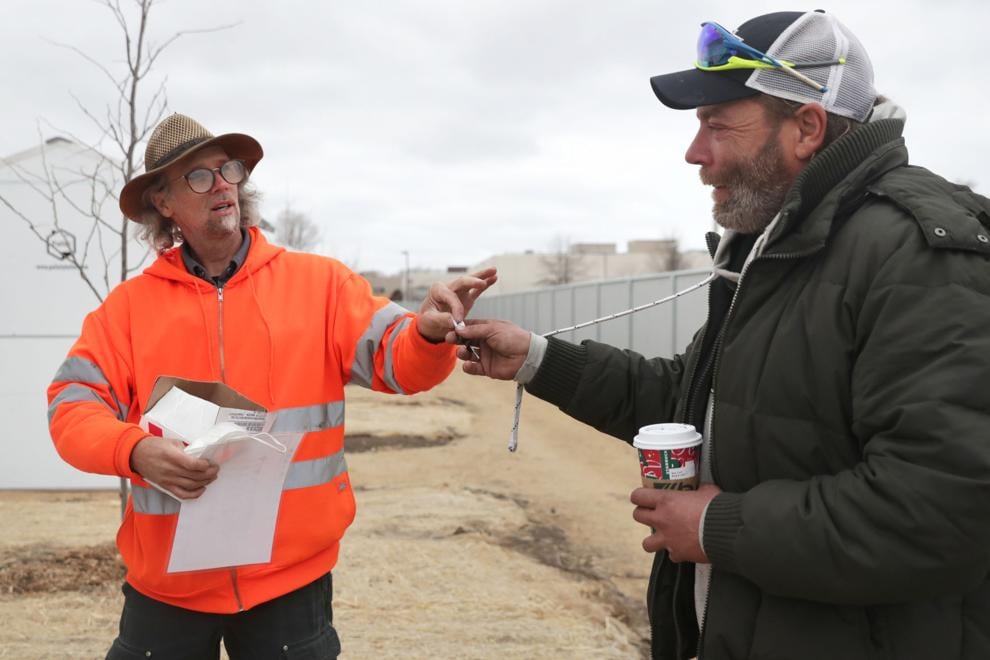 His eyes misty, Gonstead was then given a tour of the encampment, which features a small building with office space and six restrooms with showers — each with their own entrances — streetlights, landscaping and a 6-foot privacy fence surrounding the 1.8-acre, city-owned site in an industrial area across the street from Fire Station 14.
Still shivering from the cold, he also had not bathed in days. A hot shower in the security of a locked restroom, followed by retreat to a dry shelter that tamed the howling wind to mere background noise, would follow.
"This is really overwhelming," he said.
Closing Reindahl
As the COVID-19 pandemic took hold in 2020, the city designated the Starkweather Creek conservation area and 91-acre Reindahl Park as places for temporary camping, but homeless people also flocked to McPike Park on the Near East Side because of its proximity to Downtown and resources.
At its peak, roughly 40 people were camping at McPike, but it was mostly abandoned at the time the city ordered it vacated during a cold snap at the end of February.
In early April, the city posted notices that a ban on camping would be enforced and all structures and personal property would be removed from Reindahl, where up to 20 people had been staying, by May 9. Most left, but several refused, and city officials didn't force the issue.
The now-illegal Reindahl encampment — a mix of community, independence, generosity, misery and danger — has been declared unsanitary, unhealthy and unsafe. It has evolved and spread around over time, a hodgepodge of tents, tarps, vehicles, bikes, shopping carts, uneaten food and trash, with new and old friends grouped together.
"We're pretty calm down here," Gonstead said of the group he hung out with near a picnic table and the burn barrels before moving to Dairy Drive. "It's not like I'm in fear for my life."
Thanks to the generosity of the broader Madison community, campers were rarely if ever in need of food, Gonstead said, adding that he and his friends cooked over the burn barrels. "We were pretty creative," he said. "We always had more than we needed."
Still, "when you combine mental health issues and drugs, it creates a different kind of person," he said, adding he was one of those who drank. "It was just crazy all day. It became more of a free-for-all at night. I've seen ODs. I was sleeping when a guy got shot."
And with cold weather ahead, "I don't want to be the person going door to door seeing if they're alive on 10-below nights," he said.
The city has now posted notices that camping will no longer be allowed after Dec. 6, and that tents, other structures and personal belongings must be removed by Dec. 9.
"The longer the encampment exists, particularly as winter approaches, the greater the threats to the health and safety of its users," city community development director Jim O'Keefe said. "It is appropriate to bring the Reindahl encampment to a close and restore the park to its intended use."
'It just happens'
Gonstead, 53, never envisioned living from a little tent he bought at Walmart and covered with a cobalt blue tarp among dozens of others only steps from a major thoroughfare.
"Everyone says homelessness is a choice," he said. "It just happens. It's not a choice. I didn't ask for it. Everyone has a story."
A Madison native, Gonstead graduated from East High School in 1986 and moved to the Monroe area in Green County in 2002. He was homeless for a brief period in the early 1990s, sleeping on grates for warmth around State Street and UW-Madison. One of three siblings, a sister was murdered at the age of 21 in 1994 and another sister also died. He has no children.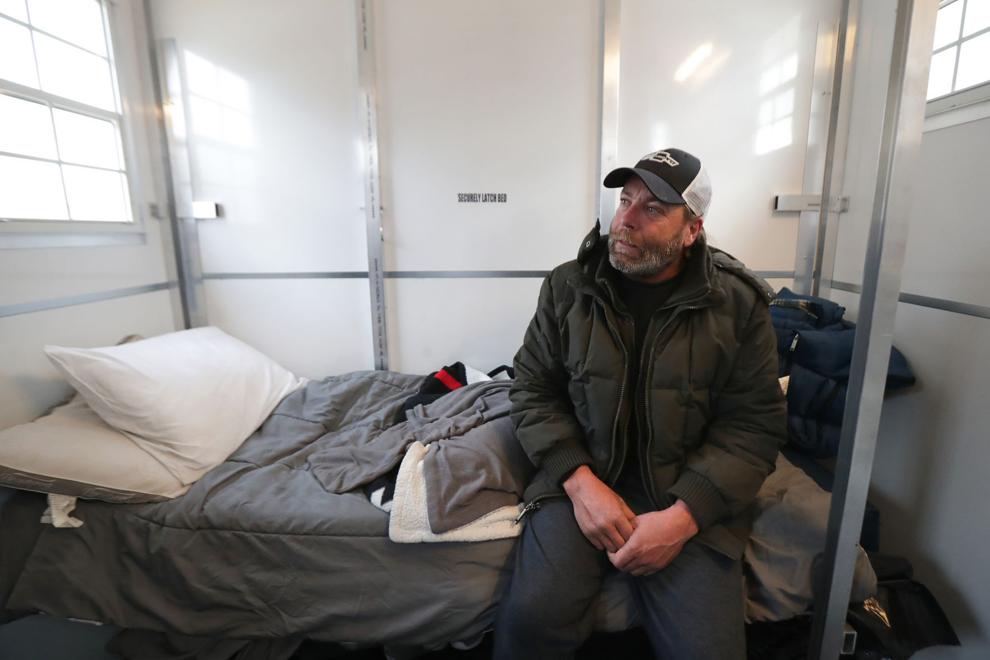 Gonstead has held a variety of jobs, some in construction. In 2015, he inherited his mother's modest house on the North Side after she died, and he returned to Madison.
But in April, after 31 years of marriage, he and his wife divorced and he had to sell the home. Although he initially had some money, he was unable to find housing, he said, due to a poor credit history and possibly his drinking. He set up a tent at Reindahl in May and spent his time there and in motels.
But "you can stay in motels only so long," he said. "It's expensive."
Then, he said, "I ran out of money. I didn't want to go to shelter. I wanted to be on my own."
Warm and safe
For more than six months, the city has been working to create alternatives for those staying at Reindahl Park or the Starkweather Creek area, a necessity because the council has refused to close the encampments unless those who are uncomfortable staying in group shelters have someplace else to go.
Now, the city has two options: the new encampment of 30 tiny shelters on Dairy Drive and 35 rooms at the two-story Madison Plaza Hotel, 3841 E. Washington Ave., across the street from Reindahl. Since September, Dane County has been renting 100 rooms at the hotel for homeless adults considered at high risk for severe illness if they contract COVID-19. The city and county will be using Focus Counseling of Madison to provide services there.
The shelters "offer a warm, safe alternative in a time when our housing market remains exceptionally tight," Mayor Satya Rhodes-Conway said. "They will provide immediate protection from the elements and a better place from which support staff can help connect people to more permanent housing."
Gonstead, who like others had visited the shelter encampment days before and chose to relocate, was just relieved to be there.
"In the park, you constantly had to watch your back, watch your stuff, keep your head on a swivel," he said. "This is a lot different. You can lock the door and come back and know your stuff is going to be there.
"I think the only thing people struggled with is the location," he said of the bleak, industrial part of town. "At the same time, the location doesn't matter. The bus stop isn't too far away. There's a shower, not a garden hose, a warm bathroom instead of a drafty porta-potty."
A friend who was with him at the burn barrels earlier in the day and had been uncertain about a move to Dairy Drive arrived later to claim his own tiny shelter. "He has rheumatoid arthritis," Gonstead said. "I was glad to see him come."
"People are very excited. It's emotional," said Brenda Konkel, executive director of MACH OneHealth. "I wish we could get more people moved quicker, but there are lots of logistical issues. And it's hard work."
The 30 shelters, purchased from Pallet Shelter of Everett, Washington, are built with aluminum frames and insulated composite panels. The city purchased Pallet's "cold weather package," which includes some insulation in the walls, floor and roof and a 4,500-watt heater.
MACH OneHealth considered retrofitting the thin-walled shelters, fearing they were insufficiently insulated for Wisconsin winters. But city officials and Pallet maintain the shelters will stay warm, even if it's well below zero outside.
While the city and the operator continue to explore modifications that might make them feel snugger, such as weather stripping and caulking, "nobody is suggesting the structures are not usable, or safe, without added insulation," O'Keefe said.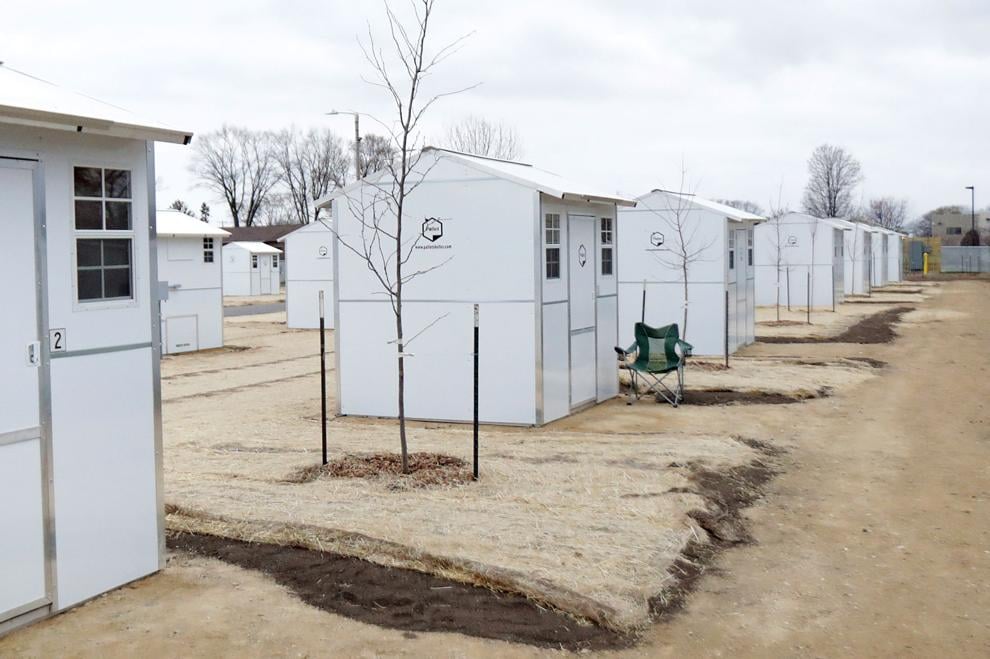 MACH OneHealth and Kabba Recovery Services will have staff on site to help campground users with daily living needs and connect them to mental health services, substance abuse treatment and housing searches. Those staying at the encampment don't have to accept the services.
Gonstead said he hopes to find work, "whatever my back will let me do."
"I like working independently," he said. "Give me a task and I'll get it done."
Buses, services
Given the location, each person will be given either a 30-day bus pass or a $65 gas card each month, and staff will provide scheduled transportation to stores, laundry and other services. Residents can keep their pets.
"The services will have a lot to do with how successful this is," O'Keefe said. "There's a strong, enthusiastic team that's ready to go. (But) it's important to understand this is not housing. It's a shelter resource for people to use as they work to acquire long-term housing."
The encampment also has rules.
Guests are allowed between 8 a.m. and 10 p.m. Open intoxicants are not allowed in common areas or the restrooms, and drug dealing is prohibited. The police will not do extra patrolling unless there are calls of concern or evidence of crimes being committed.
Those who accept shelters sign a two-page agreement with guidelines and rules related to respecting neighbors, non-discrimination, weapons, theft, following alcohol and drug policies, behavior, noise and more.
O'Keefe said two-thirds of the shelters could be occupied by Thanksgiving and the encampment could be open up to two years. The city expects to start moving others from Reindahl into hotels around Dec. 1, and hopes to complete those moves within a week.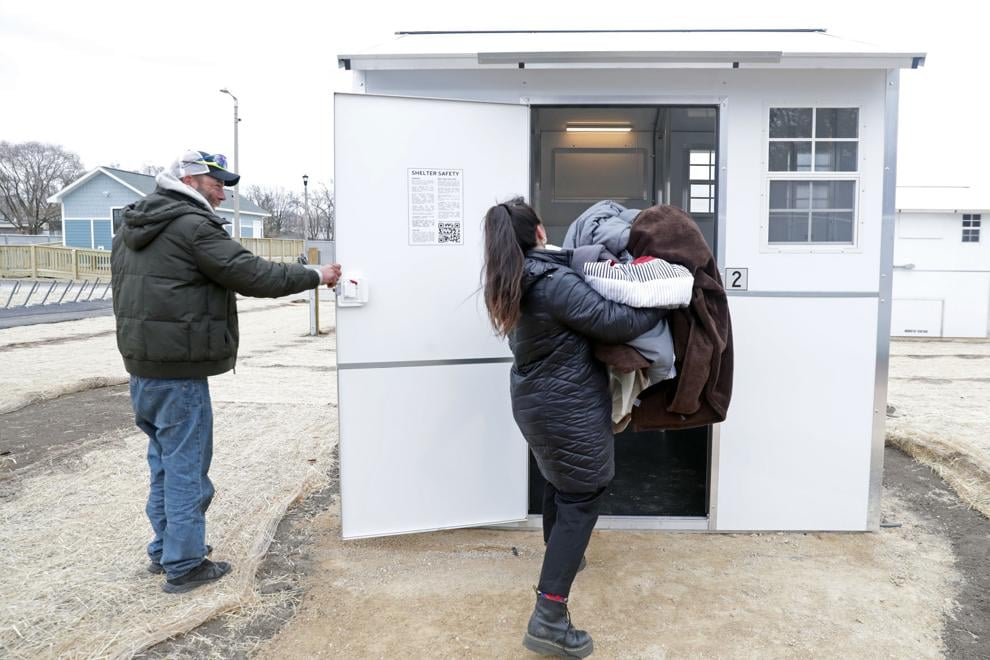 By the end of the week, Konkel said, seven people had moved in.
"It's a step in the right direction, but it's overwhelming how much unmet need is still out there," she said. "We need at least three encampments and a spot for car campers. But it's really great to have this option available for some folks."
"Our longer-term goal is to make progress on the permanent men's shelter and to continue to develop other options for the unsheltered, including tiny houses," Rhodes-Conway said.
Easing in
After taking his first shower in days, Gonstead retreated to his shelter but didn't start to unpack his belongings, much of it hastily stuffed into plastic bags in the morning. The heater had been blasting on high and he had to turn it down. He has a radio but hopes for a TV. He'd also like to get a way to heat food in his shelter.
Instead of unpacking, he spent time just sitting on his bed, thinking.
"I think this will help a lot of people," he said. "That's what I've been doing, thinking about what I'm going to do next in the comfort of my own home."