RACINE — As temperatures drop and winter approaches, a Racine tradition hopes to help the homeless find a little warmth this season.
While strolling through Downtown Racine during the winter, maybe you've seen the homemade scarves and hats hung on trees or fences, attached with a note that reads: "I am not lost but I am happy YOU FOUND ME! I was handmade for you by someone who cares. If you are cold and need me, please TAKE ME! God Bless."
About 150 scarves and other cold weather items were handcrafted by Racine County Communications Center dispatchers, who want to help the homeless population stay warm.
"With our job, we know there are a lot of homeless people out there," said Patti Cruz, a 911 dispatcher for the past 11 years. "There are a lot of people who are not as fortunate as we are."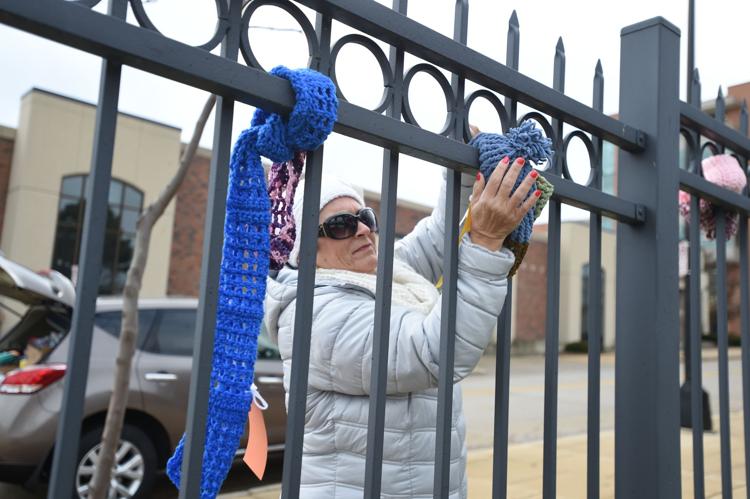 Cruz said that the tradition began five years ago, when a friend approached her about crocheting scarves for the homeless. Since many of the dispatchers are avid crocheters, it seemed like a perfect fit. The first year, Cruz estimates that about 35 to 40 scarves were made.
Cruz said the group continues to crochet scarves, towels and other items year round in preparation. Dispatchers crochet during their freetime or in between calls.
You have free articles remaining.
On Wednesday, dispatchers once again gathered in Downtown Racine to hang their items.
"What started out as a way to keep busy during downtime in between calls has grown to be a therapeutic mechanism many of our team members use, as a way to decompress from the stress that comes with listening to someone else's worst day," said Jackie Bratz, director of the Racine County Communication Center. "We are always willing to help out however we can. We are so incredibly fortunate to have an amazing team of selfless and giving individuals as a part of our Racine County 911 family and we are extremely proud of the time and effort each of them dedicates to help others in their time of need."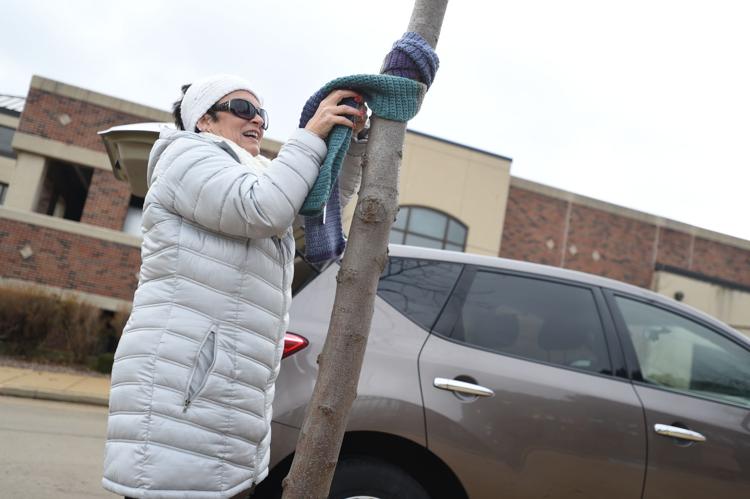 Bratz says the dispatch team does a number of things to help the community throughout the year, including gathering scarves, hats and mittens for the less fortunate, a food drive during the holidays for various food banks, collecting blankets for the shelters, making tiny hats for infants and children at area hospitals and putting together raffle baskets for area fundraisers.
"It's kind of a great group of people that I work with. They are giving back always. They are not takers, they are givers," Cruz said. "There is not a whole lot of praise for being a dispatcher and this is a way to make us feel better."
"Sometimes, our dispatchers are the last to speak to someone alive. Sometimes our callers cannot calm down enough to follow the lifesaving instructions we are trying to provide, and sometimes the dispatcher is even privileged enough to hear a baby's first cry (as has happened here several times in the last few weeks)," Bratz said. "Just the simple act of stepping out for a breath of fresh air, grabbing some yarn to start making a scarf or hat, or talking to a coworker about what they have planned to do on their upcoming days off, does a great deal to relieve workplace stress."
"We are always willing to help out however we can. We are so incredibly fortunate to have an amazing team of selfless and giving individuals as a part of our Racine County 911 family and we are extremely proud of the time and effort each of them dedicates to help others in their time of need." Jackie Bratz, Racine County Emergency Communication Center director
"We are always willing to help out however we can. We are so incredibly fortunate to have an amazing team of selfless and giving individuals as a part of our Racine County 911 family and we are extremely proud of the time and effort each of them dedicates to help others in their time of need."

Jackie Bratz, Racine County Emergency Communication Center director