Wisconsin utility regulators have scheduled a series of six public hearings on a proposed power line across the southwest corner of the state.
Members of the public can offer opinions on the $500 million high-voltage transmission line known as Cardinal-Hickory Creek during meetings June 25-27 in Madison, Dodgeville and Lancaster.
A joint venture of American Transmission Co., ITC Midwest and Dairyland Power Cooperative, the line would stretch more than 100 miles between Dubuque and Middleton.
Proponents, including the utilities and some environmental groups, say it would deliver cheap, clean wind energy from Iowa, saving ratepayers money. Opponents say the line is not needed, would support fossil fuel use and damage important conservation areas.
The costs — and any possible benefits — would be shared by ratepayers in 12 states. Wisconsin's share is about $70 million.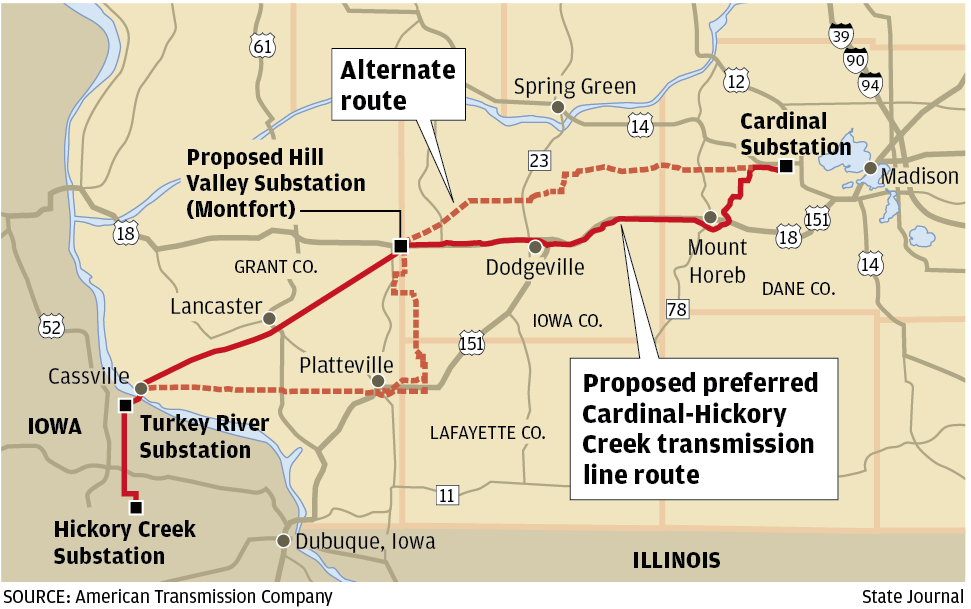 The Wisconsin Public Service Commission has until Sept. 30 to decide if the line is needed and if so where to put it.
The PSC will hear testimony from the utilities and other interested parties the week before the public hearings when anyone can testify.