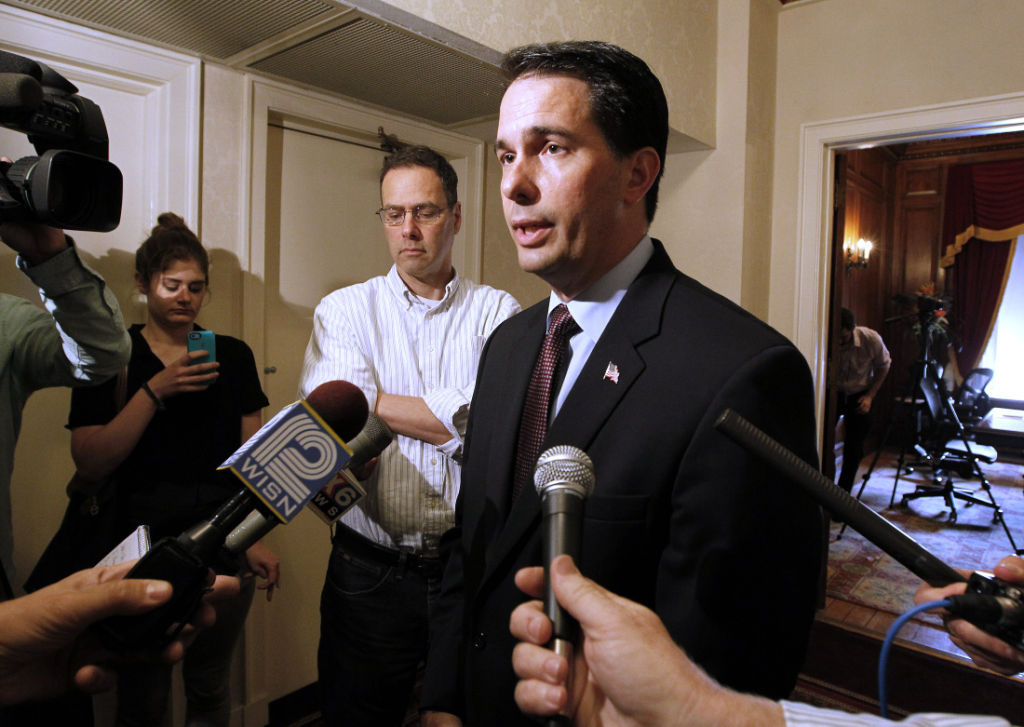 Prosecutors accuse Gov. Scott Walker of overseeing a sweeping "criminal scheme" to illegally coordinate fundraising and campaign activity among conservative groups in a broad effort to help him — and Republican senators — beat back recalls in 2011 and 2012, newly released court documents show.
In the documents, unsealed Thursday by a federal appeals court, Francis Schmitz, the investigator for a secret, wide-ranging John Doe investigation into alleged campaign coordination, said the coordinated effort involved conservative groups, Walker, his campaign and top allies of the governor, including political consultants R.J. Johnson and Deborah Jordahl.
Walker and his aides have not been charged in the investigation that was halted by a federal judge in early May. That ruling is being appealed.
"The accusation of any wrongdoing written in the complaint by the office of a partisan Democrat District Attorney by me or by my campaign is categorically false," Walker said in a statement Thursday.
Writing for prosecutors in five counties, Schmitz alleged that Walker and his allies raised money and coordinated spending with about a dozen conservative groups during the recall elections. Those activities and contributions weren't disclosed in campaign finance reports as required by state law, he said.
Schmitz cited a May 2011 email from Walker to prominent Republican strategist Karl Rove saying that Johnson would lead the coordination.
"Bottom-line: R.J. helps keep in place a team that is wildly successful in Wisconsin. We are running 9 recall elections and it will be like 9 congressional markets in every market in the state (and Twin Cities)," Walker wrote to Rove on May 4, 2011, according to the filing.
Johnson, a Walker campaign consultant, is also a top adviser to Wisconsin Club for Growth, a conservative group that was active in the recall elections. Prosecutors allege Johnson used Club for Growth as the "hub" for coordination between the Walker campaign and conservative groups engaged in issue advocacy.
The documents released Thursday are part of a federal lawsuit brought by Wisconsin Club for Growth and director Eric O'Keefe to end the John Doe investigation, which they say infringes on their First Amendment right to free speech.
U.S. District Judge Rudolph Randa ordered the investigation to stop, writing that O'Keefe and others had found a loophole in Wisconsin campaign finance law and that any law prohibiting their activities would be unconstitutional. But his order is on appeal. A similar lawsuit is pending in state court.
On Thursday, Walker suggested that the documents mean little or nothing, given that his campaign's position has already prevailed in Randa's courtroom and in a similar state lawsuit.
"I'm not asking people to take my word for it, or political allies," said the governor, who is facing reelection this year and is considered a top contender for the 2016 GOP presidential nomination. "I'm saying look at two independent judges, at both the state and federal level, who did not buy those arguments and were rather aggressive in telling those folks to stop proceeding with that because they didn't think it was right."
Johnson and Jordahl did not return a call seeking comment.
Club: Prosecutors violating laws
Attorneys for Wisconsin Club for Growth said Thursday it was prosecutors who had violated state law.
"These documents show how the John Doe prosecutors adopted a blatantly unconstitutional interpretation of Wisconsin law that they used to launch a secret criminal investigation targeting conservatives throughout Wisconsin. That legal theory has now been rejected by two courts," said Andrew Grossman of Baker Hostetler, the law firm representing Club for Growth. "Sunlight is the best disinfectant, and this is a story that needs to be told to prevent more abuses and to hold the John Doe prosecutors accountable for violating the rights of Wisconsinites."
The group and O'Keefe argue that Milwaukee County District Attorney John Chisholm, a Democrat who launched the investigation in August 2012 based in part on information he obtained from a previous John Doe investigation into Walker's county executive office, has been engaged in a partisan witch hunt.
In court filings, Samuel Leib, a lawyer for the prosecutors in the federal lawsuit, said the John Doe, which also includes district attorneys in Dane, Iowa, Dodge and Columbia counties, is legal.
"Nothing short of ignoring evidence, it seems, will satisfy the plaintiffs that the proceedings are lawful," he said. "The court should ignore their blog-worthy pleas of conspiracy and put an end to this lawsuit."
On Thursday, 7th U.S. Circuit Court Judge Frank H. Easterbrook denied a motion from two unnamed people to block the release of the documents and ordered the unredacted copies — totaling 266 pages — be placed in the public court docket.
The unknown parties had tried to intervene, arguing that making the documents public could reveal their identities and invade their privacy.
Prosecutors and attorneys for the Wisconsin Club for Growth did not object to the release of the documents.
But Club for Growth had attempted to block some court exhibits from being released.
Several documents released
The documents reflect the most detailed public account of the investigation by those who are conducting it.
They include portions of orders, briefs and entire exhibits that were previously shielded from public view.
Among them is the state's response to attempts to quash subpoenas, which were filed by Friends of Scott Walker, the governor's campaign, and conservative groups including Wisconsin Club for Growth, Citizens for a Strong America and Wisconsin Manufacturers & Commerce. In it, prosecutors detail an alleged scheme to raise money nationally and funnel cash to other conservative groups.
"The investigation focuses on a wide-ranging scheme to coordinate activities of several organizations with various candidate committees to thwart attempts to recall Wisconsin Senate and Gubernatorial candidates," the response reads. "That coordination included a nationwide effort to raise undisclosed funds for an organization which then funded the activities of other organizations supporting or opposing candidates subject to recall."
Schmitz describes how in 2011 Wisconsin Club for Growth contributed $4.62 million to Citizens for a Strong America, of which Johnson's wife, Valerie, was treasurer. That accounted for all but $25 of that year's revenue for the organization, which then provided funding to Wisconsin Family Action, Wisconsin Right to Life and United Sportsmen of Wisconsin. Those groups were all involved in absentee ballot application activities during the 2011 recalls, Schmitz wrote.
Schmitz said Club for Growth also gave $2.5 million to Wisconsin Manufacturers & Commerce, which through its Issues Mobilization Council ran ads supporting Walker and criticizing his recall opponent Tom Barrett.
Schmitz also said WMC senior vice president James Buchen participated in conference calls with Walker and others involving the Senate and gubernatorial recall campaigns.
Schmitz alleged that in their court filings Walker's campaign and other groups "tacitly admitted to violating Wisconsin campaign law."
He added, "The purpose of this investigation is to ensure the integrity of the electoral process in Wisconsin."
WMC defends action
The documents reveal that Walker's campaign, Wisconsin Club for Growth, Citizens for a Strong America, Wisconsin Manufacturers & Commerce and WMC's Issues Mobilization Council sought to halt the John Doe investigation in state court last fall.
WMC, the state's largest business lobby, issued a statement declining to comment on the John Doe investigation, saying it follows campaign finance law.
"WMC wants to be explicitly clear that its grassroots lobbying activities are conducted carefully within both the letter and the spirit of state law," the statement said. "WMC strongly disputes any allegations of wrongdoing made public today and will vigorously defend itself against any such allegations."
The Associated Press contributed to this report.
Get Government & Politics updates in your inbox!
Stay up-to-date on the latest in local and national government and political topics with our newsletter.