When it was revealed that a top UW-Green Bay administrator retired then returned to the same job a month later, earning both his six-figure salary and a hefty state pension, some members of the Legislature and the public expressed shock at such "double dipping." 
But Thomas Maki, UW-Green Bay's vice chancellor, is far from alone. 
In the past five and a half years, at least 6,829 state and local government employees covered by the Wisconsin Retirement System left then returned to work, simultaneously earning a pension and a salary.
Those include two of Gov. Scott Walker's cabinet secretaries: Corrections Secretary Gary Hamblin and Children and Families Secretary Eloise Anderson, both earning six-figure salaries along with their public pensions.
Stephen Fitzgerald, superintendent of the Wisconsin State Patrol, whose sons, Scott and Jeff, run the Senate and Assembly, respectively, also is back on the payroll while continuing to collect a state pension.
On Friday, Walker said he supports a bill that would end double dipping. But the Republican governor has no plans to ask his appointees to stop taking their pensions, spokesman Cullen Werwie said. 
"They weren't rehired into a position they had been in before," Werwie said. "These were people who had been collecting their annuities long in advance of their service to Gov. Walker, in totally different jobs."
Legislation targets practice
According to a study by the Department of Employee Trust Funds, 5,729 retired employees were rehired and drawing pensions between Jan. 1, 2005, and the end of 2010. Another 1,100 employees joined the ranks of "rehired annuitants" between Jan. 1 and Aug. 31 this year, ETF spokeswoman Shawn Smith said.
Critics note that by drawing pensions before they actually retire, such employees have the opportunity to earn larger retirement payouts over their lifetimes. Rehired employees also stop contributing to the state pension fund, meaning fewer public-sector employees are supporting the system.
Proponents say retired then rehired public employees are cheaper because they do not qualify for expensive benefits such as health insurance. Such workers also may have hard-to-find skills and experience.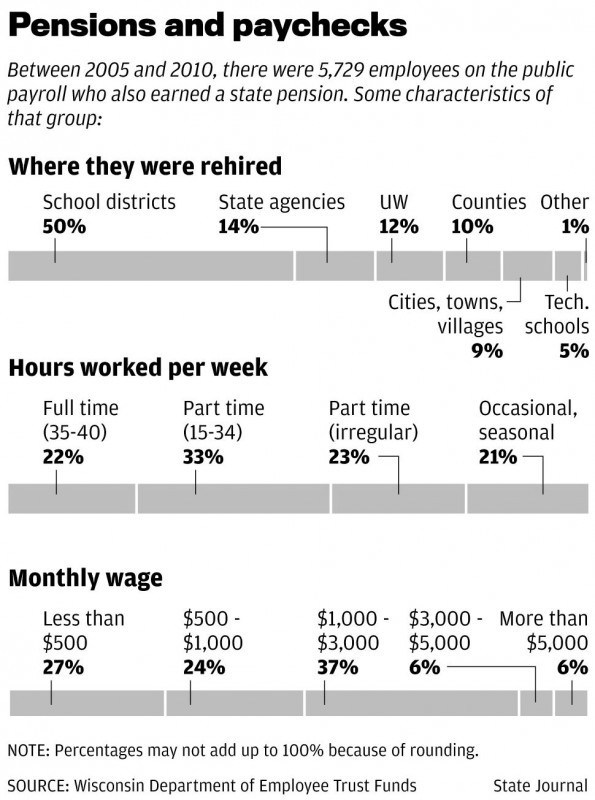 Smith said there are no studies evaluating the impact of rehired annuitants on the state retirement fund, which is considered one of the most solvent in the country. Last year, 155,775 retirees and their beneficiaries received $3.9 billion from the fund.
But Rep. Duey Stroebel, R-Saukville, has no doubt the practice is harming the system.
"An individual municipality or individual school district does benefit from rehiring these people. They do save money," Stroebel said. "But the net change is a big loss for the state of Wisconsin."
Stroebel is sponsoring Assembly Bill 318, which would require public employees returning half time or more to jobs covered by the state retirement system to suspend their pension income while they're working. However, those employees would qualify for health benefits.
The measure would not affect existing employees, including Hamblin, who earns $125,000 a year, Anderson, who makes $122,001, and Fitzgerald, whose salary is $105,678.
Stroebel said his bill is not aimed at retired teachers who come back as occasional substitutes, for example. And there's a specific exclusion for employees who work on an interim basis of six months or less. "We're looking at the most egregious cases: people who retire, never clean out their desk and come back to the same job," Stroebel said.
UW-Madison to review 447 workers
UW-Madison recently announced it would review the employment of 447 individuals who were rehired after retiring since the early 1990s. The university implemented a stricter policy this month that limits employment to one year — in most cases — for those who are pulling in a salary plus pension.
Among those rehired by UW-Madison: Associate Vice Chancellor Al Fish, who retired on Dec. 29, 2009, from his $148,256 salary only to come back to work one month and one day later to the same position — this time with a state pension. His boss, Darrell Bazzell, said the loss of the longtime administrator forced him to make a quick decision to rehire Fish. 
That was a year and a half ago.
"I don't know if he had contemplated, or even I contemplated, this length of an appointment," said Bazzell, UW-Madison vice chancellor for administration.
On Friday, University of Wisconsin System President Kevin Reilly asked Employee Trust Funds Secretary David Stella to work with him to craft rules that would allow universities to bring back retired faculty and researchers to teach specialized classes or continue research projects paid by outside funding.
UW-Green Bay arrangements in question
Retirees covered by the state retirement system can return to the same or another government job after 30 days, as long as the rehiring is not arranged before they retire.
However, a state lawmaker, citing public records, charged that the rehiring of two top UW-Green Bay officials failed to meet that condition. 
Rep. Steve Nass, R-Whitewater, said university officials arranged for Maki, who earns about $131,000 per year, and UW-Green Bay Associate Provost Timothy Sewall, who earns about $110,00 per year, to return to their jobs after their retirements this spring. UW-Green Bay officials contend they followed the law.
Rep. Bob Ziegelbauer, I-Manitowoc, is circulating a bill to raise the required separation from 30 days to 180 days.
Like the Stroebel bill, Ziegelbauer's proposal would require pension payments to be suspended for rehired annuitants working at least half time. Lengthening the separation and suspending retirement payments while working "would dramatically reduce the number of situations that are considered as abusive," Ziegelbauer said.
Proposal aims to instill confidence
Jim Palmer, president of the Wisconsin Coalition of Annuitants, cautioned against "villainizing" rehired employees, since it's up to managers — not retirees — whether they are rehired.
And retiree Roger Rulseh, of Madison, warned making wholesale changes to the system could harm public agencies that rely on workers with specialized skills.
Rulseh retired from Lakeshore Technical College in the 1980s. The college brought him back to teach forklift safety and metallurgy, skills local employers were demanding and existing instructors couldn't provide, he said.
People who condemn such employees as double dippers, Rulseh said, "don't know what they're talking about."
But Ziegelbauer said the public deserves to have confidence that the system they pay for is fair for everyone, including taxpayers.
"What I'm after," he said, "is trying to systematically reduce the number of phony retirements."
— Reporter Deborah Ziff contributed to this report.