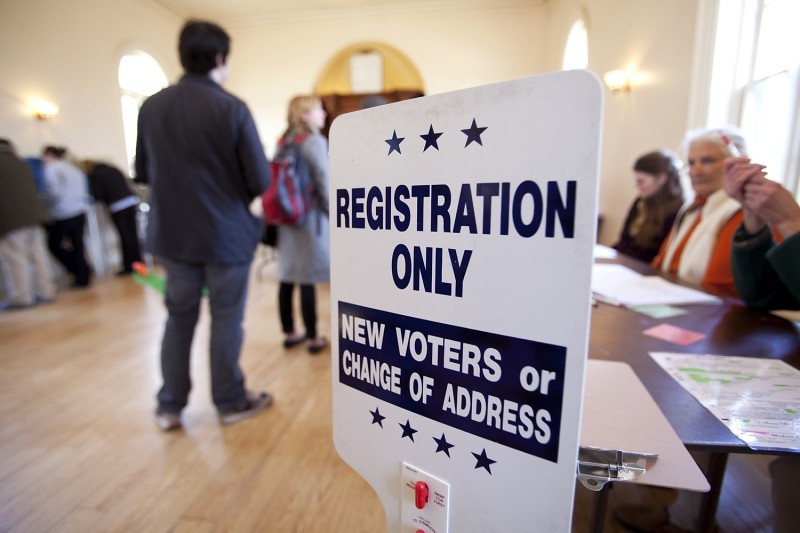 In recent years, Republicans across the country and in Wisconsin have made clear their distaste for laws that make voting easier.
So it was not particularly surprising that Gov. Scott Walker, who last session led efforts to reduce the early-voting period, to impose a voter ID requirement as well as to tighten requirements for "proof of residence," recently announced a plan to eliminate Election Day registration.
But there are several reasons why Walker will likely have more trouble getting such a bill through the Legislature than he might have had last session.
Wisconsin's 1,400 municipal clerks will likely be against the change. While the governor claimed changing the law would "make it easier for our clerks," to handle registration, rather than volunteer poll workers, a top official with the Wisconsin Municipal Clerks Association forcefully pushed back.
"It will make it more burdensome," says Sun Prairie City Clerk Dianne Hermann-Brown, a former clerks association president who currently heads the group's election communication committee. "It would be a logistical nightmare."
Keep in mind, the association has not opposed all of Walker's voting proposals. In fact, Hermann-Brown was fiercely criticized by progressives in her recent bid for Dane County Clerk because of her support for eliminating in-person absentee voting during the three days prior to Election Day.
But doing away with same-day registration would force Wisconsin to submit to a number of federal mandates aimed at increasing ballot accessibility, she says.
In particular, the state would have to begin offering voter registration through the Division of Motor Vehicles, a requirement that Hermann-Brown says would lead to inexperienced state officials handling voting rights.
And it would also mean thousands of people streaming into clerks' offices in the weeks preceding an election, which would mean more overtime, more overworked clerks and more taxpayer dollars spent, she says. 
Ultimately, more people would arrive to the polls to find they are not registered because of a change of address or other technicality, and would therefore have to cast provisional ballots. In the 2008 presidential election, for instance, only 211 provisional ballots (which are often rejected) were cast here. In other states, there were tens of thousands, according to a Government Accountability Board memo (attached) that makes the case for Election Day registration.
Although some clerks have initially voiced support for the change, Hermann-Brown says the organization is working to educate its members about the fiscal and labor burdens that eliminating same-day registration would impose on towns, villages and cities.
Vikki Zuehlke, the president of the clerks association and the clerk of the village of Waterford in Racine County, echoed Hermann-Brown's comments, and says the organization will focusing on educating members about the hardship that Walker's proposal could create for local governments. 
Clerks are not the only political barrier to Walker's policy aims.
GOP-favored voting policies that once enjoyed widespread support across the country, such as voter ID, have aroused suspicion among independent voters and have provoked a backlash in minority communities. In Minnesota for instance, polls throughout the year that showed support for a constitutional amendment to require voter ID steadily declined from a high point of 80 percent. On Election Day, the initiative was decisively defeated, 54-46.
And Mitt Romney and Paul Ryan probably have not helped Walker's cause. In post-election interviews, the GOP standard-bearers essentially blamed their loss on an unexpectedly high turnout among young and minority voters. Thus, the partisan motives behind Walker's proposal would be clearer now than ever before.
Finally, it is far from certain that Walker will have uniform backing from his party, especially in the state Senate.
It seems almost certain that Sen. Dale Schultz, R-Richland Center, for one, will not support it.
"I find it hard to believe that he'd be willing to support a bill like this which eliminates one of Wisconsin's fine traditions of accessibility for people to exercise their right to vote," says Todd Allbaugh, a legislative aide to Schultz, who was not available for comment on Wednesday.