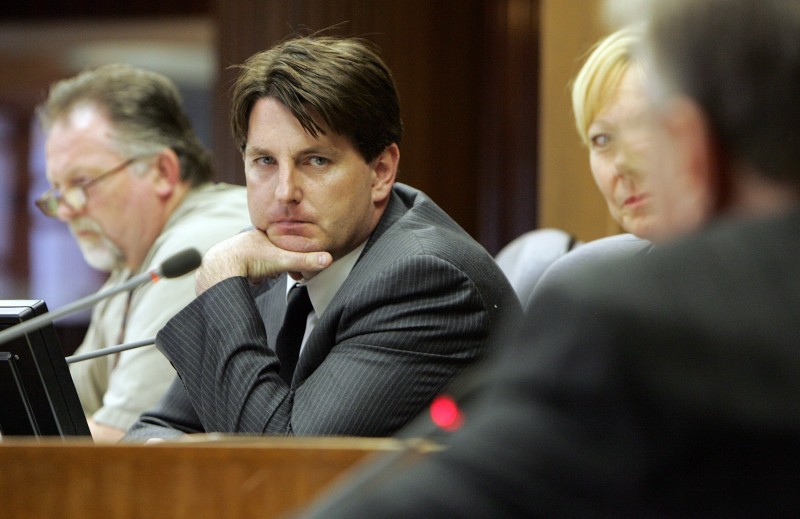 The race for Dane County clerk is getting nasty.
Three of the four candidates for the position, all of whom are competing for the Democratic nomination in the Aug. 14 primary, have traded barbs over each others' qualifications, campaign finance practices and motivations for the job.
In particular, Sun Prairie Municipal Clerk Diane Hermann-Brown and Michael Quieto, an administrative support clerk for the City of Madison, accuse Dane County Board Chair Scott McDonell of being supremely unprepared for the job and uncommitted to performing its duties.
"Who do you want counting our ballots? A career civil servant or a career politician," asks a Quieto ad on Facebook that clearly references McDonell, who has served on the County Board since 1996 and ran unsuccessfully for Dane County executive last year.
Quieto has also suggested that McDonell has engaged in unethical fundraising practices. He points to the fact that the Democratic Party of Dane County, which has not endorsed in the race, recently contributed $2,000 to a political action committee, Citizens for Dane County's Future, which exists for the purpose of supporting progressive candidates for County Board supervisor. However, last month the committee, which McDonell runs, contributed just over $2,000 to McDonell's campaign for county clerk.
Quieto sees the transactions as evidence that McDonell is using his connections in the Democratic Party to aid himself.
"McDonell has essentially created his own personal super PAC through which he funneled more than $2,000 in Democratic Party money to his own campaign in a partisan primary," says Quieto.
McDonell reasons that he has contributed thousands from his own campaigns in the past to the Citizens PAC. Therefore, he says, the $2,000 from the PAC to his campaign was a "partial reimbursement."
Multiple members of the Dane County Democrats executive board who I talked to denied that the $2,000 contribution to the Citizens PAC was made with the intention of helping McDonell's campaign. In fact, several board members who approved the transfer support Quieto for clerk.
Indeed, over the past four years, McDonell has transferred more than $4,000 from his own campaigns for county supervisor to the Citizens PAC. His last large donation was in January 2010, when he transferred $3,000 to the PAC. He also gave $50 in March of this year.
Both Quieto and McDonell come under fire from Hermann-Brown, who says McDonell is entirely unqualified and ridicules Quieto's claims that he is experienced in "election administration."
"I'm hearing from municipal clerks that they're very insulted by that statement," she says. "Mike does data entry. He does the machines. He is not an election administrator."
Responds Quieto: "I am a (Government Accountability Board)-certified administrator. That's what it says on the paper, that's the title, that's the training I've received."
Quieto also has harsh words for Hermann-Brown, who he accuses of not being a "bona fide Democrat." In particular, he points to a 2010 press conference at which, alongside Republican legislators, she advocated establishing an earlier deadline for absentee voting.
Hermann-Brown offers no apologies. She says she was standing up for overworked municipal clerks when she spoke in support of moving the absentee voting deadline from the Monday before a Tuesday election to the previous Friday. Hermann-Brown and other clerks have said that absentee voting on Monday allows too little time to prepare for the election on Tuesday.
"I speak on behalf of all the clerks of the state. ... I don't speak along party lines," she says. "No other position in government works (20-hour days) and gets paid for eight."
McDonell, who has no clerking experience, nevertheless contends that his experience managing a $500 million budget for the county more than qualifies him for the post.
"My experience is different but equal to or greater than a small city clerk or a (support clerk) in the city office," he says, comparing himself to his rivals. "I think the main job of the (county) clerk is the budget, as well as working with human resources and municipal clerks on training."
He also points to the backing he has from County Executive Joe Parisi, who was county clerk for eight years between 1997 and 2005.
Indeed, Parisi says that leadership, not knowledge of the clerk bureaucracy, is the most important quality he seeks in the candidates for the job.
"It's more about management and the direction in which one wants to take the office," he said.
McDonell's candidacy has spawned resentment in some quarters of county government. Several people allege that he pulled a number of strings to line up the position for himself.
For instance, when former Clerk Bob Ohlsen retired from the position mid-term last year, it fell to the County Board to appoint an interim replacement. Many say that McDonell and County Board Deputy Chair John Hendrick appointed Karen Peters, then the deputy clerk, on the condition that she would not run for the position in her own right the following year.
As a result, the critics claim, McDonell is running for clerk and Hendrick, if McDonell is successful, will become County Board chair.
In November, Hendrick successfully proposed raising the salary of the board chair by 32 percent, from $28,000 a year to $37,000. In March the board also approved a 5.8 percent increase in pay for the county clerk, county treasurer and register of deeds, nudging the pay for those elected positions up to $89,814.
Two liberal supervisors who are running for treasurer, Matt Veldran and Dave de Felice, voted against the increases, as did Supervisor Kyle Richmond, who at that time was publicly considering a bid for county clerk himself. McDonell, however, voted for the raises.
McDonell says it was not the County Board, but rather former clerk Ohlsen, who acted unfairly. By resigning in the middle of his term, McDonell says, Ohlsen was attempting to allow his friend and deputy, Peters, to be appointed and then to easily win election as the incumbent.
"We didn't want there to be an end-around the democratic process," McDonell says, acknowledging that Peters may still harbor hard feelings from the episode. "If I wanted to, I could have appointed myself, which I didn't do." 
Peters has endorsed Hermann-Brown, who she says is the only candidate with the right experience for the position.
"I support Diane because she is dedicated to the job itself, not the status that comes with it or to further her political career," she says. 
She and Hermann-Brown, neither of whom are active in party politics, say electing unqualified partisans to the position is a recipe for disaster, as demonstrated by the embarrassing tenure of Waukesha County Clerk Kathy Nickolaus, a former GOP operative, whose mistakes in recent elections led the Waukesha county executive to call for her to hand off election administration duties to the deputy clerk. 
Peters says the bureaucratic headaches she has dealt with as a clerk will likely catch an inexperienced successor off guard. Despite decades of experience in elections administration and a passion for the job that is displayed in an office full of patriotic homages to voting, Peters says the past 18 months of intense electoral activity have worn her down. 
"This year has been absolute hell," she says, tears springing to her eyes.
Peters took over the office right before the statewide recount in the Supreme Court race between Justice David Prosser and challenger JoAnne Kloppenburg. And of course, the gubernatorial recall election turned what would otherwise be a low-key spring into an administrative nightmare, with a massive election followed by time-consuming open records requests from groups that didn't trust the results.
"I worked 11 straight 18-hour days (during the recount)," Peter says. "And not one member of the County Board comes by and says thank you."
Richmond, who ultimately decided not to run for the clerkship himself, has accused McDonell of stripping him of his coveted position as chair of the Environment, Agriculture and Natural Resources Committee because would not promise to endorse McDonell for clerk.
"I cannot participate in a caucus who has as its leader a person who is as petty and self-serving as the chair's actions indicate," wrote Richmond in an email to other liberals on the board, in which he declared he would no longer participate in the majority progressive/liberal caucus.
McDonell dismissed the allegation, saying Richmond had been removed from leadership because he had opposed the budget put forth by other liberals.
McDonell also pointed out that other progressive supervisors -- Heidi Wegleitner and Leland Pan -- were given their first choices for committee assignments despite their public support of Quieto for clerk.
The fourth candidate in the race, former Madison Ald. Santiago Rosas, has generally stayed out of the debate between the others. With no experience in clerking, Rosas says his business acumen and time spent in government give him the necessary background to be a competent clerk. Furthermore, Rosas, who is Latino, says his candidacy offers an opportunity to make county government more diverse.
"It doesn't take an Einstein to be county clerk," he told me in March, shortly after declaring his candidacy.