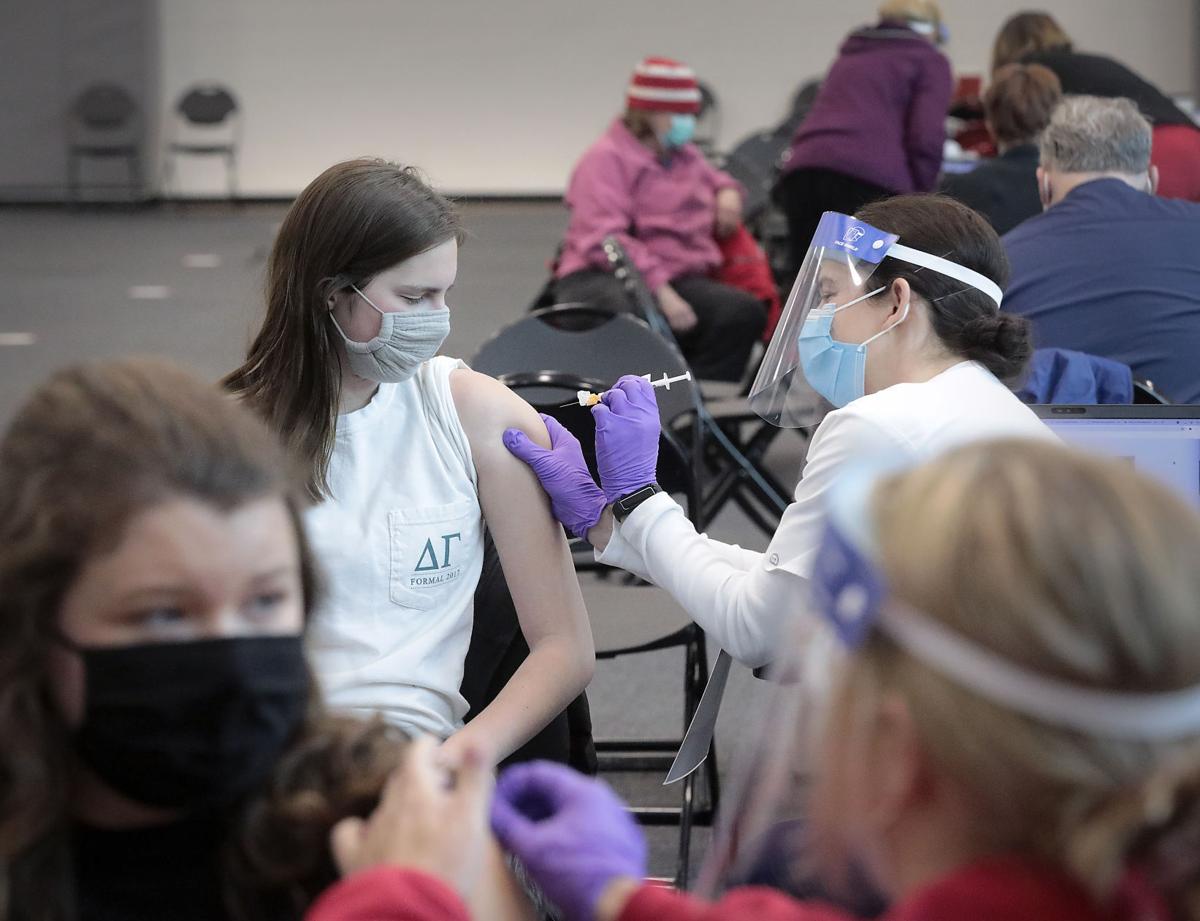 Vaccines could be available for children as early as this summer, but hesitancy among parents could be an obstacle to making schools COVID-free.
Pfizer announced this week that its COVID-19 vaccine is 100% effective in children ages 12 to 15, and the company plans to seek emergency use authorization from the U.S. Food and Drug Administration for that age group "in the coming weeks."
The company launched a vaccine trial last week for children between 6 months and 11 years old.
But a survey this week by Indiana University researchers found that more than a quarter of U.S. parents don't intend to get their kids vaccinated. Opposition is especially pronounced among Republican or Republican-leaning women, 54% of whom said they plan to have their kids skip the vaccine.
UW epidemiologist Ajay Sethi calls the potential eligibility of 12- to 15-year-olds "a very important step to increase immunity to the virus in our community."
But he said it may take time to get some parents on board. Some, he said, will probably wait and see if the virus is under control in terms of infection rates before making a decision, and some may decide to vaccinate their children after more is known about the disease.
"If we get to a point where we see most cases occurring in unvaccinated children, parents will be more likely to vaccinate their kids," he said. "As the lingering effects of COVID well after recovery are better understood, parents will be more likely to vaccinate their children to avoid them getting infected altogether."
What hesitancy could mean for schools is unclear.
Ed Sadlowski, executive director of Madison Teachers Inc., the Madison Metropolitan School District's teachers union, called this week's announcement a "much needed lift" after a year of disappointments.
But he said there has been no clear guidance about how to handle vaccinating students from leading health organizations like the Centers for Disease Control, the American Academy of Pediatricians or UW health experts.
"As it regards required children's vaccinations, to date, our union has not taken an official position on this matter," he said. "It is imperative that we continue to adhere to the science."
The issue of whether school districts, or any work places, can require vaccinations is emerging as a hot-button political issue. Requiring school children to get a COVID-19 vaccine needs legislative approval. But Republican lawmakers this week introduced several proposals to prohibit discrimination on the basis of vaccination records.
Current Wisconsin law requires students to have proof of vaccination against diseases like measles, mumps, polio and chickenpox, though parents can get a waiver for personal or religious beliefs or for medical reasons.
The Madison School District has no plans to require students to be vaccinated, according to district spokesman Tim LeMonds.
"There has not been, nor are we planning there to be, discussions or expectations around requiring students to be vaccinated or any type of monitoring of those who have or have not," he said. "Additionally, although we believe the vast majority of our staff have been vaccinated, it is not a requirement."
But he said the matter may be out of the district's control.
"Understanding any vaccine mandate would likely be an action taken by federal and state officials, the district would be in support of any evidence-based public health recommendation to increase the safety of our students, families and staff," he said.
What part schools could have play a vaccine rollout among children is unclear. LeMonds said the Madison district has yet to devise a plan to help students get vaccinated. But the state Department of Public Instruction indicated that when vaccines become available for children, the department will take an active role.
"Once vaccines are approved to be more inclusive of school-age children, the DPI will provide resources in conjunction with DHS to promote COVID vaccination of children," said DPI spokesman Chris Bucher.