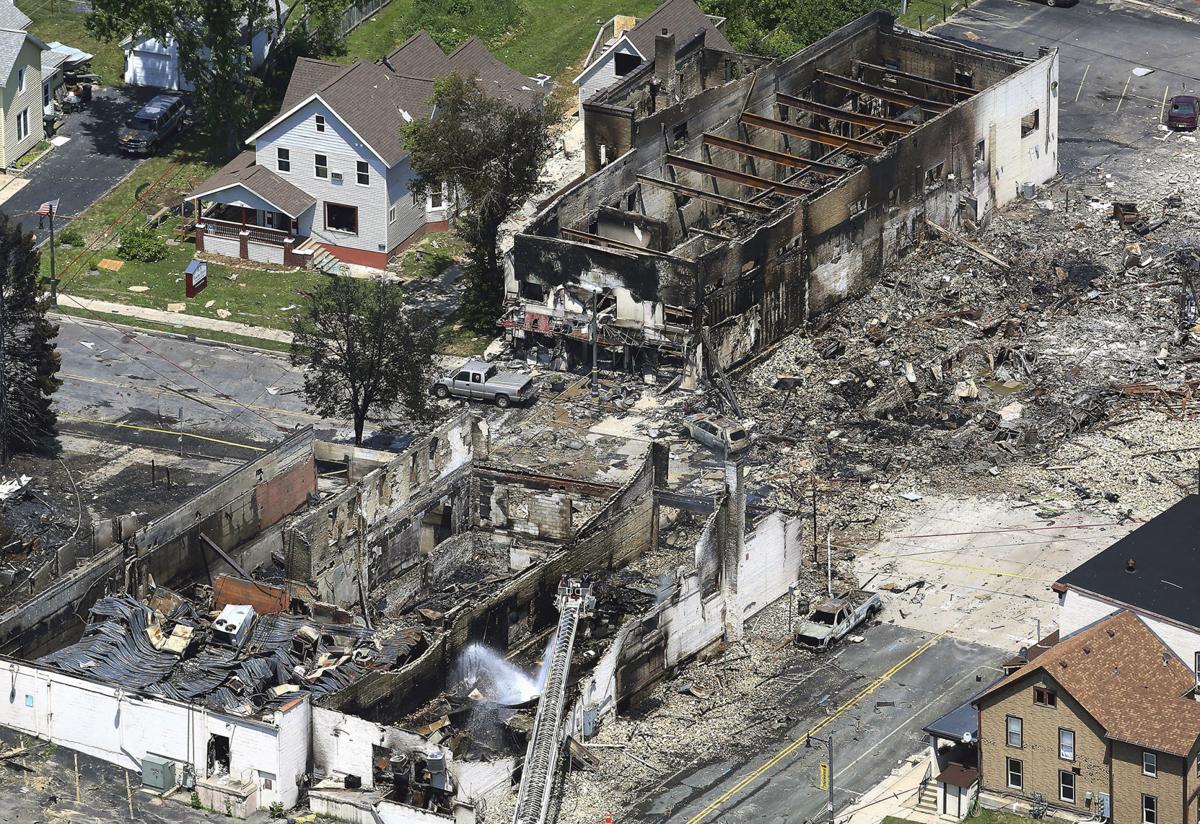 Two utility contractors faulted for contributing to an explosion that leveled part of downtown Sun Prairie and killed a volunteer firefighter in July have been fined for "serious" violations by the federal Occupational Safety and Health Administration.
In citation letters dated Jan. 4, OSHA said its inspectors found that Kansas-based Bear Communications and Michigan-based VC Tech failed to call a diggers hotline or utility owners to locate underground lines before starting work.
The companies were each fined $12,934 for the "serious" violation, the maximum penalty allowed, said Scott Allen, an OSHA spokesman.
Bear Communications representatives didn't return a message seeking comment. An attorney for VC Tech also didn't respond to requests for comment.
A "serious" violation is issued when "the workplace hazard could cause an accident or illness that would most likely result in death or serious physical harm, unless the employer did not know or could not have known of the violation," according to OSHA.
Cory Barr, a captain with the Sun Prairie Volunteer Fire Department and owner of a tavern destroyed in the blast, was killed in the explosion.
Two other volunteer firefighters were injured.
VC Tech, which was subcontracted by Bear Communications, punctured an unmarked underground gas line at about 6:20 p.m. on July 10 while boring a hole under Bristol Street and Main Street in Sun Prairie as part of a fiber communication line project for Verizon.
The damaged gas line led to the explosion about 45 minutes after it was punctured, destroying five buildings, damaging several others and displacing dozens of residents.
An OSHA investigator met with company representatives the day after the explosion, according to the federal body that oversees workplace safety.
Each company has 15 business days to pay the fine, request a conference with OSHA or contest the findings, according to OSHA's citations.
Gas line was unmarked
It's unclear what ignited the explosion, according to records of the investigation released last month.
VC Tech had been subcontracted by Bear Communications, which had been contracted by Verizon for the fiber-optic cable project.
Bear Communications originally subcontracted a different company, Jet Underground, to install the cable, but that company backed out of the job.
USIC Locating Services, which was responsible for marking underground utilities, didn't finish the job after it was told Jet backed out of the project the week of July 2 through July 6.
USIC had marked some — but not all — of the underground lines June 10 and June 26.
Bear Communications then contracted with VC Tech, mistakenly telling the company that the utility marking had been completed.
VC Tech then punctured the gas line while doing horizontal-directional boring.
A panel that polices utility notification laws asked for the penalties after receiving a complaint from USIC Locating Services.
The company claimed VC Tech violated state law when it failed to notify the state utility call center, known as Diggers Hotline, before starting work on July 10.
USIC's complaint, filed in October, alleged that VC Tech illegally "piggybacked" on Jet Underground's work order and failed to notify the call center before starting its work.
The police report said neither VC Tech or Bear Communications contacted the call center.
Under state law, the Public Service Commission can issue fines of $25,000 per violation and up to $500,000 in fines for multiple violations.
Volunteer firefighters Ryan Welch and Greg Pavlik have also filed personal injury lawsuits against the four companies.
Barr's lawsuit claims WE Energies didn't respond immediately to the gas leak and didn't immediately stop the flow of gas when its line was punctured.
Get Election 2020 & Politics updates in your inbox!
Keep up on the latest in national and local politics as Election 2020 comes into focus.