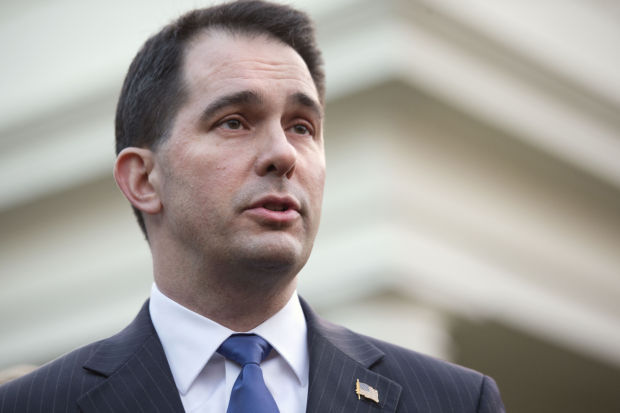 Wisconsin ranked 35th in private-sector job creation, according to the latest federal numbers released Wednesday.
The quarterly numbers and others to be released in June and September — widely viewed as the gold standard of jobs statistics — are expected to be watched closely in the 2014 governor's race as Republican Gov. Scott Walker faces off against his Democratic challenger, Mary Burke, especially because Walker made job creation a top campaign pledge when he won the governor's race four years ago.
The numbers, released by the U.S. Bureau of Labor Statistics, show that Wisconsin added 28,351 jobs over the most recent 12 months for which information is available, from September 2012 to September 2013. That amounts to a 1.2 percent increase.
This latest data, known as the Quarterly Census of Employment and Wages, shows a very similar pace of hiring for Wisconsin compared to the previous period, June 2012- June 2013, when the state gained 27,936 jobs.
That also amounted to an approximately 1.2 percent change, and the state was ranked 34th during that period.
Walker has said this set of jobs numbers should be used to judge his 2010 gubernatorial campaign pledge that Wisconsin employers would add 250,000 private sector jobs by 2015.
It appears unlikely that the state will reach Walker's jobs goal by next year.
"We're still doing much better than we were doing previously," he told reporters Wednesday.
A spokesman for Mary Burke, a Madison School Board member and former Trek Bicycle executive who previously served as commerce secretary under Democratic Gov. Jim Doyle, said the latest numbers show Walker's failure to keep his promise.
"Walker's approach isn't working, and the struggle for Wisconsin's middle class to get ahead continues," her campaign spokesman Joe Zepecki said. "That's why Mary Burke is running for governor, to create more jobs and opportunity that strengthen Wisconsin's middle class."
But Walker spokeswoman Laurel Patrick said the numbers are good news for Wisconsin.
"Wisconsin is headed in the right direction and creating jobs. Actual jobs data released from the federal government shows Wisconsin created 28,351 private sector jobs from September of 2012 to September of 2013, and our 6.1 percent unemployment rate is the lowest it's been since 2008. This is great news for Wisconsin workers and families," she said. "We are also continuing to reduce the tax burden on Wisconsin families and businesses"
These numbers still show Wisconsin continues to lag behind most Midwestern states, including Michigan, Minnesota, Ohio and Iowa.
The statistics bring mixed news for the state, said Dale Knapp, research director for the Wisconsin Taxpayers Alliance. He pointed to positive news that Wisconsin's construction job figures showed a big increase.
"When you see construction starting to come back, it's good news," Knapp said. But he also noted there was a slight dip in manufacturing jobs in Wisconsin.
Matthew DeFour contributed to this report.