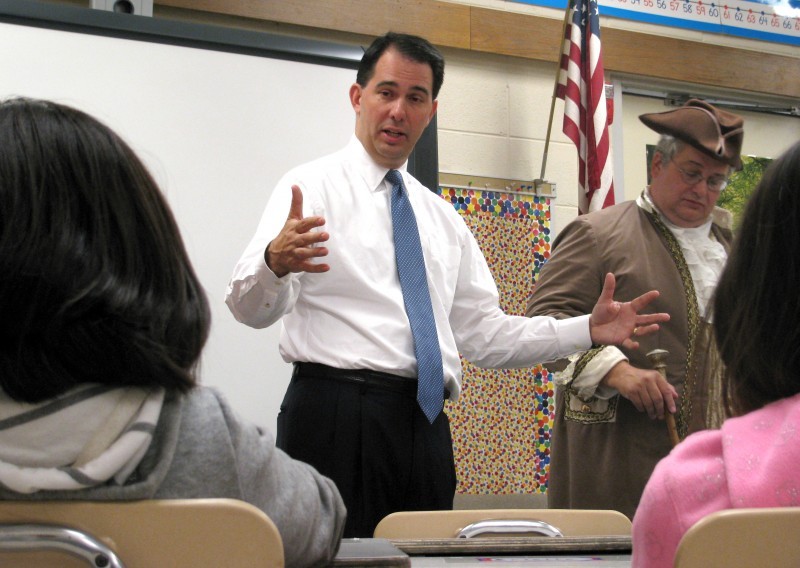 Gov. Scott Walker's campaign launched a petition drive on Thursday, urging people to show their support for his law limiting collective bargaining in the wake of a judge's decision striking it down as unconstitutional.
"An activist judge in Madison chose to put politics ahead of your votes by striking down Governor Walker's good government budget reforms," the online petition reads. "When the big special interests lose at the ballot box they turn to activist judges to legislate from the bench."
It's unclear how the campaign plans to use the petition. Campaign spokesman Tom Evenson said only that the signatures "will not be used in any legal manner" and anyone inside or outside of Wisconsin can sign it.
Late last Friday, Dane County Circuit Judge Juan Colas struck down key parts of Walker's controversial 2011 law limiting collective bargaining for most public workers. Colas said the law violates the state and U.S. constitutional guarantees of free speech and freedom of association. Colas also said the law violates the Constitution's equal protection clause by creating separate classes of state workers who are treated differently and unequally under the law.
The online petition opposing the ruling drew a sharp rebuke from Assembly Minority Leader Peter Barca, D-Kenosha, who called it "absolutely bizarre."
"The interpretation of the Constitution is not based on petitions," Barca said.
Lester Pines, the attorney for Madison Teachers Inc., one of the plaintiffs in the lawsuit, slammed Walker's petition drive as another attack on a Wisconsin judge who didn't agree with him.
"As Wisconsin's governor, Gov. Walker should respect the judiciary and it's importance in the constitutional balance of the state," Pines said. "Instead he repeats the canard that the judge is acting politically. That is really pathetic. That is unbecoming of any governor."
Pines said Walker wants to control the executive branch and the legislative branch, and wants the judiciary to be "lapdogs," comparing such a system to the Soviet Union.