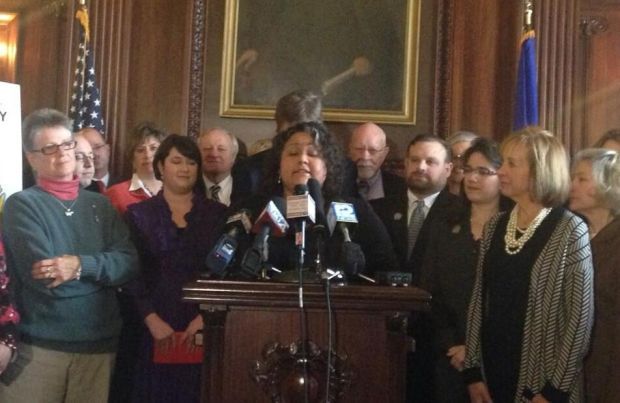 State Democrats have introduced legislation to overturn Wisconsin's same-sex marriage ban, saying the public's attitudes have changed since voters approved the ban in 2006.
It's unlikely the legislation will advance this session. Assembly Speaker Robin Vos, R-Rochester, said it would probably not get a hearing and called its introduction a political move.
"I definitely think that the mood in Wisconsin is fairly similar to where it was" in 2006, Vos said. "There might have been some shift, I'm not going to say that there hasn't been, as the issue has gotten a little bit more publicity."
You have free articles remaining.
State Sen. Tim Carpenter, D-Milwaukee, who is gay, and state Rep. JoCasta Zamarripa, D-Milwaukee, who is bisexual, announced the legislation Thursday.
"We are on the right side of history," Carpenter said at a Capitol news conference surrounded by Senate and Assembly Democrats.
Zamarripa, who came out as bisexual in 2012, said she still remembers crying herself to sleep the night in 2006 that the constitutional amendment against same-sex marriage was approved.
Among the speakers at a news conference were Liz Dannenbaum and Donna Winter, a longtime Madison couple who said that they were homeowners and taxpayers, and together helped raise two children, Ross and Annie Cohen, and a dog as domestic partners — but still want the right to marry.
"I don't understand why people are so worried about this," Winter said.
The 2006 referendum, which was approved by 59 percent of voters, amended Wisconsin's constitution to ban same-sex marriage. This measure would also be a constitutional amendment, and would essentially strike the previous amendment from the state Constitution, so it would need to pass the Legislature in two successive sessions before going before Wisconsin voters.