About 170 miles separate North Division High School and Central Wisconsin Airport, but the philosophical differences in governance held by thousands of voters who flocked to rallies held at the two locations last week are vastly greater, reflecting a big divide in this longtime purple state.
The split-screen of voter rallies held by the current and former president in Mosinee and Milwaukee is a microcosm of America in 2018, where both sides feel estranged, both sides are indignant toward the other and both sides are convinced their candidates will win in this midterm election.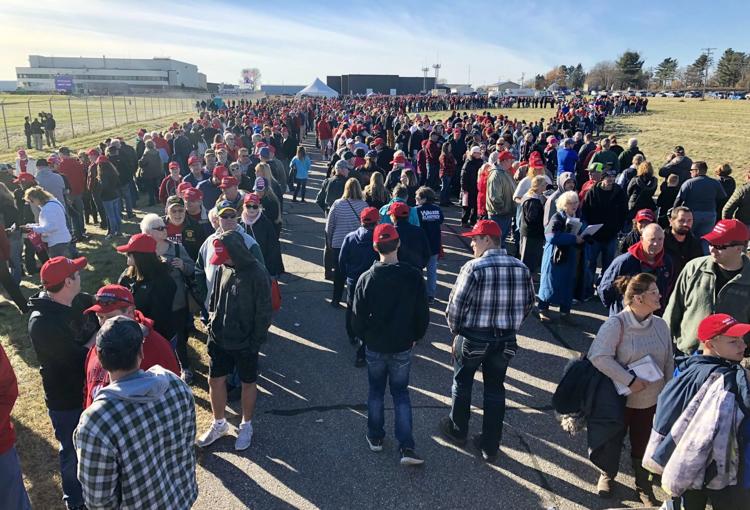 Central Wisconsin Airport
On Wednesday evening, President Donald Trump landed in Mosinee, population 3,988. A white, working class base in this section of the state helped Trump win Wisconsin by less than one percentage point, or about 23,000 votes, in 2016.
Wausau resident Lily Jacinto said Evers is "probably a socialist and, coming from Cuba, I know what that is."
Jacinto, 58, who immigrated to the U.S. in the 1960s, said she will vote for Walker because of the state's balanced budget, public school system and Foxconn, a Taiwanese company's planned $10 billion manufacturing campus in Racine County that promises to create as many as 13,000 jobs with more than $4 billion in state and local tax credits and other subsidies.
As for the U.S. Senate race, Jacinto said Vukmir's background as a former nurse means she understands middle-class people and what it's like to live paycheck to paycheck.
"Tammy Baldwin's done nothing," Jacinto said, adding that the Madison senator has "no mind of her own" and is funded by special interests.
"It makes me sad how polarized it is, this getting in people's faces … the Democrats, like Maxine Waters, are promoting incivility," Jacinto said on the same day pipe bombs were sent to several prominent Democrats, including Waters, who represents a part of southern California in the U.S. House.
"It's really torn our country apart," Jacinto said. "And it's worse in swing states."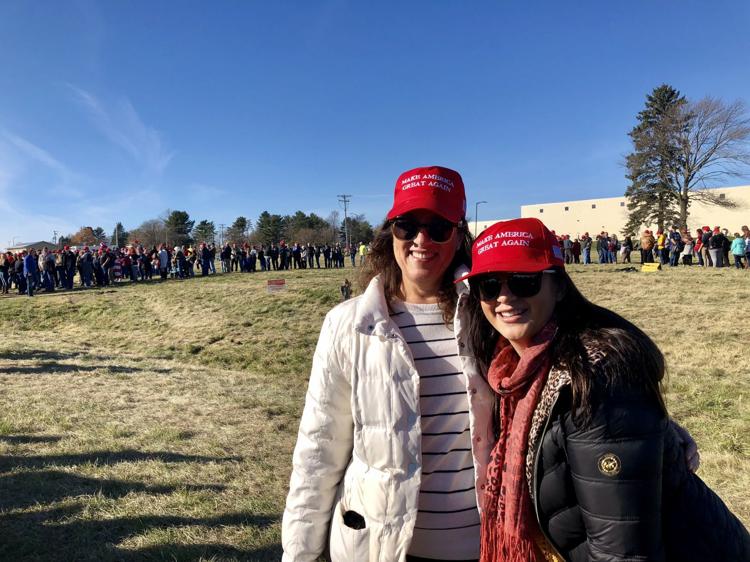 Leading up to the 2016 election, Jacinto said she kept private her support for Trump and suggested that may be why so many were surprised when Wisconsin went red.
Like thousands of others at the Trump rally last week, Jacinto proudly donned a "Make America Great Again" hat, but tempered her comments when talking to a reporter out of fear that what she honestly had to say would put her in danger.
She said the right isn't afforded the same free speech protections as the left.
Paula Cook, a retired hospital administrator in her 60s from Wisconsin Rapids, will also vote Republican down her ticket.
Cook called Evers a "one-note candidate" who may be well-versed in education, but lacks enough overall experience to run a state. She said she likes Vukmir because she is affiliated with the GOP than with any particular policy stance she has taken.
Initially a Democrat while studying social work at UW-Eau Claire, Cook said she grew up, worked hard, paid bills and became grounded in reality. Then she registered with the Republican Party.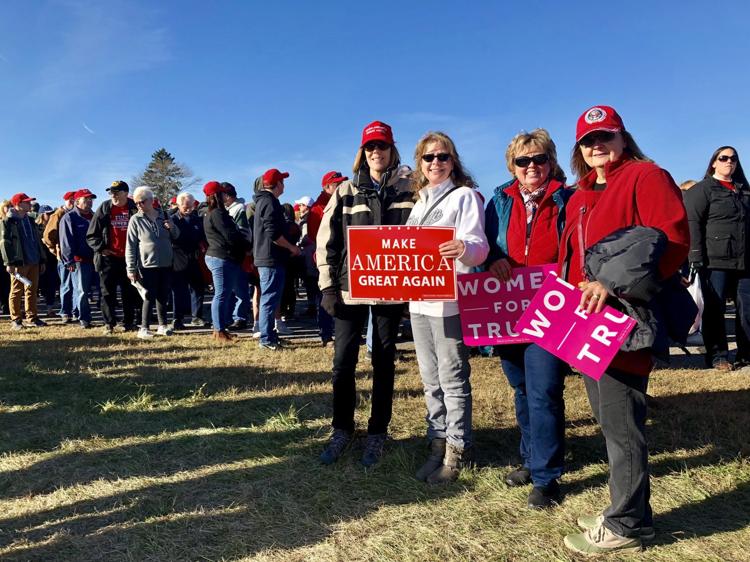 It was a sentiment heard again and again when talking to Wisconsin's Trump supporters — "reality" and "telling it like it is."
But when with her family, Cook has difficulty telling it like it is.
Her mother, mother-in-law, sister and sister-in-law all have worked in education and were not supportive of Act 10, Walker's premiere legislation that eliminated collective bargaining for public school teachers. So discussing the governor's race, which pits Walker against the state's schools chief, is off limits.
"The governor's race has been a real divider in this state," she said.
Cook, who attached a "Never Hillary" sign to the back of her red jacket with a binder clip, said she generally is open to discussing politics with those whose beliefs align with her own.
"There's nothing to be gained by discussing my ideas with a Democrat," she said. "They don't listen."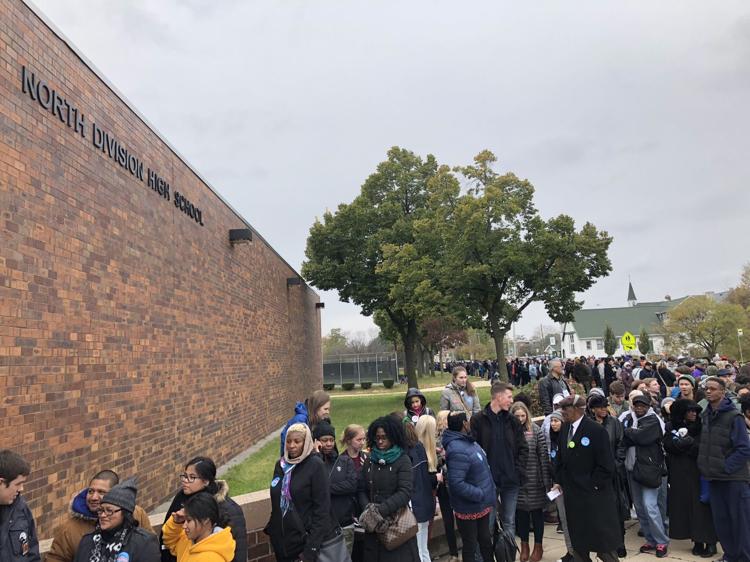 North Division High
Wisconsin voted for Obama in both 2008 and 2012, but just four years later, helped deliver Donald Trump the presidency.
"It makes my head explode every day," Diane Irish said while in line at the Obama rally. "I actually can't believe the same country that elected Obama elected Trump. I was very disappointed in Wisconsin."
Irish, 71, said she feels like "a little blue island" in Sussex, a village in reliably red Waukesha County where "Stand with Scott Walker" signs dot the yards of homes she passes on her walks.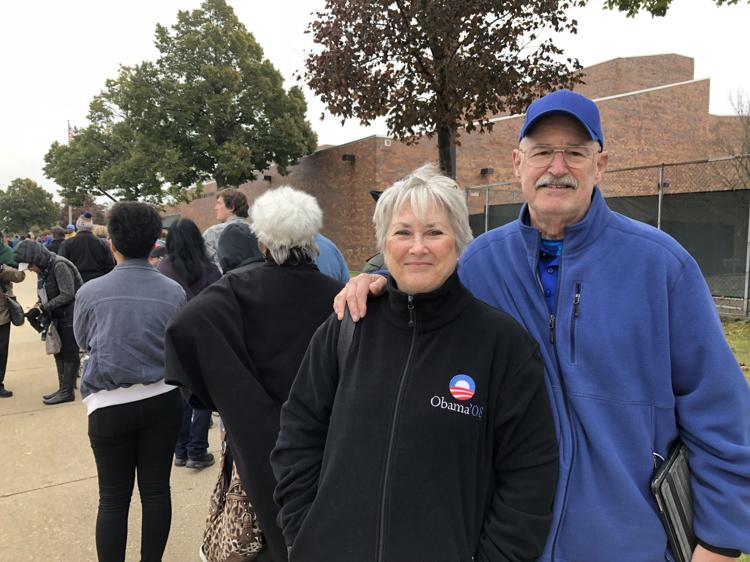 Irish, a retired nurse, also supports Baldwin, calling Vukmir "all talk," especially in her promise to protect people with pre-existing medical conditions.
Health care dominated the discussion of Democrats in line at the Obama rally, but education and the erosion of social norms were other frequently cited concerns.
"I might get a bomb sent to me," Tamara Washington, a Milwaukee real estate agent, half-jokingly told a reporter when asked about her political views.
Pamela Holmes, a retired Milwaukee Police Department officer, said she routinely asks herself what kind of country we live in.
"The state of affairs is in shambles," she said.
Both Washington and Holmes cited health care as the main reason they will vote for Evers and Baldwin.
Irish has an agreement with her children, who lean Republican, to avoid discussing politics.
She and her husband, John, spend time at home watching TV where MSNBC is on "all day long." John, also retired, spent 32 years teaching in Milwaukee Public Schools, a quarter of which he spent at North Division High. He retired before Act 10 took effect, but said he was "livid" over the changes and joined thousands of protesters at the Capitol.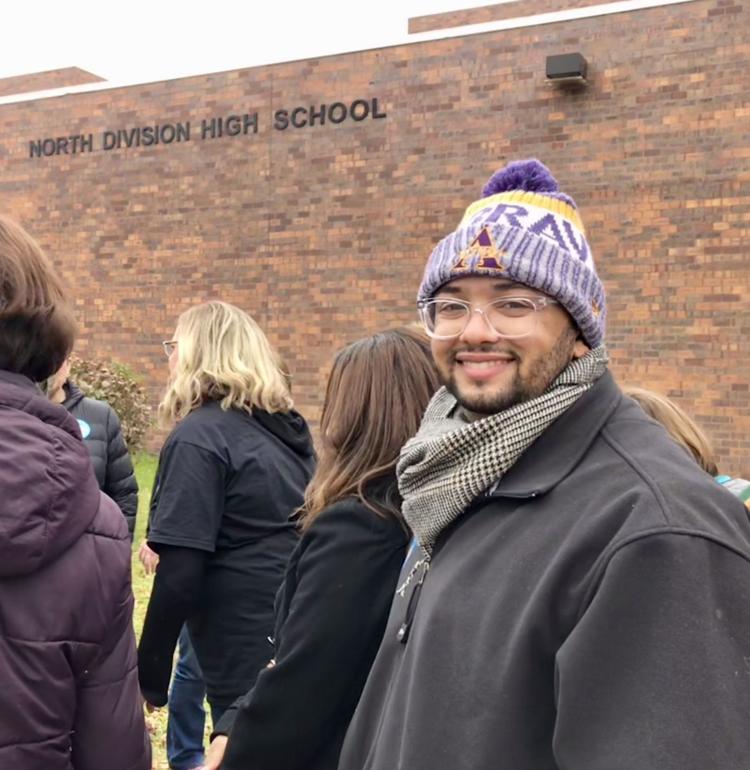 Ishmael Simmons, a 36-year-old culinary arts teacher at Vincent High School of Agricultural Sciences, is one of the thousands of Wisconsin teachers working in public schools post-Act 10.
Frustrated by what he viewed as Walker providing the "bare minimum" to schools, Simmons said he spends at least $500 out-of-pocket each year on supplies for students. He said Walker's visits to MPS schools amounted to "photo ops" for "optics."
Simmons said of Vukmir that "common sense isn't in her mindset" and that she likes to keep special interest money in her pocket.
Abandoned
Mosinee resident Francis Wyosocki Jr., 43, considers himself an independent, calling both Republicans and Democrats corrupt.
"Everyone's claiming everything," Wyosocki said. "You don't know what the truth is."
He said he would vote for a third-party, independent candidate if the person had enough of a chance to win. But in the absence of that, Wyosocki will vote Republican.
"I don't like a lot of what (Walker's) done with education," Wyosocki said. "I don't think attacking teachers was the best way to go. But he's not a socialist."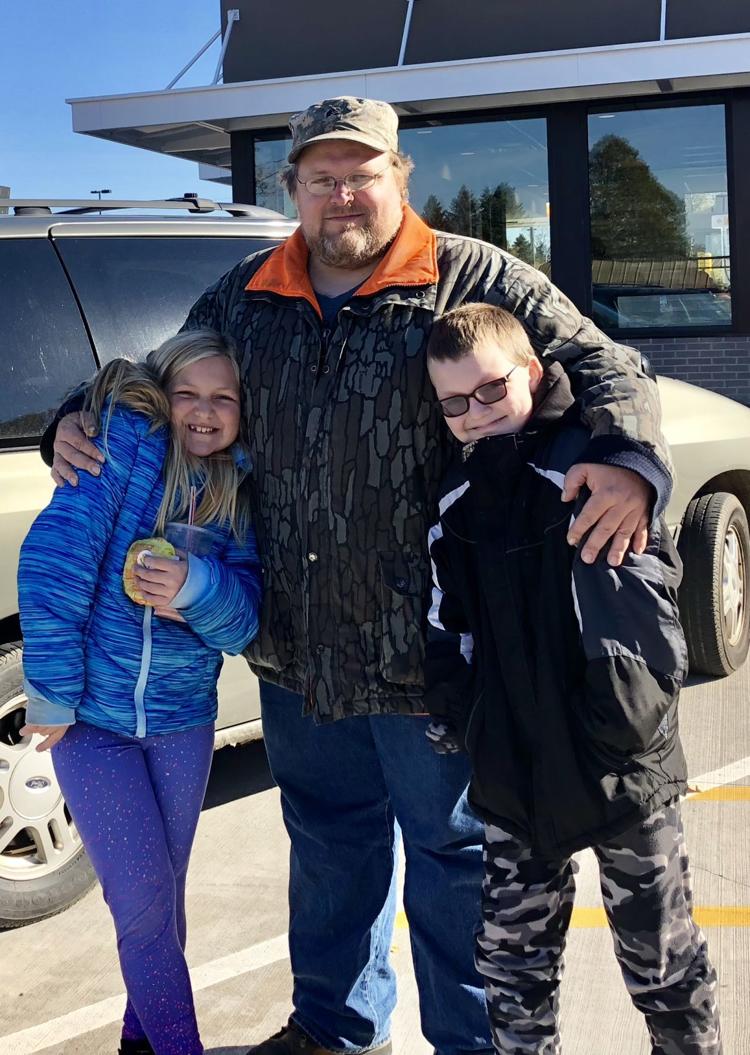 Wyosocki compared northern Wisconsin to the 12th District in The Hunger Games, a young adult fiction novel chronicling a dystopian society where two children from each district are chosen by lottery to compete in a fight to the death. The book's protagonist hails from the poor 12th district that receives scant resources from the Capitol, which exercises complete political control over the country.
"It's desolate," he said of northern Wisconsin where he's lived his entire life. "There's no jobs. We've been abandoned by Madison and Milwaukee."
Wyosocki previously worked at a Wausau furniture factory, but said he lost his job three years ago. He is studying education at UW-Stevens Point and has about a year left until he graduates.
On Wednesday, the married father of four took his children to McDonald's for lunch.
Where are we going next, he asked his oldest son, Francis the III.
"TRUMP RALLY," the 12-year-old boy screamed excitedly.
Half-truths
Mosinee Middle School teacher Michael McCarthy opted out of Wednesday's opportunity to get a glimpse of the president.
He said he saw Trump's rally as dividing the city even more. The Mosinee precinct voted 59 percent for Trump in 2016.
Trump's base in Wisconsin has weakened a bit since then, McCarthy said, and the rally will help drive Republicans to the polls.
As a lifelong Democrat, McCarthy, 60, said he cannot support Walker in the governor's race. He called Act 10 "sad," saying teachers have lost respect and pride and gained higher health insurance premiums.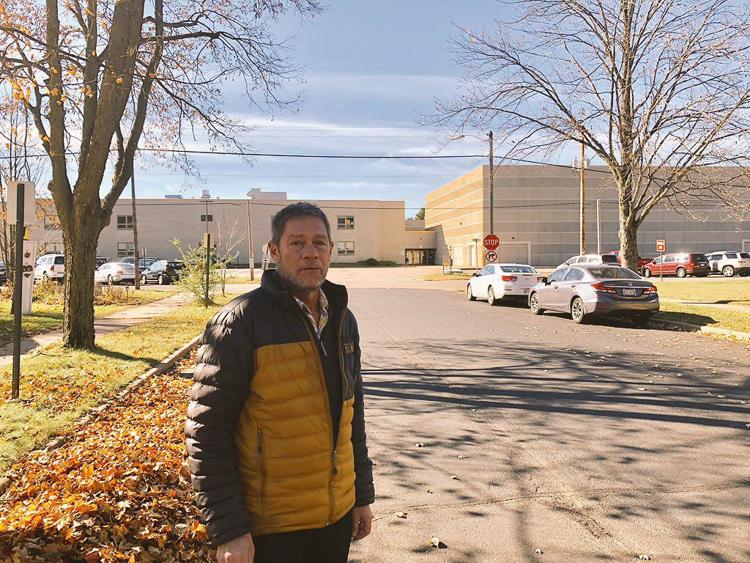 As students buzzed about the president's upcoming visit in the days leading up to the rally, McCarthy admitted it was a little hard to stomach.
"It bothers me that they're going to hear things that are half-truths and exaggerations and 'alternative facts,'" he said during a brief break period.
As a 25-year science teacher, he said he tries to keep politics out of the classroom, stressing to his more than 100 students that science is global, requiring them to do their own research and seek out multiple sources.
It was Wednesday morning, about eight hours before Trump arrived to his small city promising the crowd that Republicans will improve schools, provide better health care and protect hard-working Wisconsinites. It was two days before Obama descended on Milwaukee, just 170 miles away, where he promised the crowd that Democrats would deliver those same things.
McCarthy headed back inside to try and teach the next generation how to search for truth.