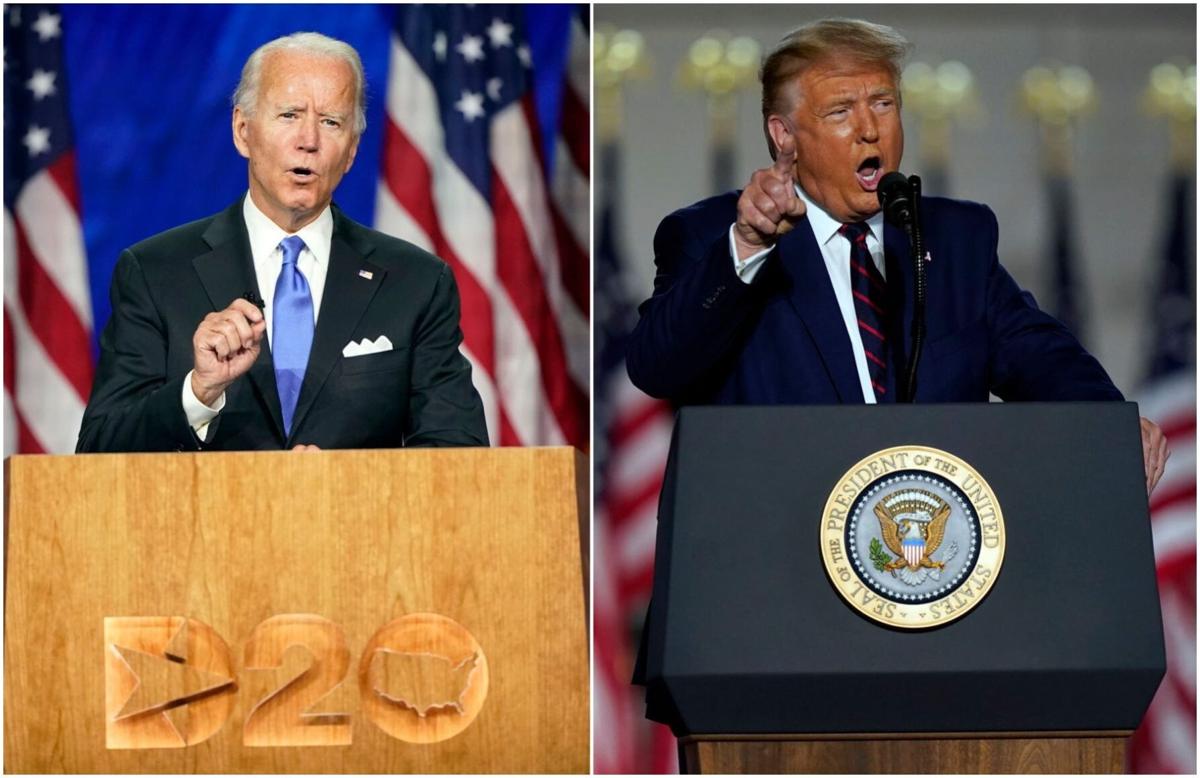 With absentee voting underway in Wisconsin, Democratic former Vice President Joe Biden maintains a 5-point edge over Republican President Donald Trump, according to a new poll.
What's more, the poll of voters in the three key battleground states of Wisconsin, Michigan and Pennsylvania found a stark contrast between Biden and Trump voters in terms of what they view as the most important issues facing the country.
Among Biden voters in the three states, 47% of respondents listed COVID-19 as the top issue. Climate change, inequality and health care were nearly tied for second, each named as the top issue by about 12% to 14% of respondents. Among Trump voters, 37% listed the economy as the top issue in the country, while 24% said it was crime. They ranked the COVID-19 outbreak third at 13%.
The Wisconsin poll, coordinated by the UW-Madison Elections Research Center in collaboration with the Wisconsin State Journal, found that Biden has the support of half of likely voters — those who say they're certain to vote. When compared to previous Wisconsin polls this year, one of the standout results is how little voters have changed their minds.
"It really is notable just how stable the vote division is between Biden and Trump, despite all the things that have happened over the course of the summer," said Barry Burden, a UW-Madison political science professor and director of the Elections Research Center.
"None of those things seemed to have budged the polls more than a couple of percentage points, and Joe Biden has maintained a very consistent, durable lead over Trump, despite all the turmoil in the environment."
On the vast difference in top priorities, Burden said, "it's almost like two different elections."
"It's striking that these voters see the world in such different terms," he said.
Biden leads Trump 49% to 44% among registered voters in both Wisconsin and Pennsylvania in the latest poll. In Michigan, Biden leads 50% to 42%. Biden's lead narrows slightly among likely voters to 50% over Trump's 46%. The margin of error in each state is between +/- 4.21 and 4.66 percentage points.
The online poll was conducted Sept. 10-21 by YouGov, which has also done polls for CBS News, The Economist and other news outlets. There were 800 respondents surveyed in each of the three battleground states. It is the third poll this year conducted by the Elections Research Center and sponsored by the State Journal.
Campaign contacts
In the final stretch of the campaign, more Trump voters (70%) in Wisconsin say they have been contacted by candidates or campaigns than Biden voters (59%). In the swing states of Michigan and Pennsylvania, a greater share of Biden voters said they had been contacted by campaigns than Trump voters.
Among all likely voters in Wisconsin, 19% say they've been contacted by Democrats, 21% by Republicans and 60% by both parties.
As with previous polls, partisanship played a major role in which candidate voters support, with 94% of Democrats backing Biden, compared with 92% of Republicans supporting Trump.
There was some shift among independent voters in the three states, with 47% saying this month they support Trump, which is up from 42% in August. In the same span, support for Biden among independent voters dropped from 51% in August to 46% this month.
But in Wisconsin, Biden maintains his lead among independent likely voters. Biden has the support of 51% of independents, while Trump has 42%.
Trump leads Biden in September's poll among men, with 51% of likely voters supporting the incumbent president, while 55% of women support Biden. Trump also maintains his lead among likely voters with a high school education or less, while Biden holds the advantage among those with at least some college education or more.
Job performance
As with other polls, Trump's overall job performance remains relatively stable, with 30% of Wisconsin respondents strongly approving of the president's overall job handling. Another 46% strongly disapprove.
Trump rated somewhat higher on his handling of the economy, with 35% strongly approving in Wisconsin, compared with 38% who strongly disapproved. With regard to the president's handling of protests over the death of George Floyd in Minneapolis police custody and the Kenosha police shooting of Jacob Blake, 45% of Wisconsin respondents said they were satisfied with the president's response, while 55% were dissatisfied.
Approval ratings for all three Democratic governors in the battleground states fell slightly since August's poll. In Wisconsin, 16% of respondents strongly approve of Gov. Tony Evers's job handling, compared with 34% who strongly disapprove. Another 32% somewhat approve of the governor's job performance, while 14% somewhat disapprove.
---
Follow the Wisconsin State Journal's 2020 presidential election coverage
Follow the Wisconsin State Journal's 2020 presidential election coverage
The candidates for the Nov. 3 election have accepted their party nominations. Who will win the key battleground state of Wisconsin?
Concerned about COVID-19?
Sign up now to get the most recent coronavirus headlines and other important local and national news sent to your email inbox daily.