A brand new city street has been named in honor of legendary bassist, jazz master and retired UW-Madison music professor Richard Davis.
The street, Richard Davis Lane — which is so new that it's not even listed on Google Maps yet — bridges Darbo Drive and Webb Avenue near the Salvation Army on the East Side.
"I feel honored and appreciative," said Davis, 89, noting the diversity of the Darbo-Worthington neighborhood where he hopes his name will be an inspiration to young people and let them know they, too, can go on to play on the world's stage.
"It most certainly sends a message," said Davis, whose struggles against racism began when he was "3 years old" and continued through his professional career as a black musician.
Davis established himself as a world-renowned bassist, releasing dozens of albums, recording with icons such as Bruce Springsteen, Frank Sinatra, Barbra Streisand and Miles Davis, and performing all over the globe, from Madison to Tokyo.
In 2013, the National Endowment for the Arts named him a Jazz Master, the nation's highest honor in jazz. Davis also was named "Best Bassist" from 1967 to 1974, according to the Downbeat International Critics Poll.
"It's impactful for our entire city to have a street named after someone as legendary as Richard," said Hannah Mohelnitzky, spokeswoman for the city's Engineering Division, which worked with neighborhood teams to get the street named for Davis.
Davis left his mark on Madison long before having his name etched into the infrastructure.
The National Endowment for the Arts honored four musicians with prestigious Jazz Masters Fellowships, including UW-Madison professor and bassist Richard Davis.
For nearly 40 years, Davis taught hundreds of students bass, black music history and jazz performance at Wisconsin's flagship university. He was an advocate for minority students and a champion for diversity. Davis retired in 2016.
"He gave so much not only to music, but he gave so much from a societal standpoint," Mohelnitzky said. "He worked to combat racism (and) founded the Madison Institute for the Healing of Racism in 2000. I think that it speaks a lot to who Richard is."
Wilder Deitz, a former student of Davis, organized a ribbon-cutting ceremony Saturday. Deitz and other former students performed musical selections with piano, bass, saxophone and voice.
Deitz, Mayor Satya-Rhodes Conway and others who were impacted by Davis spoke during the event, which was interspersed with music.
"The beautiful thing was that the music was woven in between," Mohelnitzky said of the ceremony.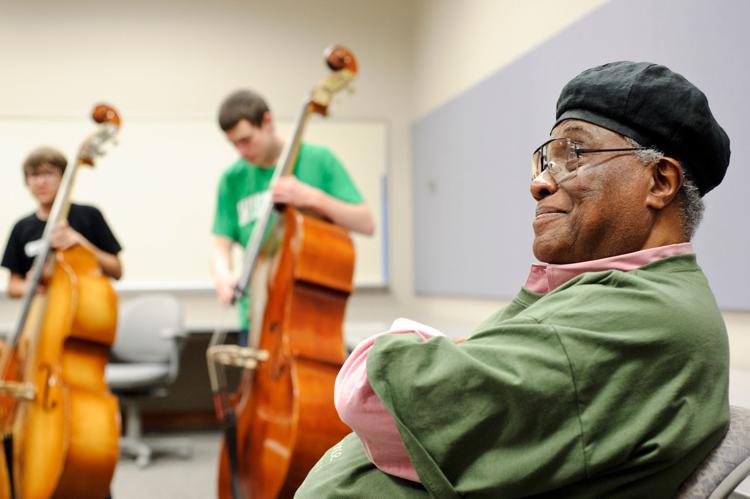 As Deitz cut the ribbon, officially opening the street for all of Madison, Davis watched via a Facetime video stream.
Afterward, Davis was visited by his former students, whom he described as "all very precious people" who are now carrying on his legacy.
"It's not easy for me to get around," said Davis, who recently moved into an assisted-living facility on the North Side. Though he has limited mobility, Davis said he is doing well and would like to continue to help Madison grow in diversity with lectures, conversations and videos.
Mohelnitzky said neighborhood members chose to honor Davis in part because he is "still with us" and they wanted him to be able to see and appreciate the street.
The Worthington Park Neighborhood Association picked the name in partnership with the Engineering Division and the Darbo-Worthington Neighborhood Resource Team.
Mohelnitzky said she hopes the new street will be a starting point for "enriching" the neighborhood, potentially bringing businesses or new housing. She also is happy that the road will provide a sort of shortcut for residents.
But Mohelnitzky said the street is about much more than that. She said giving Davis' name this platform helps empower the arts, jazz and people of color.
"There are so many layers to this event than just a ribbon-cutting," Mohelnitzky said. "It goes so much further than that."
State Journal reporter Sandy Cullen contributed to this report.