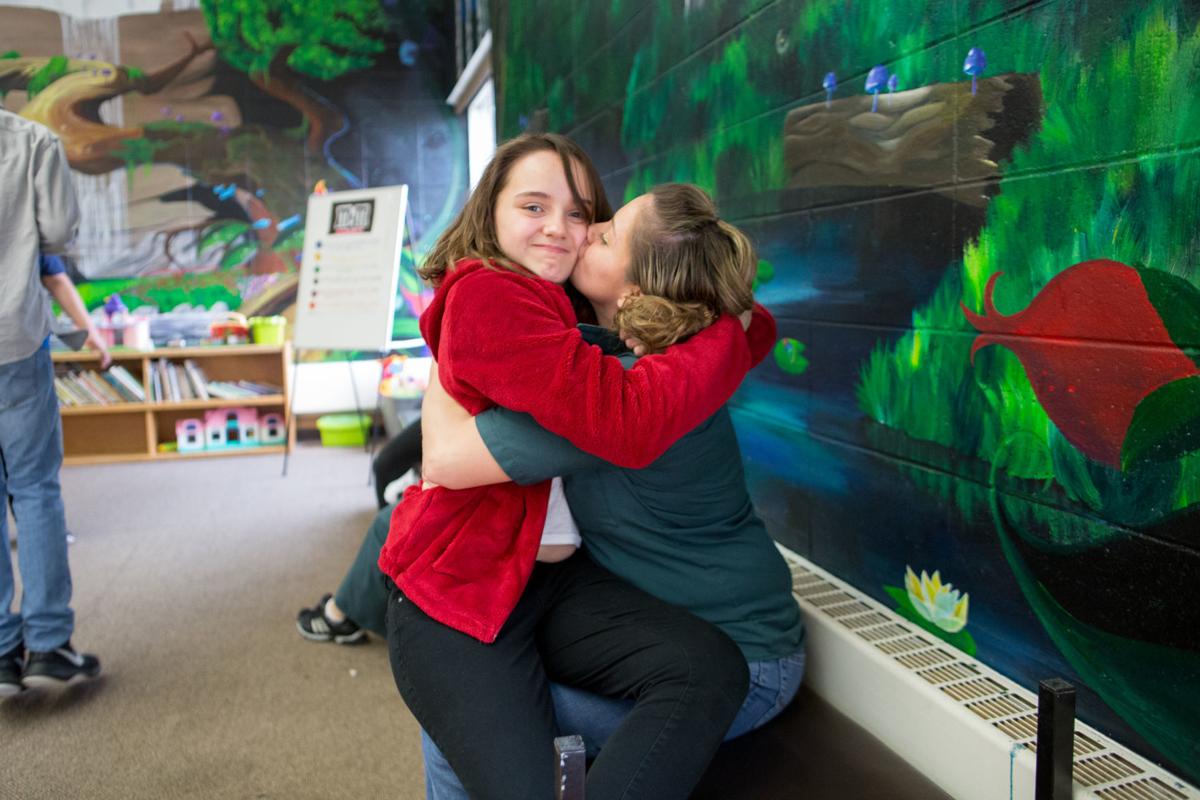 When Adriana's mother was sent to prison, she said she felt as though her mother died.
"I've always been a mommy's girl," Adriana said. "You can't talk to them when you're going through something. You can't see them whenever you want to."
Today, Adriana, 29, is serving time at Taycheedah Correctional Institute near Fond du Lac. It's Wisconsin's only maximum security prison for women. She's serving time for a fifth operating while intoxicated offense. Her mother is also back in prison, serving a second stint.
Adriana's 10-year-old daughter, Tiana, visited her Friday during Taycheedah's four-day Camp Reunite event, held in partnership with Camp Hometown Heroes and the Wisconsin Department of Corrections, which asked that last names not be used in this story.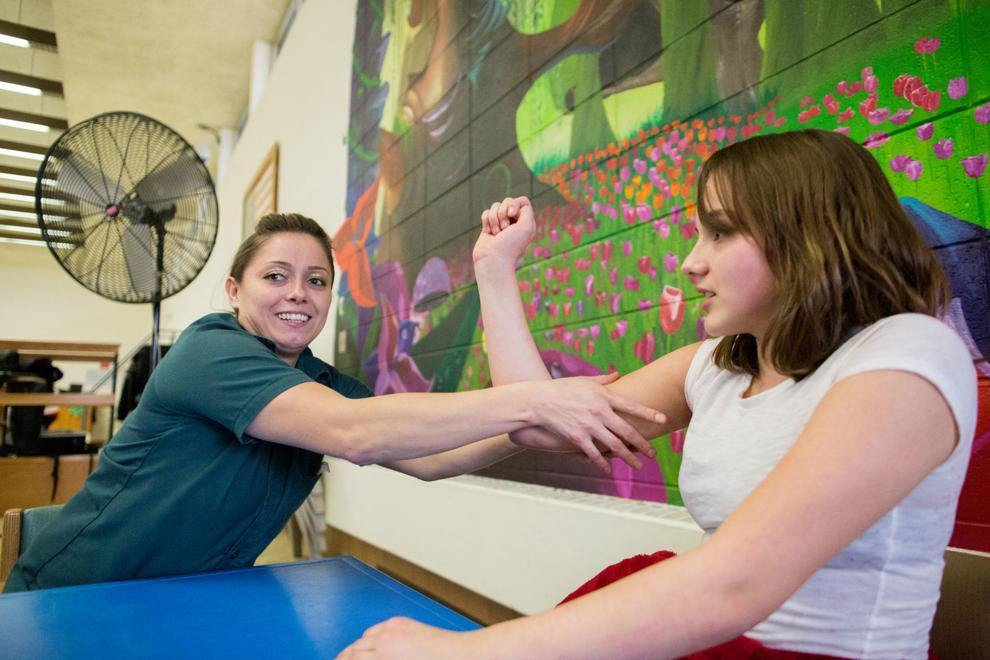 Adriana and Tiana are clearly mother and daughter, with similar features and a shared exuberant energy. Tiana said she was happy her mother could seek treatment in prison and adamantly expressed that "just because someone is in here, you shouldn't judge them."
With tears in her eyes and without dropping her daughter's hand, Adriana said she recognizes her daughter's life mirrors her own.
"It's really hard to know she's going through the same thing now," Adriana said. "But I tell her when I get out, I'm ready to pick up our life. As hard as this was, I'm ready to go."
The childhood that Adriana experienced — and the one Tiana is currently living — matches an estimated 5 million children nationally and 88,000 children in Wisconsin who have had at least one incarcerated parent, according to 2016 Kids Count data.
Similar to its primary program, which supports children whose parents have died in the military, Camp Reunite creates an opportunity for incarcerated mothers and children to spend time together in a relaxed setting that incorporates a trauma-informed approach to try and break cycles of violence.
A week-long camp was first held in July. Campers stayed at a Department of Natural Resources property in the Kettle Moraine State Forest and spent time with their mothers at Taycheedah.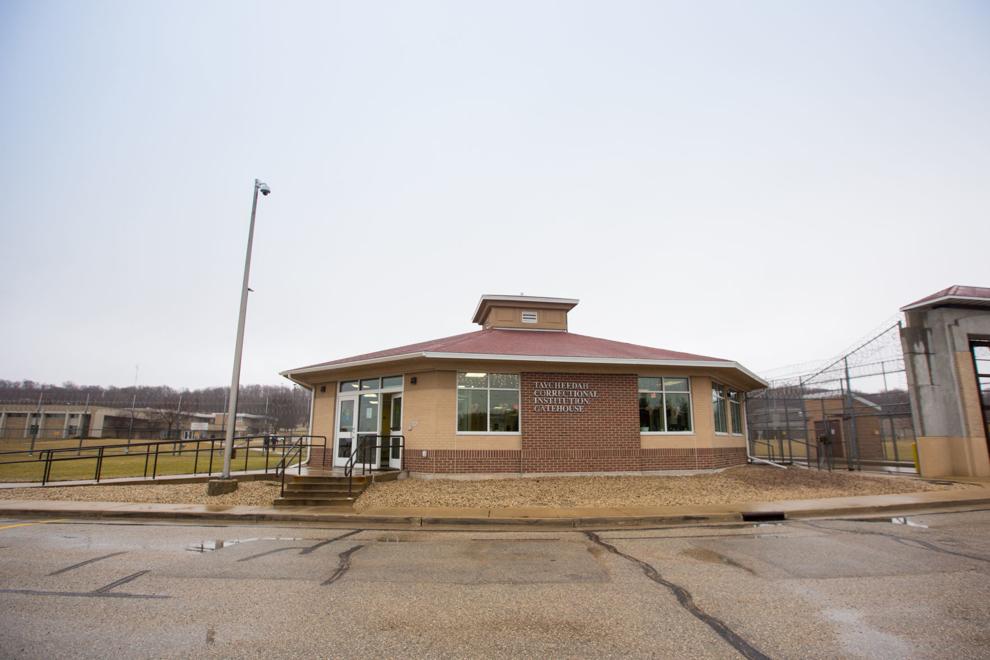 Warden Sarah Cooper said the time spent with their children is critical to the women's rehabilitation.
"It's the most powerful program I've ever been involved with," Cooper said. "It has such a wide-reaching impact."
Last week's four-day event offered a shorter version of the summer camp and served 12 inmates and 23 children. Mothers are selected for the program if they have children between the ages of 8- and 12-years old and if they show a trend of good behavior. They cannot have any crimes against children or be a sex offender.
While visiting their mothers at Taycheedah, the children made crafts, shared meals and played games. The mothers made pillowcases for their children to use at the campsite and wrapped presents.
"It's the opportunity to be a mother again," Neil Willenson, co-founder of Camp Reunite said.
During standard visits, mothers and children sit across from each other at a small table and are only allowed to hug at the beginning and end of their visits. Inmates can hold their own children if they are under 5 and must keep their hands visible at all times.
But during Camp Reunite, the rules are different. Tiana could braid Adriana's hair and another mother adjusted her child's sweater.
Willenson said he was inspired to create Camp Reunite by his own foster son, Jonathan Swain, whose mother was incarcerated. Willenson said the camp is meant to nurture a healthy bond between mothers and children.
Camp Reunite also offers children of incarcerated parents, an often overlooked population, a community of kids experiencing something similar.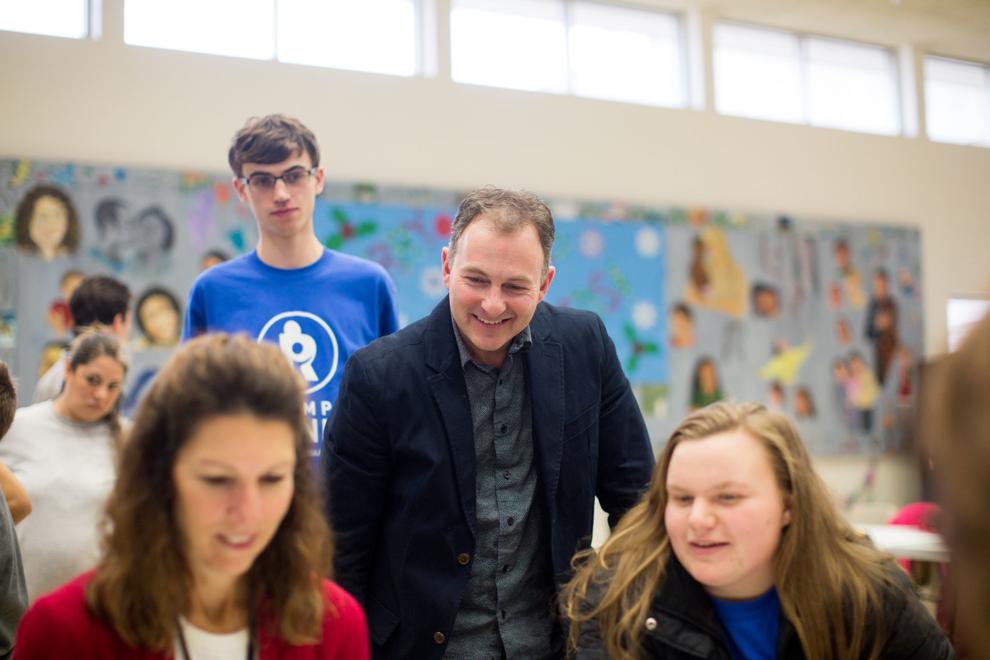 "The children are collateral damage in this," Willenson said.
Prior to Camp Reunite, 25 percent of the campers had never visited their mothers at Taycheedah, according to the Department of Corrections. This included Xiomara's son Santos, 11.
"I haven't heard my son crying since he was 3-years old," Xiomara, 37, said. "They say it's bad for us, but I think it's worse for them being without their mother."
She said the camp helped her son, who is naturally shy, open up emotionally about her incarceration. When he was younger, Xiomara said her son struggled and saw several counselors because of her incarceration.
"It broke me down, but it made me stronger," she said.
Xiomara expects to be moved to a minimum security in the summer and hopes for an early release in three years. If not, she has six years left to serve.
Like Xiomara's son, Adriana's two sons, now 11 and 12, grew up with a mother in prison. Adriana, 32, writes letters each week, talks to her sons on the phones and sends birthday presents. 
"It's very hard," she said. "I try my best to still be a mom in here." 
Share your opinion on this topic by sending a letter to the editor to tctvoice@madison.com. Include your full name, hometown and phone number. Your name and town will be published. The phone number is for verification purposes only. Please keep your letter to 250 words or less.