With streetcars and commuter and high-speed rail abandoned or stalled, Madison is looking hard at a new model of speedy bus service to cut travel times, boost ridership and spur economic development.
Bus rapid transit, or BRT, is a high-frequency, high-capacity, limited-stop service that can run on city streets or dedicated lanes, or even in a rail corridor.
Cheaper and quicker to build than fixed rail, BRT uses bigger, cool-looking buses, traffic signal technology, off-board fare payment and spiffy stations to make public transit more appealing and faster, advocates say. The concept is essentially a streetcar system without the tracks.
BRT is used in Eugene, Ore.; Kansas City; Cleveland; and other places.
In Madison, it would embellish Metro Transit, which set a record for passengers with 14.9 million rides in 2011 but is dealing with crowded buses on routes around Downtown, UW-Madison and Madison Area Technical College.
"I'm confident we can do it," Mayor Paul Soglin said, adding that BRT could start before his term ends in 2015. "The appeal is we're building off an existing system that's healthy and strong. The only question is: What does the system look like?"
Metro General Manager Chuck Kamp, noting BRT has been in long-range plans for years, is "excited" about the potential of moving ahead and anticipating a community conversation about whether to invest in modest improvements or an elaborate system.
The big questions are cost and where to create lanes, which could impact current traffic and parking, Soglin and Kamp said.
"We're trying not to wear rose-colored glasses," Kamp said. "There will be controversial items."
The Madison Area Transportation Planning Board is using part of a $2 million federal grant to develop and evaluate plans for BRT on East Washington, Sherman and University avenues, South Park Street and Fish Hatchery Road.
The study, overseen by local, state and UW-Madison officials and business leaders, has just begun. A public meeting to get early input is set for Sept. 10.
BRT brings many benefits of a rail system but is cheaper and more flexible and has a better, but not certain, chance of getting federal funds, officials said.
"This is a much more modest investment," said Ken Golden, a former City Council member on the city Transit and Parking Commission, transportation planning board and Capitol Area Regional Planning Commission. The rail initiatives "were pie in the sky," he said. "This is a cupcake in the sky."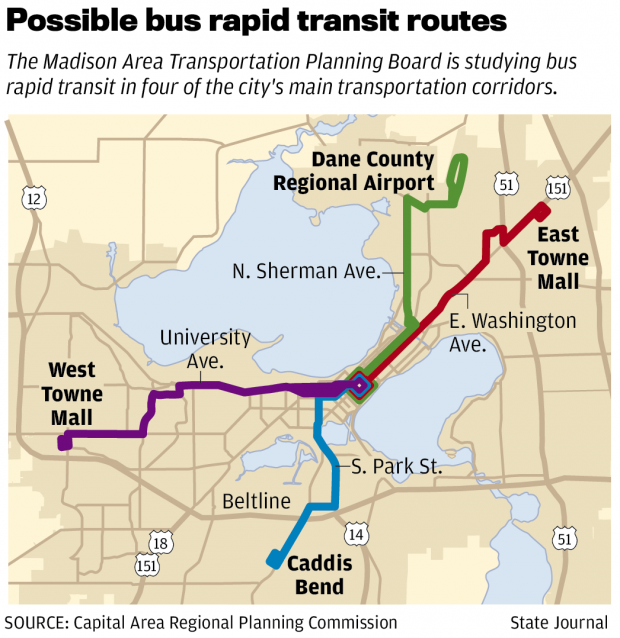 Metro has some express buses and special lanes, such as State Street or on University Avenue.
A simple BRT system running on preferred lanes and sometimes mixing with regular traffic would use off-board fee payment and traffic signal priority to cut travel times. Dedicated lanes would make travel faster and bring more economic development, officials said.
Golden, who visited Cleveland's system, said it looked and felt like light rail and was told it helped spur billions in redevelopment.
BRT, flexible in terms of routes and ability to mix with the existing bus system, could eventually be married to a rail system, officials said.
Until now, area officials doing long-term transit planning have focused on streetcars and commuter or high-speed rail, but those options derailed due to cost, the challenge of securing federal funding and politics.
"Now, we're getting a fair shake," said Bruce Wilson, a board member of Madison Area Bus Advocates. "We want the system to attract additional riders. To do that, we have to make the system more and more convenient."
Susan Schmitz, president of Downtown Madison Inc., agreed. "Good public transportation is good for Downtown. We want to be able to get people in and out of here by other means than cars."
A system brings undetermined costs for buses, stations, lanes, traffic signal technology and personnel, they said.
Funding may lie with revival of a Regional Transit Authority, which could levy taxes, and county, state and federal government support, they said.
"Clearly, this will require a partnership," Soglin said.