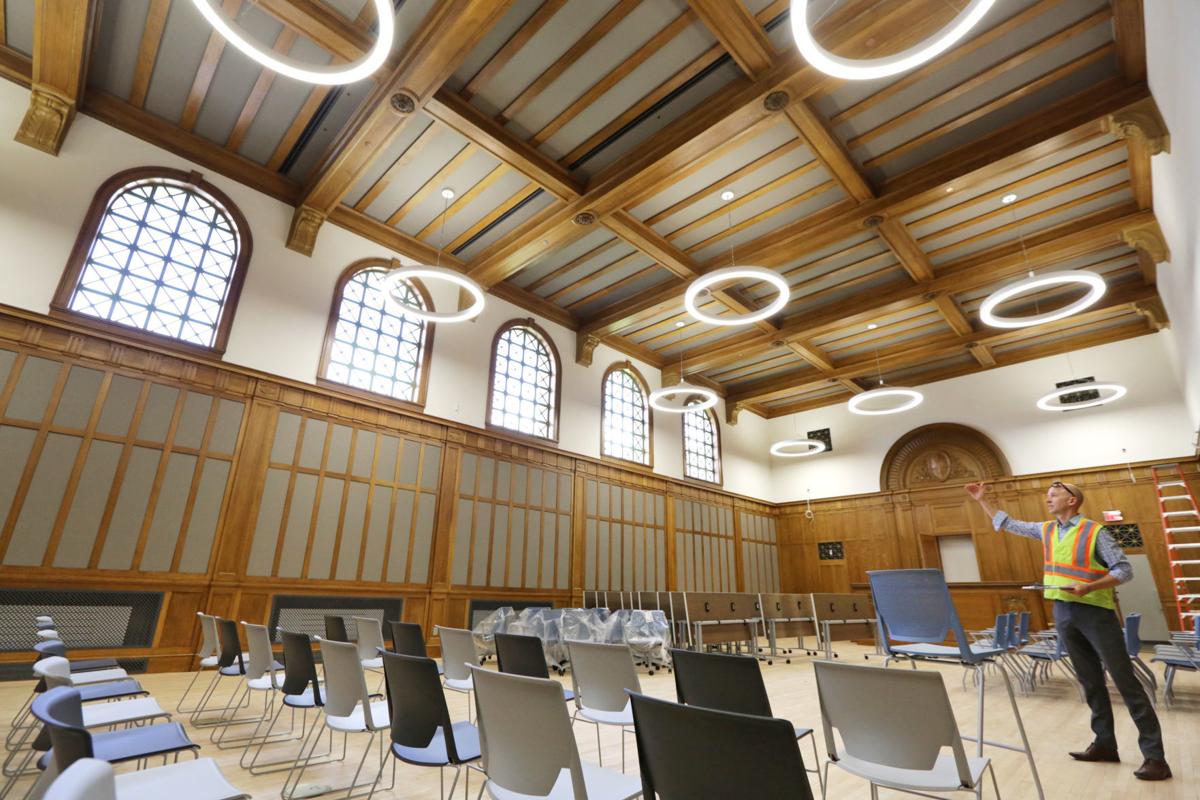 The classic stone exterior, interior woodwork and other finishes are artfully restored. Contemporary work spaces and spacious meeting rooms with state-of-the-art technology await. Natural light pours through broad windows.
After a two-year, $30.2 million renovation, the landmark Madison Municipal Building has been transformed from a neglected, worn, cluttered, diamond in the rough to a civic treasure for both employees and the public.
The project, which required temporarily moving 225 employees to other locations, combines historic preservation and an interior design that uses glass, metal, and white, grey and earth tones to give the 90-year-old building an airy, modern feel.
Gone are the air-conditioning units that poked from original windows and marred the building's historic look and symbolized its aged and inefficient mechanical systems. Gone, too, are the bricks and black paint that once covered windows at the back of the structure and the fake ceilings that hid original features of long hallways and rooms.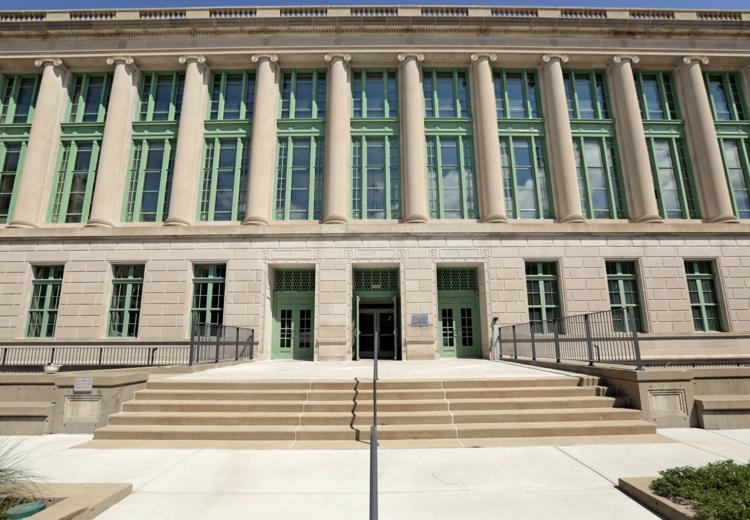 New is the Lehigh Green paint on windows, the original color that recalls oxidized copper; a computerized LED lighting system that will bring a rainbow of colors to the columns on the building's stately front facade; a center staircase near the front door to the lower level; a green lower roof and coming solar panels on the upper roof.
"The improvements are so dramatic in so many respects," said Ald. Mike Verveer, 4th District, who represents the site. "Overall, it's quite breathtaking."
Mayor Paul Soglin said, "To me, it felt like an obligation more than anything else. We decided to take that obligation on and to do it right."
Contractors are now completing final touches on the building, and employees are supposed to begin returning on Sept. 21.
In renovating a landmark building in a prominent spot a block from the state Capitol, a prime rule emerged: "First, do no harm," said Bryan Cooper, an architect with the city Engineering Division.
To guide the process, the city engaged MSR Design of Minneapolis, the firm that did the $29.5 million renovation of the Central Library, which reopened to broad praise in 2013.
The city acquired the building in 1979, making significant renovations between then and 1982, including a gutting of the first floor and basement, and replacement of steel frame windows on lower floors.
The designers followed principles to transform staff and public service areas, strengthen public engagement, draw from historic references, bring workplaces up to date and promote health and well being through the use of daylight.
On the exterior, original stone was preserved but mortar and joints replaced. Doors and original windows on the second and third floors were restored, stained or painted. The 1980 windows on the first floor and lower level were replaced with ones more sympathetic to the building's original design.
Trees around the building were removed, a nod to the original design that set the building back from the property line with no obstructions to impede views, Cooper said. The city had attempted to light the exterior columns in the past — using purple to honor the death of the music icon Prince in 2016 — but the new lighting system allows a far more precise presentation of an array of colors controlled by computer, he said.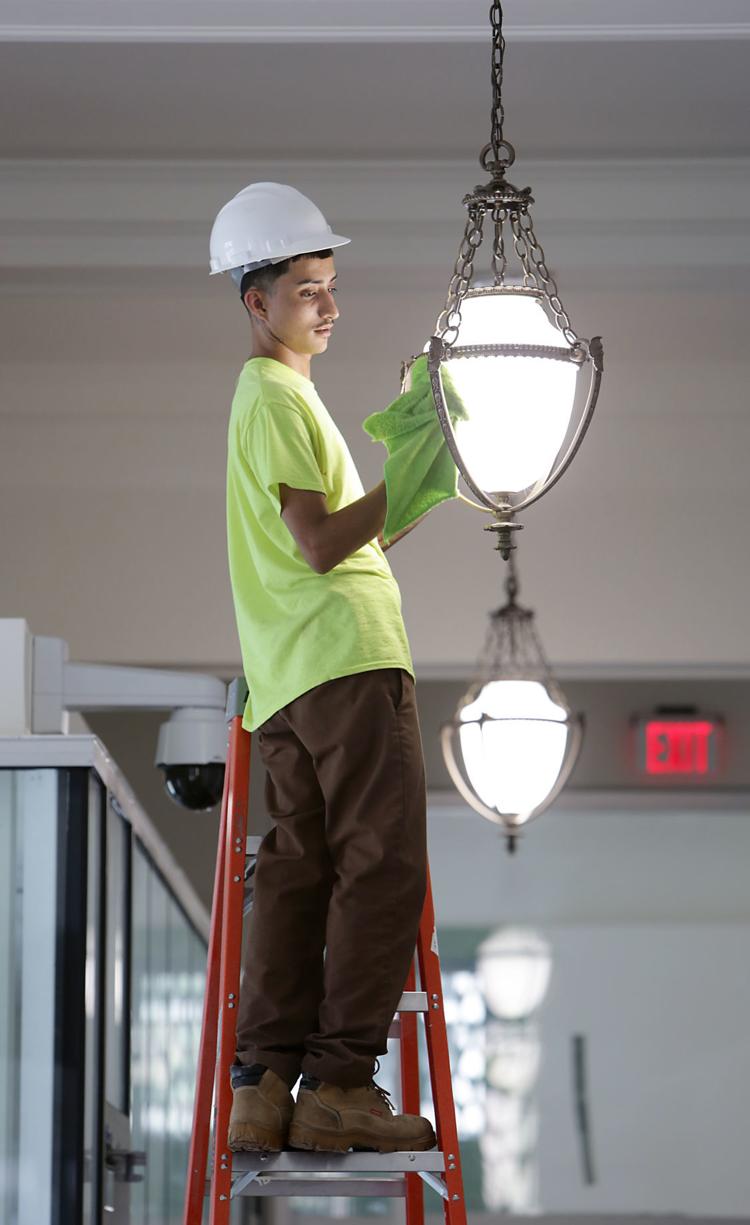 A worn loading dock and entrance at the rear of the building was demolished and replaced with a modern, two-story structure with large windows and an employee entrance and support space for staff.
The project includes complete replacement of heating, ventilation and air conditioning, electrical and plumbing systems and adds a sprinkler system. The former post office and a credit union branch are gone.
Modern amenities
Inside, preservation mixes with leading-edge design and technology.
Through the main entrance off Martin Luther King, Jr. Boulevard, a 1980s fake ceiling and flooring were removed from a centerpiece corridor running the length of the building connecting to entrances on East Doty and East Wilson streets. Historic lighting was added and the terra cotta floor restored, creating an elegant, sun-drenched space. Long corridors on the second and third floors were also restored.
"We tried to be true to the historic elements," Cooper said.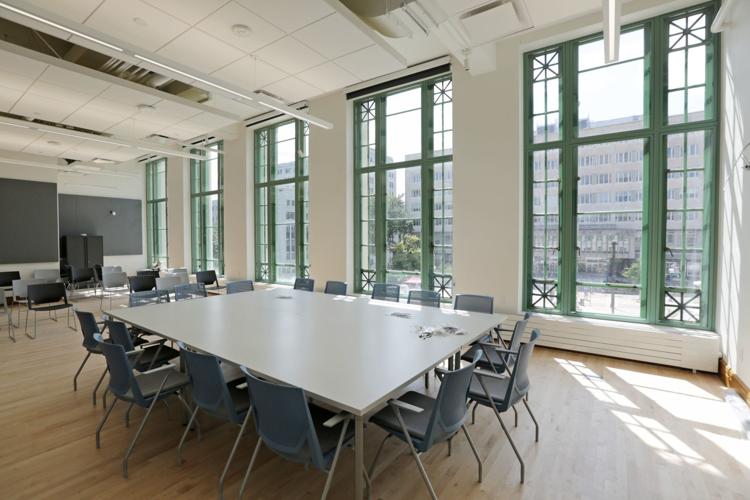 You have free articles remaining.
The office of the director of Planning, Community and Economic Development, as well as the Department of Transportation and Traffic Engineering, Parking Utility and Community Development Authority Housing divisions — all much used by the public — are on the first floor.
Also near the main door, and along the first-floor corridor, is a large public meeting room. For decades, the building only provided limited, cramped and uncomfortable space for public meetings. Now, there are many small and large meeting spaces, many with views, with larger ones equipped with multiple flat TV screens and set up so Madison City Channel can remotely record proceedings from its offices in the City-County Building across the street.
"No longer will public meetings be in a dungeon-like basement," Verveer said.
Steps from the entrance, the renovation opened a new stairway that leads directly to the busy but formerly hard-to-find Planning and Building Inspection divisions on the lower level. The space has large customer service desks, tables for spreading blueprints and plans, and computer terminals. At the rear of that floor, 14-foot-wide windows, once bricked over, now bring light inside.
There, and throughout the building, staff work spaces are separate from public spaces and accessed with pass cards. Contemporary cubicles with sit/stand desks and personal lockers for general staff are close to windows. In the center of the floors, middle managers get small offices and agency directors get bigger ones with TVs for video presentations and tables and chairs for small meetings.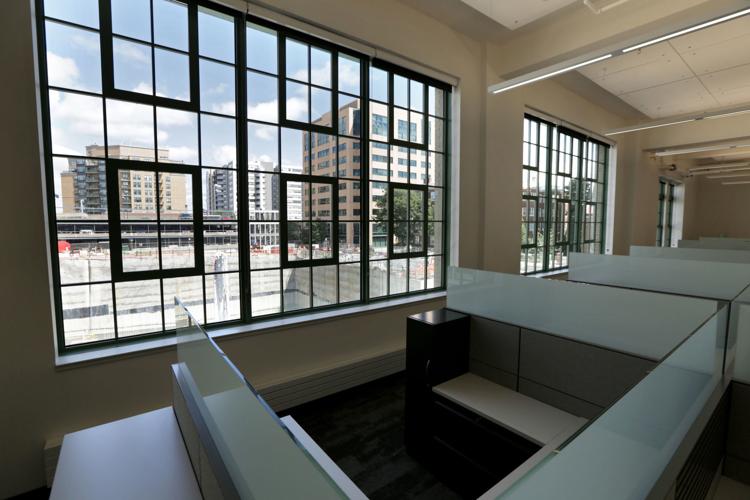 Some staff will lose private and or semi-private offices, but the renovated building will include a more equitable and intentional arrangement of office and work station sizes, Cooper said.
For staff, the renovation also delivers indoor bike parking, rooms for nursing mothers, showers and proper break rooms.
A goal, said Stephen Bellairs, senior associate at MSR, was to leverage tall, daylight-filled space, sometimes filtered, and to create a progression among public, semi-public and private space. "Other spaces are simply a joy to be in," he said.
Beauty restored
if there's a jewel to the renovation, it's Room 260 on the second floor, which offers some of the building's most intact, historic space.
Once Judge James E. Doyle's courtroom — the building was originally a federal courthouse — Room 260 had become the city's prime public meeting space outside the City-County Building. But the aesthetics were spoiled by an ugly drop ceiling and painted-over windows to accommodate what had been City Channel's studio, and its hardwood chairs and benches punished officials, staff and citizens during long meetings.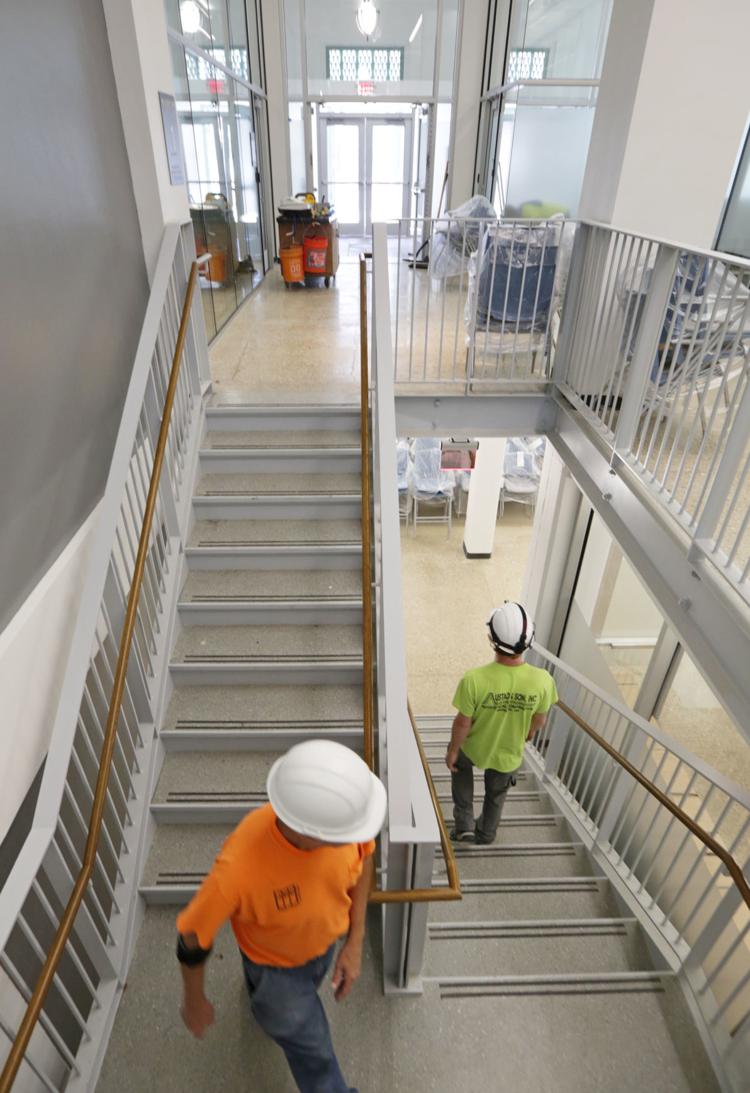 Now, reupholstered doors open to a grand, refurbished space. The 24-foot-tall ceiling with oak features is revealed with circular modern lights — a concession to the present due to the cost of chandeliers and meeting code — that seem to float high in the room. Grey acoustical panels were refurbished. Light streams through five large windows where black paint was removed.
"After years of unsympathetic remodels to Room 260, it has been inspiring to see those items stripped away and an appreciation for the original beauty restored," Cooper said.
Room 260, which will be equipped with modern, comfortable furniture, and extra plastic and metal chairs for large crowds, is also seen as a space for special functions, and a small catering space has been created in the adjacent former judge's chambers.
Also on the second floor are Human Resources offices, more meeting rooms along the exterior of the building and a flexible space that can be used for expansion.
"The renovated MMB is lovely," said Planning, Community and Economic Development director Natalie Erdman.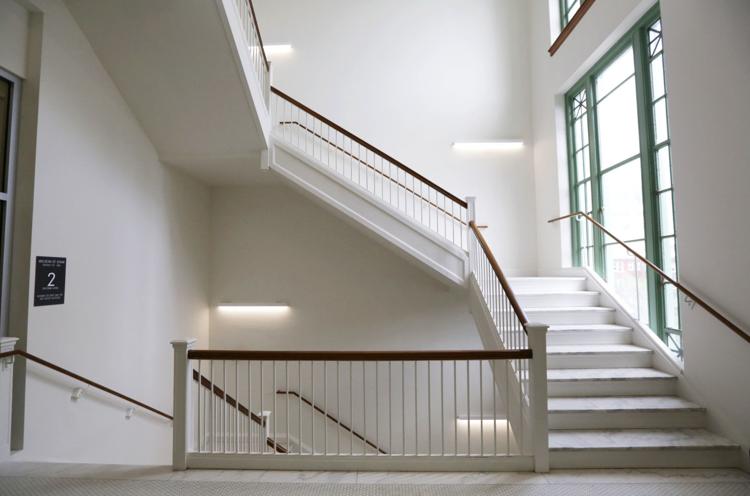 "It has natural light for staff," she said. "It has modern-day conference rooms. It takes advantage of the building's historic features, and it is much easier to find one's way around."
Some of the most elegant restored space is in the building's main staircases at the East Doty and East Wilson street entrances, where light filters through restored windows to an open, three-story atrium with white walls, oak banisters, marble steps and marble and ceramic floors. The Doty Street entrance, long used as only an exit, is now fully operational.
On the third floor, where offices for the Community Development and Economic Development divisions and more meeting space is located, artist Peter Hodapp's large multimedia piece featuring a woman's face from two perspectives has been preserved on a wall near the Doty Street stairway door. It's a lone remnant from a one-day, pop-up art event in December 2016 called "Municipal" that featured the work of more than 100 artists who used the building as a canvas before it closed for renovation.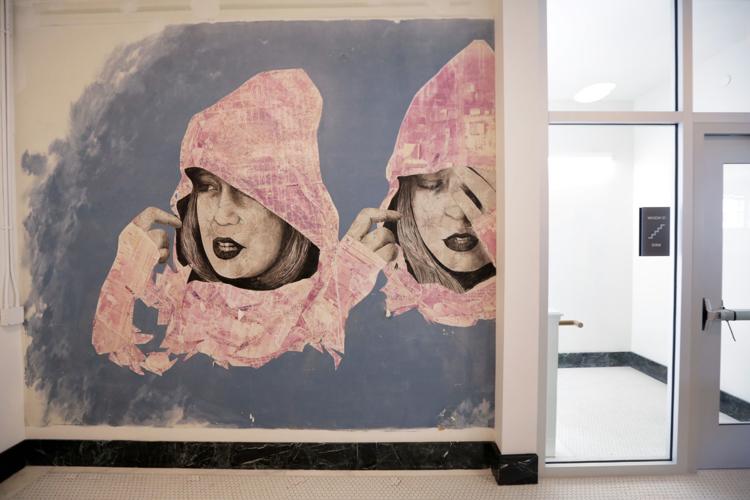 The wall was to be replaced by a window before some interior finishes were scrapped for budgetary reasons, Cooper said, adding, "It's kind of a happy accident. We couldn't do the glass so we kept this here."
Soglin, stationed in the City-County Building, summed it all up, saying, "I can only compare it to the CCB, a dreary, depressing place to work and visit. I wish the mayor's office was in the MMB."
Get Government & Politics updates in your inbox!
Stay up-to-date on the latest in local and national government and political topics with our newsletter.