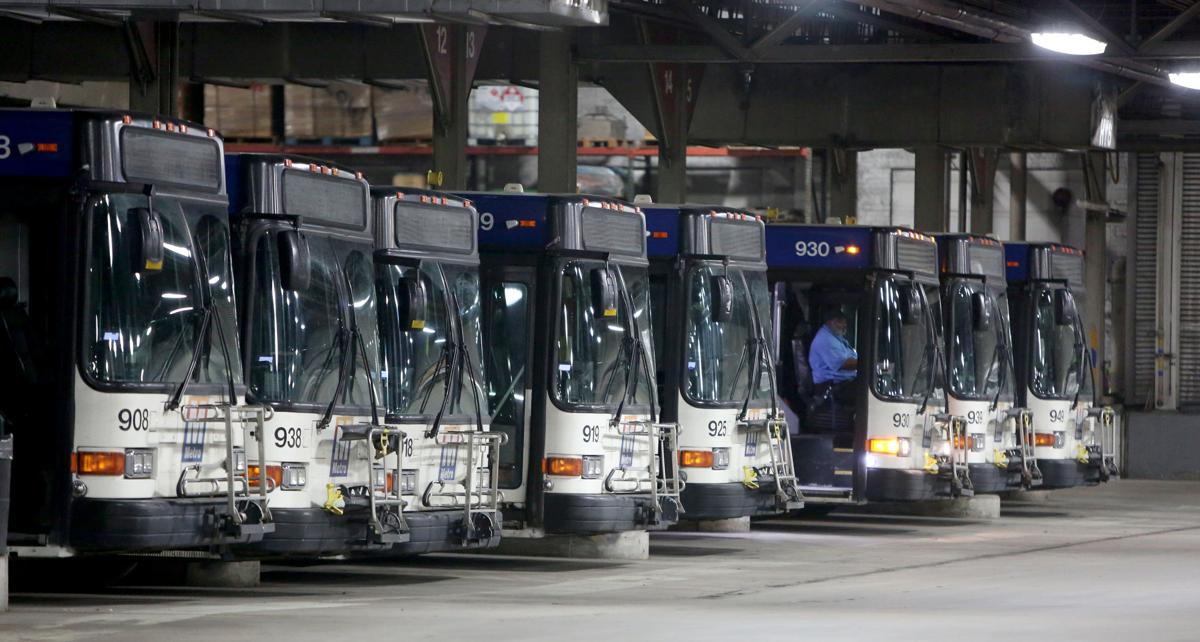 In a special meeting Tuesday, Madison's City Council adopted a $40 vehicle registration fee over competing proposals that would have lowered the tax and set an expiration date.
Mayor Satya Rhodes-Conway included revenue from the fee in her 2020 operating budget proposal as a way to cover an $11 million budget gap and invest in implementing a Bus Rapid Transit system.
"I appreciate that I have presented all of you with some very tough choices in this budget," Rhodes-Conway said. "I would submit to you that while it may have seemed like it was me forcing you into tough choices, it is actually our financial situation that forces us all into tough choices."
The ordinance required to create the fee passed on a 11-8 vote. Alds. Paul Skidmore, District 9; Mike Tierney, District 16; Syed Abbas, District 12; Christian Albouras, District 20; Samba Baldeh, District 17; Sheri Carter, District 14; Barbara Harrington-McKinney, District 1; and Zachary Henak, District 10, voted against the ordinance.
"I believe it is a short-term problem with a long-term fix," Henak said. "We don't go back from these types of taxes."
The local vehicle registration fee is the highest in Wisconsin. Madison residents would pay a total of $153 in vehicle registration costs including the $40 city fee, a $28 tax that Dane County adopted in 2018 and a state fee of $85. Hybrid car owners would pay an additional state-imposed $75 charge.
Alders and the mayor dislike the regressive nature of the fee and shared concerns that a $40 tax would place an undue burden on those who are low-income or living on a fixed income. Rhodes-Conway noted that the fee will improve transportation for those who need it and provide bus passes to low-income riders and eligible students.
"Yes, it may be regressive, but we are doing our best to make the impact less," Rhodes-Conway said.
Additionally, the Finance Committee adopted an amendment that would provide $40 gift cards to households in the WIC program to offset the fee.
Harrington-McKinney, who unsuccessfully attempted to amend the fee to $20, said the city cannot "balance the budget on the backs of our most vulnerable residents."
"This tax will definitely cause folks to fall through the cracks," Harrington-McKinney said, "low-income, senior, hard working, middle class people who are just living paycheck to paycheck."
Madison's vehicle registration fee will take effect Feb. 1, 2020. It is expected to generate approximately $7.9 million in new revenue. An estimated $1.4 million will be used to fund Bus Rapid Transit preparations and to address bus service on the south side.
An estimated $2.7 million would be used to sustain Metro Transit operations and to provide summer youth passes and more low-income bus passes. The rest of the revenue would replace the property tax revenue subsidy that typically is allocated for Metro Transit.
Ald. Grant Foster, District 15, said the city has not sold the vision of Bus Rapid Transit, which seeks to provide faster and more efficient bus service, to Madison residents. He offered an amendment that would have reduced the tax from $40 to $35.
To balance the budget, Foster's amendment would have shifted $1.05 million for Metro studies — which analyze routes, evaluate mobile ticketing and organizational structure — from the operating to the capital budget. His amendment would have also delayed start dates of seven positions and an initiative to save about $257,000.
You have free articles remaining.
Foster also called on Dane County to financially support Bus Rapid Transit, saying that it is "patently unfair" to ask Madison residents to fund a system that people across the county would use.
"We need to ask for support from the broader region," Foster said. "We can't make a plan to do this on our own."
Baldeh and Carter proposed making the fee expire or "sunset" on Jan. 31, 2026. Baldeh said setting a date would give the City Council time to look at other streams of revenue.
The amendment failed on a 4-15 vote.
Transportation Director Tom Lynch said reducing the fee and setting a "sunset" date would have jeopardized the city's attempt to receive a federal grant to fund the capital costs of Bus Rapid Transit.
The city plans to apply for a federal Small Starts grant to fund $130 million in capital costs for a BRT system. Federal dollars are expected to cover about $100 million with the rest coming from local sources.
Lynch said if the portion of revenue allocated to BRT operating costs is removed, it could hurt the city's grant application. The city is required to include a 20-year financial plan in its application that shows "evidence of stable and dependable financing sources to construct, maintain, and operate the transit system."
"If the $5 reduction supplants the amount that is allocated toward BRT operating expenses, then we no longer have that to put in our operating funding commitment for Small Starts," Lynch said.
Likewise, Lynch said a "sunset" clause would eliminate the city's competitive advantage. The Federal Transit Administration would consider a vehicle registration fee as an identified source of operation funding, but it would not qualify if the fee had an expiration date.
When Rhodes-Conway ran for mayor, implementing Bus Rapid Transit was a key part of her campaign. She asked for the City Council's support in order to "fix transportation" in Madison.
"I don't want us to miss our opportunity to invest in the things that will make us an even greater city than we already are," Rhodes-Conway said.
While transportation is a priority of her administration, there are others who would like the city to do more for public safety.
In a letter sent Monday to the mayor and all alders, leaders of the Orchard Ridge Neighborhood Association urged the city to add 12 officers to the Madison Police Department. The recommendation came after the association surveyed residents in the southwest side neighborhood and found that public safety is a top concern.
Several alders said they have received numerous emails from their constituents opposing the fee and believe the opinion is reflected across Madison. With a tight budget and few options to raise revenue, Rhodes-Conway said a vehicle registration fee is the last option, even if it is unwelcome.
"I recognize that we don't all have the same priorities and that we all need to represent our constituents the best that we can possibly can," Rhodes-Conway said. "But budgets require tough choices. We can't do everything we want to do."
Madison's City Council has until Nov. 6 to submit amendments to the 2020 capital and operating budgets. Alders will begin budget deliberations during the week of Nov. 11. 
Share your opinion on this topic by sending a letter to the editor to tctvoice@madison.com. Include your full name, hometown and phone number. Your name and town will be published. The phone number is for verification purposes only. Please keep your letter to 250 words or less.