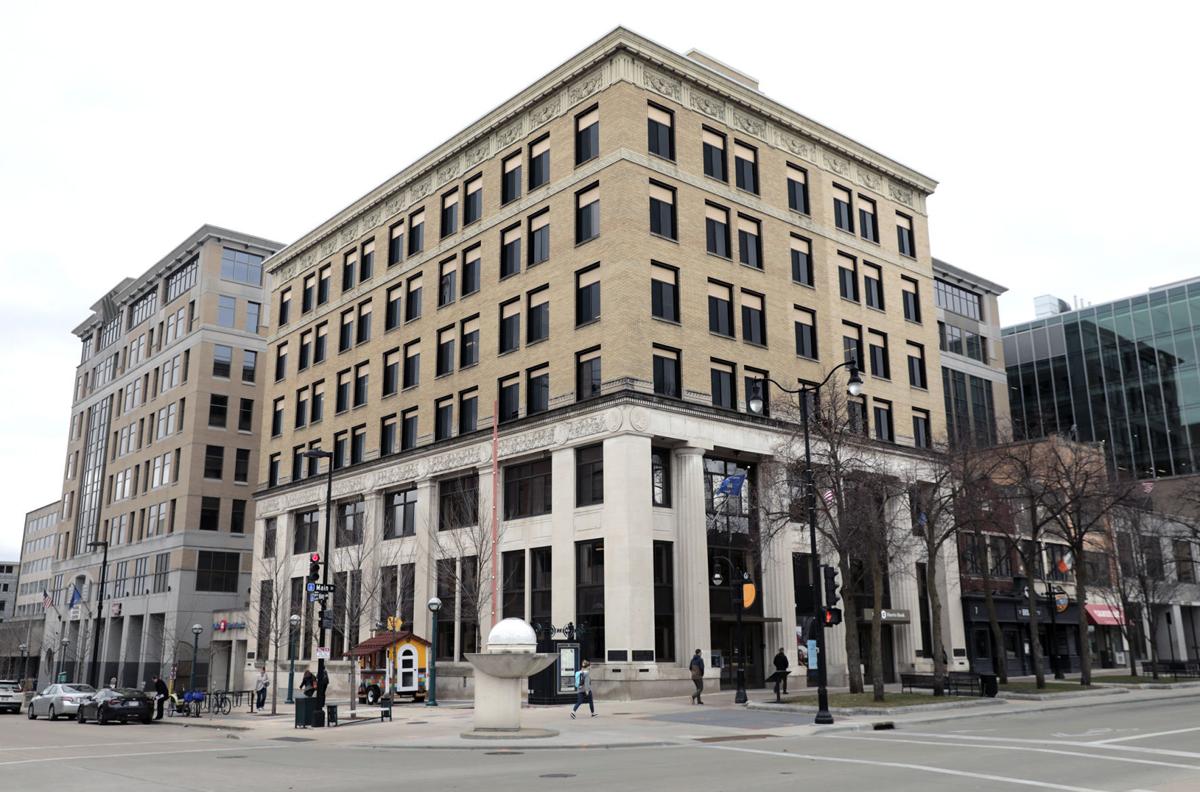 Foxconn Technology Group promised to make a splash in Wisconsin beyond the sprawling manufacturing facility it is building in the southeast of the state, but there's little evidence that plans to build the so-called "innovation centers" are moving forward.
That includes in Madison, where there is nothing to suggest the Taiwan-based electronics giant has moved employees into the Capitol Square building it purchased from BMO Harris Bank for $9.5 million earlier this year.
Wisconsin promised nearly $4 billion in state and local tax incentives to the Taiwan-based electronics giant if it invested $10 billion and created 13,000 jobs over 15 years to construct a 20-million-square-foot campus along a highway about halfway between Milwaukee and Chicago.
The plant will produce Foxconn's next generation of liquid crystal display technology that will be used to make display screens for cellphones, tablets and other devices. President Donald Trump lauded the deal as transformational for the state and national economy.
Foxconn officials announced plans to construct centers in Madison, as well as in Milwaukee, Green Bay, Eau Claire and Racine.
In Madison, Foxconn has said it intends to use part of the nearly century-old, six-story office building at 1 W. Main St. to serve as its off-campus hub to collaborate closely with UW-Madison faculty and students on research in medical, material, computer and data sciences.
In April, Alan Yeung, Foxconn's director of U.S. strategic initiatives, said Foxconn employees would move into the building, which will be renamed "Foxconn Place Madison," by the end of the year.
But there is no evidence the company has renamed the building or moved any employees there yet.
At that time neither Yeung nor BMO Financial Group U.S. CEO David Casper would disclose how many floors each business would occupy, though Casper said the BMO branch's roughly 100 employees would lease space in the 55,000-square-foot building from Foxconn.
A BMO spokesman on Wednesday declined to say how many floors it is leasing from Foxconn and referred all inquires to the company.
A building directory located in the lobby of the Capitol Square building makes no reference to Foxconn. Instead, most floors appear to be occupied by the bank.
Foxconn Technology Group declined to say whether it has moved any employees to the 1 W. Main St. location. It also declined to provide any details as to how many floors it intends to occupy in the building. A Foxconn spokeswoman said the company has not changed its plans for the innovation centers.
"Our first step is to build out the core of our network at our manufacturing facility in Racine and the hiring at our innovation centers will follow," the company said in a statement.
The company said it intends to have its manufacturing facility up and running by the end of 2020.
Yeung previously said a "sizable" number of employees will work in the Madison building, though the number would largely depend on how much Foxconn can engage with UW-Madison faculty, staff and students, as well as with other technical colleges and entrepreneurs in the area.
Foxconn's plans to purchase a Downtown Madison office building came after the company announced in the summer of 2018 a collaboration that Chancellor Rebecca Blank called "the largest research partnership in the university's history."
The company had intended to invest $100 million in engineering and innovation research at UW-Madison to help fund a new building for the College of Engineering if the university raised the same amount.
No permits
Heather Stouder, director of the city of Madison's planning division, said she is not aware of any permits that would correlate with a major interior renovation of the space at 1 W. Main St.
Stouder said she also isn't aware of any request for a building inspection for the location, which is usually only necessary for a significant change in the use of the space, such as converting from retail to a restaurant, for example.
Stouder said it is possible Foxconn employees could move into the space without obtaining any new permits.
Still on Plan A
Development directors in cities with proposed innovation centers said those plans are on hold as Foxconn appears to be prioritizing its main manufacturing campus in Mount Pleasant, Wisconsin Public Radio reported Wednesday.
"Foxconn is focusing on the (Mount) Pleasant campus," said Shannon Powell, a spokesman for Racine Mayor Cory Mason. "Should an innovation center in the city get up and running, there would certainly be a grand opening event."
David Callender, a spokesman for the Wisconsin Economic Development Corp., referred all inquiries to Foxconn.
Hundreds of jobs?
Except for Milwaukee, Foxconn has said each of the prospective centers could hire between 100 and 200 people to work in high-skilled jobs. It said it would create more than 500 jobs in Milwaukee.
The jobs would qualify for state tax credits, which are administered by WEDC.
"WEDC receives a report from Foxconn on Dec. 31 each year which WEDC uses to determine whether the company qualifies for the jobs credits," Callender said. "We do not monitor the project more frequently than that."
The development of innovation centers are a key component of a new initiative that Foxconn announced earlier this month to recruit students from Gateway Technical College in Racine, Chippewa Valley Technical College in Eau Claire and UW-Parkside in Kenosha to work at the company.
The Associated Press contributed to this report.