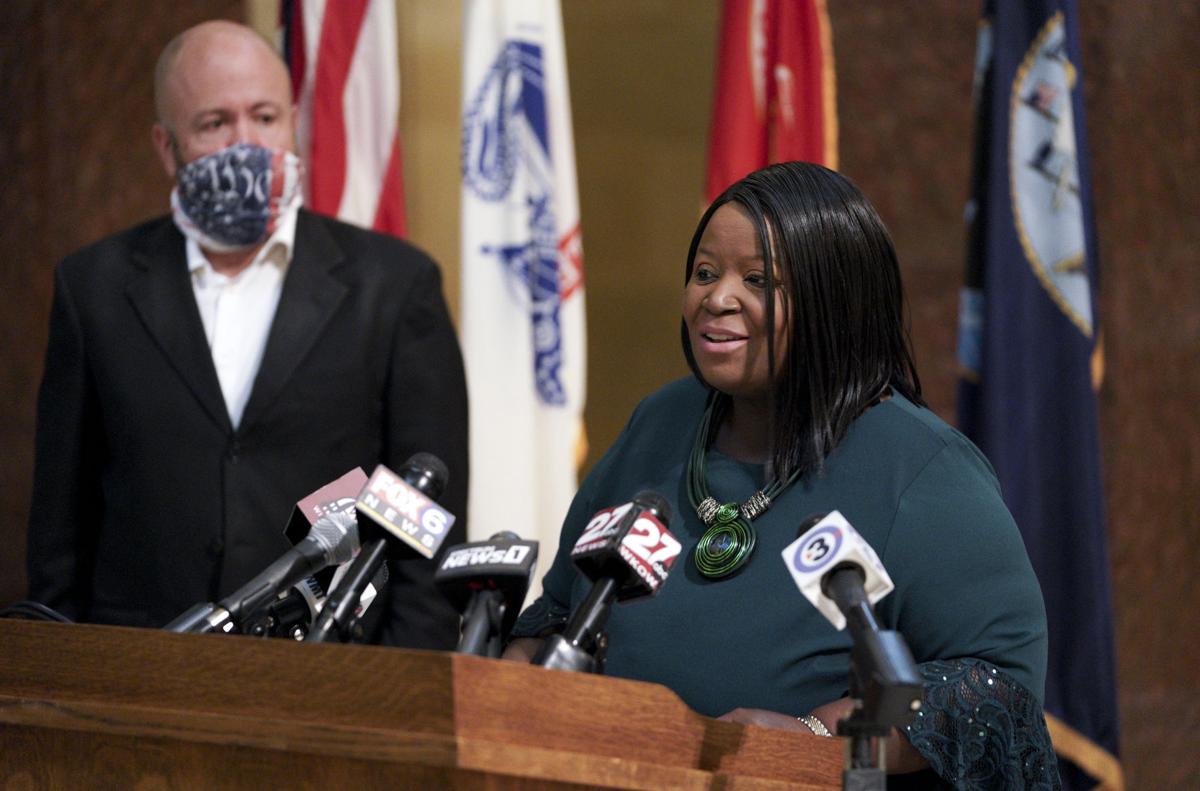 The large bipartisan panel seeking to address Wisconsin's racial disparities is poised to meet for the first time Wednesday, almost two months after the Republican-led Legislature declined to convene in special session to vote on bills targeting policing practices.
Timing-wise, the first meeting is coming a few weeks later than expected. While the body's co-chairs said last month they anticipated convening in early October for their inaugural gathering, the 30 additional members of the task force weren't unveiled until last week after more than 100 applied. 
Despite the delay, Rep. Shelia Stubbs, one of the task force's leaders, said in an interview she still anticipated "meaningful bills" based on the panel's recommendations would be ready for the Legislature in early January or February, when the new legislative session begins. 
"We want this policy to be the first piece of legislation that's introduced," the Madison Democrat said, adding: "I will make sure that we stay on an aggressive schedule because it's a priority for me and it's my life and it is something I truly believe that we cannot afford to not get done."
Created by Republican Speaker Robin Vos in the weeks after the Kenosha police shooting of Jacob Blake, a Black man, the task force is responsible for crafting recommendations surrounding racial disparities, educational opportunities, public safety and police policies and standards in Wisconsin.
Initially met with skepticism, as Democrats expressed a preference for immediate action on policing legislation over a task force, the panel is comprised of two legislators from both parties, in addition to 28 community members. 
Still, Stubbs stressed the state "shouldn't even be at this point," as she continued to express disappointment that the nine policing bills Evers proposed weren't acted on this summer. 
"This is where I am willing to do the work, whatever it takes. I am willing to work with anyone," said Stubbs, the first African-American lawmaker from Dane County elected to the Legislature. "People should not continue to be killed because we are at the state Capitol and are not passing meaningful legislation." 
Represented among the membership of the panel that's helmed by Stubbs and Assembly Majority Leader Jim Steineke, R-Kaukauna, are faith and community leaders, activists, school officials, health care specialists, law enforcement officers and more. 
While the 32-member panel is large, Steineke, said in a Wedge Issues podcast interview last month that level of membership is "necessary in order to get everybody's voices at the table and the experts in that particular field of what we're looking at to be part of the solution."
But while four lawmakers from the Assembly are on the task force (including Democrat Kalan Haywood, of Milwaukee, and Republican Robert Wittke, of Racine), no state senators are. 
Stubbs said she had wanted to have that chamber represented, but noted "that's not where we are right now." 
Instead, she said the co-chairs would update Senate leadership about their progress and recommendations, opportunities where those offices could ask specific questions about the panel's plans.
"My hope and desire would be that the Assembly side would take up our work, follow through, and hopefully the Senate side will join us in this effort to move forward meaningful legislation because we're already one day too late to address criminal justice reform and to end racial disparities that impact the state of Wisconsin," she said. 
A spokesman for Senate Majority Leader Scott Fitzgerald, R-Juneau, didn't return an email Tuesday afternoon seeking details about to what extent the chamber's Republicans would be involved in the process going forward and whether any lawmakers had expressed an interest in joining the body. 
But Senate Minority Leader Janet Bewley said in a statement she hadn't heard from Vos' or either co-chair's office about including Senate Democrats on the task force. 
"I'll let other(s) decide if that bodes well for the ultimate success of this particular effort, but I will say what I, and my colleagues, have been saying for months: the time for action is now," the Mason Democrat said. 
Going forward, Stubbs anticipates the task force would meet every two weeks. She said the body would likely be broken into subcommittees to tackle issues like overhauling the criminal justice system and workforce development, with those members then reporting back to the broader group to present their findings. 
Likely the more difficult and most relevant conversation, she said, would be around police brutality. But sitting down at a table with law enforcement officials and drafting legislation about their practices is something she's never done. 
"It's going to be a different deal," Stubbs added. "That's why it's important that we talk about how we can get the policy drafted."
The community members who will be participating in those discussions include: Rev. Marcus Allen, of Mt. Zion Baptist Church; Rev. Yao Yang, of Wausau's The Cross Church; Oneida Nation Chair Tehassi Hill; former United Community Center Executive Director Ricardo Diaz; activist Rebecca Burrell; Jerome Smith, of Milwaukee's Greater Praise Church of God In Christ; and Marty Calderon of Milwaukee's God Touch Ministry.
Also involved are Milwaukee Public Schools Chief Academic Officer Jeremiah Holiday, Milwaukee NAACP President Fred Royal; United Way of Dane County and Urban League of Greater Madison's Keetra Burnette; Milwaukee Urban League head Eve Hall; African-American Chamber of Commerce of Wisconsin leader Ossie Kendrix; Children's Wisconsin's Theresa Jones; and SSM Health Regional President Damond Boatwright.
Other members are Blackhawk Technical College's Linda Fair; Gateway Technical College instructor Veronica King; CESA 6 CEO Ted Nietzke; Justice of Wisconsin head Tory Lowe; retired Milwaukee police officer Pam Holmes; Toward One Wausau's Tony Gonzalez; West Allis Police Department Chief Patrick Mitchell; Milwaukee Police Association's Danilo Cardenas; Wisconsin Professional Police Association's Jim Palmer; Grant County Sheriff Nate Dreckman; Dannie Evans of Janesville's House of God Church; Rice Lake Police Chief Steven Roux; former Madison Police Department lieutenant Wayne Strong; and Madison College's Kalvin Barrett. 
Sign-up here for the Campaign Notes newsletter to get important Wisconsin politics updates in your inbox each Thursday, now through Election Day. 
Get Government & Politics updates in your inbox!
Stay up-to-date on the latest in local and national government and political topics with our newsletter.