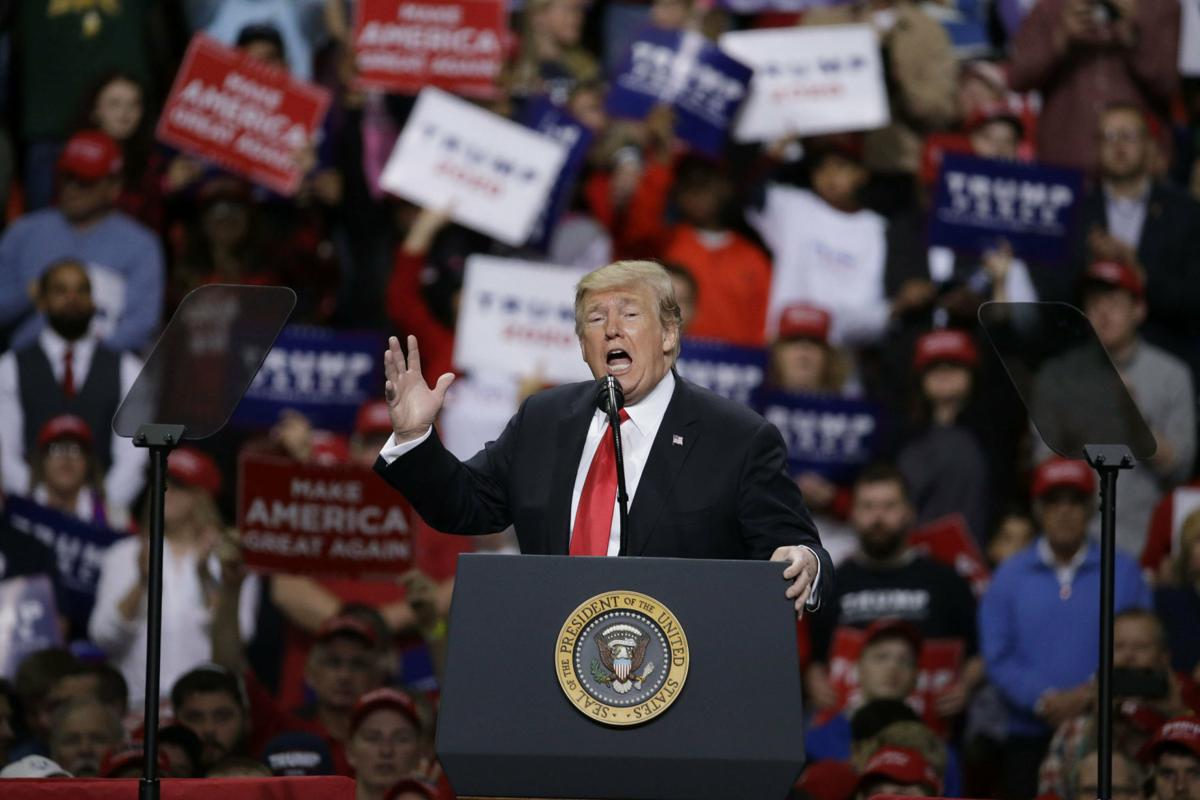 A state bill relating to abortion is getting national attention after President Donald Trump used incendiary rhetoric Saturday — which a leading Wisconsin pediatrician called false and irresponsible — to blast Gov. Tony Evers for vowing to veto the measure.
Republican legislators say the bill is needed to require doctors to give proper medical care to babies born alive after an abortion attempt.
Such cases appear to be extremely rare. State-level data on how many fetuses survive abortion attempts are not tracked by the state Department of Health Services.
The most recent instance that supporters of the bill can confirm happened in Wisconsin in 1982.
Assembly Majority Leader Jim Steineke, R-Kaukauna, said Monday that data from the National Center of Health Statistics show a fetus survived an abortion in at least 143 cases nationally, and as many as 588, between 2003 and 2014. During that period there were 9.3 million abortions, of which roughly 1.3 percent occurred after 21 weeks' gestation, according to the Centers for Disease Control and Prevention.
Critics say state law now prevents the types of very late-term abortions to which the bill would apply. A federal law also provides legal protections to all babies born alive, including after an abortion attempt.
Trump's comments Saturday — in which he repeated a claim that doctors are "executing" babies — were "unacceptable," said Dipesh Navsaria, a Madison pediatrician and vice president of the Wisconsin chapter of the American Academy of Pediatrics.
"No one is executing babies, period," Navsaria said. "That's not happening."
GOP: Evers extreme
At Saturday's rally, Trump blasted "your Democrat governor," without naming Evers, for saying he will veto the bill.
"The baby is born. The mother meets with the doctor. They take care of the baby. They wrap the baby beautifully, and then the doctor and the mother determine whether or not they will execute the baby," Trump said.
Evers' office issued a statement Monday calling Trump's comments at Saturday's rally "false, dangerous and deeply offensive." Evers spokeswoman Melissa Baldauff said Republicans are trying to distract voters from Evers' budget proposals to expand health care access for mothers and babies, including by expanding Medicaid eligibility.
The bill, of which Steineke is lead Assembly sponsor, would require a health care provider present in the case where a fetus survives an abortion or abortion attempt to "exercise the same degree of professional skill, care, and diligence to preserve the life and health of the child" as would be given "to any other child born alive at the same gestational age."
You have free articles remaining.
The bill makes "intentionally causing the death of a child born alive as a result of an abortion or an attempted abortion" a felony with a penalty of life imprisonment — the same penalty as first-degree intentional homicide.
Steineke thanked Trump in a Monday statement for "making it clear just how extreme of a position Gov. Evers has taken in vowing to veto this life-saving legislation."
"Wisconsin Republicans stand ready to protect the lives of children surviving abortions while our governor instead takes the side of Planned Parenthood and turns his back on those children," Steineke said.
Heather Weininger, a spokeswoman for Wisconsin Right to Life, an anti-abortion group that supports the bill, said the instances from 1982 included three babies that survived abortion attempts in Madison and later died.
'A visceral reaction'
The Wisconsin State Journal reported on May 8, 1982, that two babies were born alive following abortion attempts at University of Wisconsin Hospital and Clinics. It was reported that they later died after having been transferred to an infant intensive-care unit at Madison General Hospital.
"We have not heard of any cases of living aborted babies in Wisconsin since 1982 but that does not mean they are not occurring. It only means that no one has reported them," Weininger said in an email.
A state law enacted in 2015 makes it a felony for a doctor to terminate pregnancies after 20 weeks unless a "medical emergency" occurs.
Navsaria said it's unclear what proponents of the bill are trying to address, given the 20-week ban and the fact that the age of fetal viability outside the womb is about 24 weeks. In the rare cases when late-term abortions after that occur, he said they're virtually always due to serious health problems for the fetus or mother or both.
Navsaria said it's possible the bill could prolong pain and suffering for babies if physicians interpret it as requiring all measures be taken to prolong the baby's life even if it had no chance of surviving outside the womb for more than a short time.
As for Trump's rhetoric about "executing" babies, it and the bills to which it referred are meant to evoke a "visceral reaction," according to Jenny Higgins, a professor in Gender and Women's Studies and in Obstetrics and Gynecology at UW-Madison.
"In addition to these claims being false, about doctors executing newborns, I would just emphasize that these bills just distract us" from a broader debate about abortion, contraception and related issues, Higgins said.
Navsaria said Trump's remarks address a situation "only happening in his imagination."
"It's antithetical to what physicians do," he said.