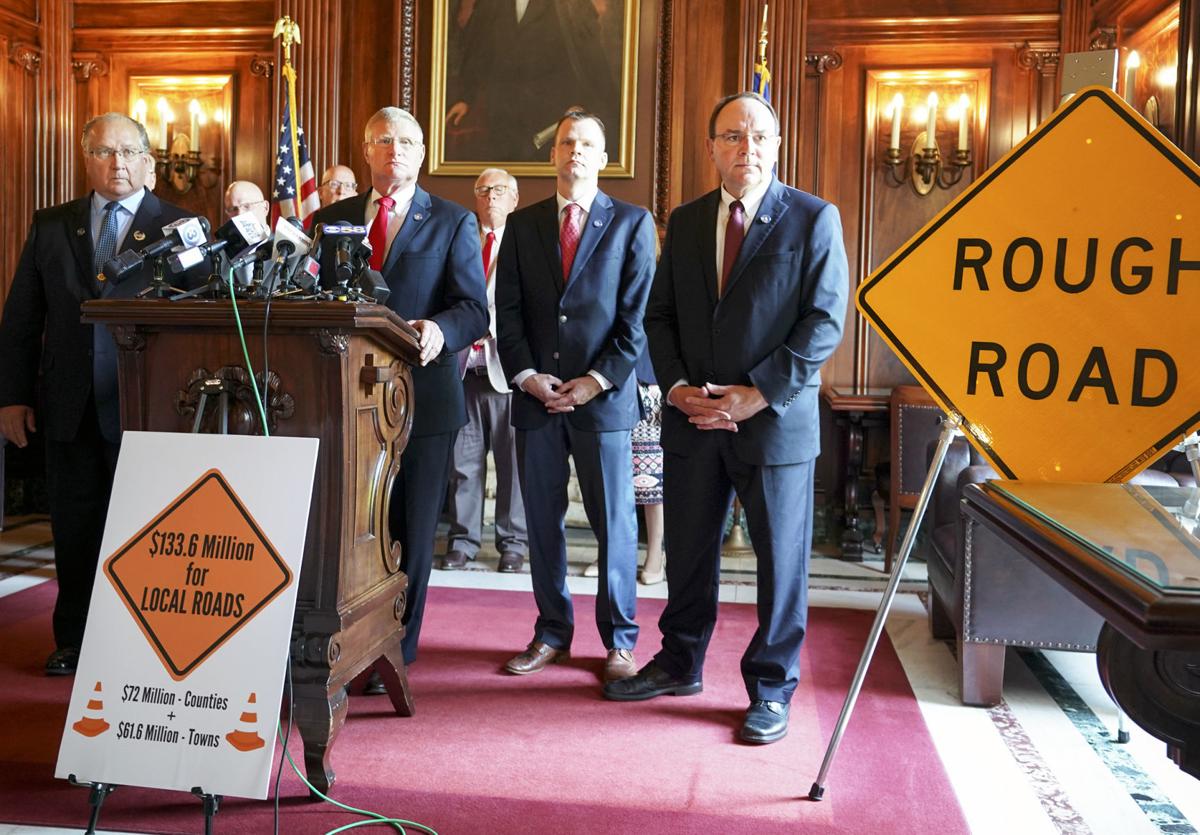 State budget committee Republicans passed a transportation plan on Thursday that would provide $484 million in new funding, relying in part on increases to title and registration fees and a transfer from the state's general fund.
But Republicans also included several controversial last-minute proposals that would target the lieutenant governor and strip local governments of their ability to regulate quarries and water and air regulations affecting quarries. Some fear such provisions could take away local control over frac sand mines.
The GOP plan would allow the state to borrow an additional $326 million through state-issued bonds to fund a road system many lawmakers have said needs a major fix. Democratic Gov. Tony Evers had proposed about $338 million in bonding as part of a plan that would increase transportation spending by $623 million. While new state funding amounts differ, the Republican plan spends around the same total amount of money as the governor's, according to the Legislative Fiscal Bureau.
"This motion fixes more damn roads than his does," said Rep. Mark Born, R-Beaver Dam, making a comparison to the governor's plan.
Evers spokeswoman Melissa Baldauff railed against the plan.
"It's clear that Republicans are still struggling to find a sustainable solution to our transportation funding crisis," she said in a statement. "Raiding our state coffers and making Wisconsinites foot the bill for the rest instead of making out-of-state drivers pay their fair share isn't the long-term solution Wisconsinites are asking for."
Republican leaders said their proposed level of transportation borrowing would be the lowest since the 2001-03 budget cycle. About 19% of the state's gross transportation revenues currently go toward paying down debt.
The GOP proposal, announced hours after the committee was set to meet, does not include a gas tax increase nor a hike on heavy truck fees. Evers had proposed raising the gas tax by 8 cents per gallon and indexing it for inflation, and increasing heavy truck fees by 27%.
The plan, which passed 11-5, could face turbulence ahead. Sen. Duey Stroebel, R-Saukville, the lone Republican who voted against the plan, attributed his "no" vote to Department of Transportation Secretary Craig Thompson.
"I don't have a lot of faith in our transportation secretary who used to be a road builder lobbyist," Stroebel said.
Additionally, one of the Senate's most fiscally conservative members, Sen. Steve Nass, R-Whitewater, who does not sit on the budget committee, said he would not support the plan once it came to the Senate floor, citing concerns over the state's structural deficit.
"Tonight is a big win for the road building special interests and a big loss for the taxpayers," Nass said in a statement.
Republicans said their transportation investment would match Evers' in providing a 10% increase in general transportation aid, which is paid to counties and municipalities for local road maintenance and construction. After the increase, counties would receive about $122 million and municipalities $384 million.
It would increase funding to the state's highway rehabilitation program to allow for about $1.9 billion in funding, essentially the same amount Evers provided, and would provide an increase for new highway projects similar to the governor's plan. It would provide a funding level of $226 million for large freeway projects in southeastern Wisconsin, while Evers provided $332 million. The GOP plan enumerates funding for road projects such as Interstate 43 in Milwaukee and Ozaukee counties and I-41 in Brown and Outagamie counties.
The plan, announced by Joint Finance Committee co-chairs, Rep. John Nygren, R-Marinette, and Sen. Alberta Darling, R-River Hills, would also make a one-time $90 million transfer from the general fund to the transportation fund on top of the $88 million already set to be transferred to the fund over the biennium. The money would be used to fund local road projects.
You have free articles remaining.
To make up for the rest of the transportation funding increase, Republicans said their plan would increase title fees, currently $69.50, by $95, amounting to $164.50. Doing so would generate about $273 million in revenue. Republicans also plan to raise vehicle registration fees, currently $75, by $10, which would generate $84 million over the biennium.
The Republican plan also would raise fees on hybrid vehicles by broadening the definition of a hybrid vehicle, generating about $11 million.
With their plan, Republicans jettisoned Evers' proposal to raise the state's gas tax, currently 30.9 cents per gallon, by nearly 10 cents by 2021. Assembly Speaker Robin Vos, R-Rochester, and Nygren previously considered increasing the gas tax, but eventually backed off the idea.
Increasing the gas tax by 8 cents and indexing for inflation would increase revenues by $533 million over the biennium.
The condition of the state's roads was a major talking point of Evers during his 2018 campaign. Democrats on the budget committee highlighted the growing debt on Thursday, and blasted Republicans for failing to come up with a sustainable transportation funding plan. They said they support Evers' plan to raise the gas tax because it's fair and a long-term solution.
"If you're going to let out of state drivers off the hook … that's absolutely irresponsible," said Sen. Jon Erpenbach, D-West Point, referring to the GOP's consideration of raising registration fees.
Raising the gas tax, Democrats argued, would collect revenue from residents and non-residents who drive on the state's roads and fill up at Wisconsin gas stations, something raising registration fees would not do.
In a sign that Republicans were not on the same page, a group of GOP senators Wednesday introduced a plan that would direct $134 million in one-time surplus funds to counties. Democrats knocked the plan as unfair to cities and villages, who wouldn't get the funds, and unsustainable over the long term.
Evers' $6.6 billion transportation budget would have increased revenues for the state's highway rehabilitation fund, which allocates money for reconstruction, reconditioning and resurfacing of highways and bridges, by $320 million, to $1.9 billion.
Other measures
Following a report by WisPolitics.com showing the state's Dignitary Protection Unit put in nine times as many hours protecting Democratic Lt. Gov. Mandela Barnes as it did his predecessor during her last year on the job, Republicans approved a budget measure that would prohibit the administration from spending more on the lieutenant governor's protection in the upcoming budget than it did in the last.
The transportation budget would also create a new pilot program to award up to $250 million for so-called "design-build" contracts, where one entity is responsible for both designing and constructing a project.
Budget committee members also considered amounts for a number of other state agencies and programs, including the Department of Justice, Wisconsin Economic Development Corp. and broadband expansion.
The committee approved $72 million in new state funding for the state's reinsurance program created under former Republican Gov. Scott Walker to reduce premiums paid by people who purchase health insurance on the individual market. Republicans declined to support the governor's plan to approve money to hire another person to oversee administration of the reinsurance program.
Republicans on the committee approved a roughly $10 million increase for the DOJ, but the amount fell short of Evers' request on some measures, such as funding for the nonviolent offender treatment diversion pilot program, state crime lab analysts and division of legal services. The GOP plan does not fulfill Evers' funding request for digital forensic crime analysts.
Republicans approved a request from the Justice Department to give two 2% raises to eligible assistant attorneys general in 2020 and 2021. They also signed off on a measure that would use $3 million in funds from a Volkswagen settlement to give grants to school districts to replace some school buses.