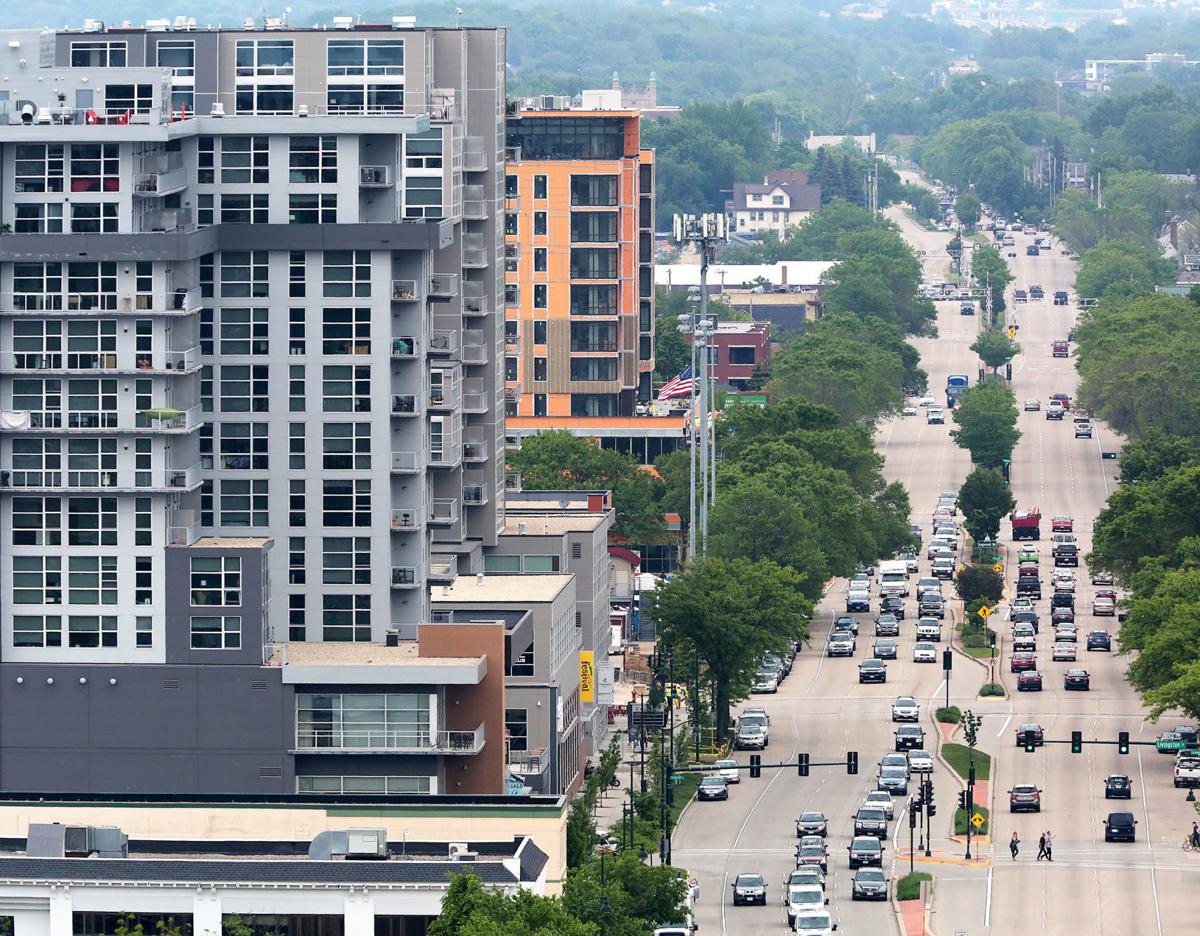 As Madison renters prepare for the annual August shuffle when most downtown apartment leases turn over, housing affordability concerns remain a top concern.
Now, the city has data to back up anecdotal evidence about which Madison neighborhoods are experiencing gentrification and where people are being displaced due to factors out of their control like rising rent prices. Armed with the new information outlined in the Equitable Development in Madison report, city staff hope to generate discussions on how to prevent displacement of long-term renters and homeowners.  
"Anytime we can put data and have fact versus anecdote, that certainly raises the conversation," said Dan McAuliffe, city planner and co-author of the draft report. "Certainly our hope is that it gets a little more attention and continues to be on the mind of policymakers."
McAuliffe and fellow city planner Urvashi Martin wrote the report, following up on a recommendation from the recently adopted Oscar Mayer Strategic Assessment report that asked for an evaluation of how housing prices, which seem to be increasing rapidly in Madison, are affecting displacement and gentrification within the city.
The median rent in Madison increased 23% over the most recent five-year period for which Census data is available, which is well above the 6% inflation occurring during this time, according to the report. Costs for owning a home are following a similar pattern.
To better understand and minimize the effects of gentrification — a market-driven racial and socio-economic reconfiguration of urban communities that have suffered from a history of disinvestment — the planners studied where displacement is occurring or could occur. They did this by analyzing how the cross-section of economic vulnerability, demographic changes and housing market conditions can indicate or lead to gentrification.
"We want to make sure there is a place in the neighborhood for everyone," McAuliffe said. "We certainly don't want to create situations where neighborhoods are changing so quickly that we're pricing people out."
The report also compiled 20 strategies that the city is doing or could consider to support equitable development and ultimately prevent the displacement of long-term renters and homeowners.
"Our goal is to really think about how we can grow as a city and still maintain affordability, particularly in central areas," McAuliffe said.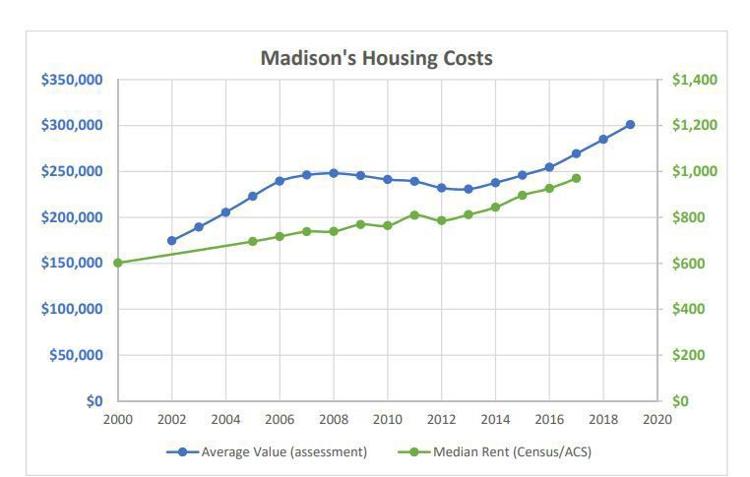 City staff emulated a study commissioned by the city of Portland, Oregon, and analyzed economic vulnerability — measured by comparing the rate of renters, people of color, educational attainment and income — demographic changes like owner occupancy and race, and housing market conditions.
Together, the three data points illustrate one of seven categories of displacement — when households are forced to move or are prevented from moving into a neighborhood due to conditions beyond their control.
Areas with vulnerable populations, no recent demographic changes and affordable and stable housing are considered susceptible to gentrification or displacement. These areas are largely located along major transportation corridors, including the Beltline and Northport Avenue, and have lower development pressures.
Areas that are beginning to see gentrification or are exhibiting conditions leading toward displacement include the central areas of Tenney-Lapham, Emerson East, Sherman and South Madison. These areas have not seen demographic change but have experienced more rapid rent and property value increases.
The area bounded by Mineral Point Road, Gammon Road, Raymond Road and Whitney Way is considered to be nearing dynamic changes of gentrification and displacement, displaying some demographic change but not rapid growth in housing costs.
Dynamic areas, like Waunona, Lakepoint, Arbor Hills, Leopold and Carpenter-Ridgeway, are seeing higher rent and property value increases but remain more affordable. These areas have a vulnerable population, changing demographics and affordable housing that is seeing high value growth.
The Capitol Square and Atwood areas, which include Milwaukee Street and the Darbo-Worthington area, are in late stages of gentrification and displacement. Both neighborhoods were previously considered to have economically vulnerable populations but have since seen an increase in people with a college degree and median incomes and fewer people of color and rentals.
Atwood saw residents with bachelor's degrees increase from 44% to 63%, which correlated with a 37% increase in median income. Rentals as a portion of housing units declined 4.5% in these neighborhoods between 2010 and 2017 at the same time as home values increased by 16.4%, outpacing the citywide average of 10.7% and inflation of 12.1%.
You have free articles remaining.
Identifying areas that are transitioning toward gentrification may show the locations with the only real concentrations of more affordable housing, particularly rental, in Madison, according to the report.
Areas that are not highlighted as a risk for displacement does not mean continuing affordability. These areas historically had higher values and are not affordable to a majority of Madison residents.
"The areas that are most susceptible to gentrification and displacement, in many ways, represent our core areas of affordable housing and certainly we need to work to preserve some of those," McAuliffe said. "But we also need to look at other areas that are well served by transit in the area that historically haven't had significant amounts of affordable housing."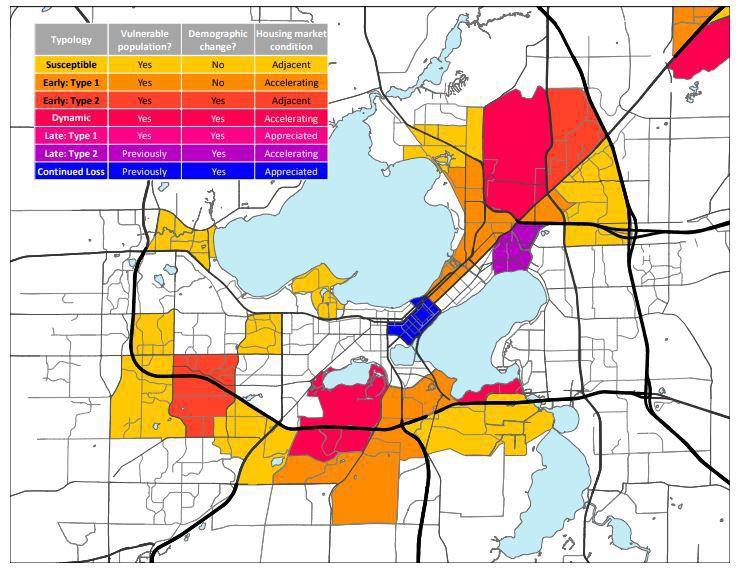 Transportation, growth considerations, new housing
Without affordable options, transit access will decrease for lower-income households, according to the report. Transit is more accessible in the city's central areas, however, residents who may rely more on public transit are being pushed to the city's periphery.
According to a 2016 Metro Transit equity analysis, low-income riders transferred 2.5 times as often as high-income riders, which adds to travel times. A higher percentage of low-income riders traveled more than 46 minutes on the bus.
Neighborhoods can benefit from growth. For example, diverse incomes can stabilize concentrated poverty, new residents can support existing and new business and park impact fees associated with residential development can help revitalize existing neighborhood parks.
"The challenge will be to leverage these improvements while maintaining existing character and encouraging new or rehabilitated housing affordable to existing residents," the report states.
New housing could contribute to the overall affordability of housing in Madison.
During and throughout the recession, Madison's economy remained fairly strong and the population continued to grow. However, construction effectively stopped and the apartment vacancy plummeted from a healthy 5% to 1%. This was accompanied by rapidly rising rents.
"If supply doesn't keep up with demand, this will happen again and those at the bottom end of the income scale will be impacted most," the report said.
The report outlines strategies that the city is doing or could consider to generate revenue for affordable housing, preserve affordable housing, retain residents and businesses, create new affordable housing, and plan for inclusive, equitable development.
Some strategies, like inclusionary zoning, rent control, density bonuses and stronger eviction protection laws, have legal barriers to implementation. Staff recommends creating partnerships at the state level if these potential long-term strategies are to be implemented.
The report recommends the city consider other strategies including adjusting zoning standards, creating a housing levy, enacting developer exactions, implementing community benefits agreements and impact reports, and retaining expiring-subsidy units.
Not all of these strategies would be easy to implement. Some are resource-intensive or require code changes, voter approval or commitments from outside the city.
The report recommends Madison continue nine efforts including:
The affordable housing fund: Established in 2014 to encourage developers to build affordable units in amenity rich areas with easy access to public transit. The fund has supported 18 new affordable housing developments since it was created.
Land banking: Strategically acquiring vacant and underutilized properties to leverage them for equitable development, including affordable housing. The city did this when it acquired the 700 and 800 blocks of East Washington Avenue, Union Corners and Royster Corners.
Community land trusts: a private, nonprofit corporation created to provide access to secure affordable housing for community members. The Madison Area Community Land Trust sells high-quality, energy-efficient homes at below market prices to low-moderate income households.
Impact fee waivers: Allowing exceptions in an attempt to create new affordable housing. For example, the city waives park impact fees for units that meet the affordability criteria.
Accessory dwelling units: Also known as granny flats, these units are seen as an opportunity to expand the supply of affordable housing stock.
Property tax assistance: Currently offered to seniors through a reverse-mortgage program
Home ownership programs: The city currently offers various programs that reduce the financial burden of home ownership, especially for low- to moderate-income first time buyers.
Economic development and commercial stabilization programs: These programs provide incentives for businesses to stay in place. The city offers funding through facade grants, the Healthy Retail Access Program and the coop program, among other opportunities.
Tax increment financing: A public financing option that the city uses to to provide funds to construct public infrastructure, promote development opportunities and expand the future tax base
Correction: Eastmorland was not identified through the study as a risk for displacement because it is nearly exclusively single family housing, so renters have few options. 
Share your opinion on this topic by sending a letter to the editor to tctvoice@madison.com. Include your full name, hometown and phone number. Your name and town will be published. The phone number is for verification purposes only. Please keep your letter to 250 words or less.