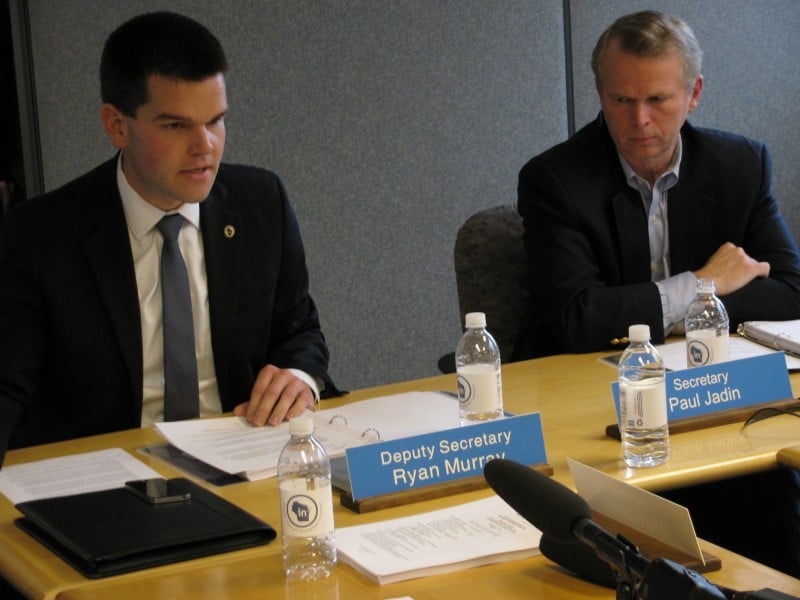 As Democrats continued to knock him for secrecy and mismanagement at the state's job creation agency, Gov. Scott Walker on Friday announced he was hiring a temporary director from the private sector and a private company to search for a permanent chief executive.
Administration officials also disclosed that the Wisconsin Economic Development Corp. lost track of $69 million in loans — including $9 million in past-due loans — because no one was assigned to oversee them when the agency was created in 2011.
Officials also said they were auditing all corporation functions and that the agency's chief financial officer, Mike Klonsinski, resigned effective Friday.
The interim chief executive will be Reed Hall, former executive director of the Marshfield Clinic, Walker said. Hall will be paid about $120,000 annually to lead the WEDC until a permanent CEO is hired early next year.
"It's imperative that we have a strong leader," Walker said, participating in the board meeting via telephone.
A day earlier, Walker promised "a series of dramatic moves" would be discussed with the WEDC board. He clashed Friday with some members over several significant financial errors by the agency in recent months and how they came to light.
"This was a huge mistake, and we weren't looking out for the taxpayer," Rep. Peter Barca, D-Kenosha, a board member, said of the failure to track loan repayments.
Walker said the agency was now moving in the right direction.
"Our ultimate goal is to be good stewards of the taxpayers' dollars in ways that create jobs," Walker said.
Klonsinski was deputy secretary of the state Commerce Department in January 2011. He became a top official at the quasi-public WEDC later that year when Walker and the Legislature quickly dissolved the department and replaced it with the economic development agency, said WEDC spokesman Tom Thieding.
Neither Walker's office nor Thieding would say why Klonsinski resigned, but Walker spokeswoman Julie Lund listed his departure as one of the governor's dramatic moves.
Series of gaffes
WEDC chief operating officer Ryan Murray, a former Walker aide who joined the agency recently, said he is heading up a top-to-bottom review — right down to credit card use and an inventory of phones and computers — of the agency, which he said suffered from insufficient staffing when it was created.
Critics said agency staff were slow to inform the board of a series of embarrassing problems, but Walker and Murray said they acted as quickly as possible.
• The Walker administration suspended bidding on a $15 million contract because WEDC offered tax credits to one bidder, Skyward of Stevens Point, giving it an illegal advantage over competitors.
• The State Journal reported that the U.S. Department of Housing and Urban Development ripped WEDC and Walker's Department of Administration for their handling of nearly $10 million in grants. Board members had not been advised of the dispute.
• The past-due loans came to light this week in the Milwaukee Journal Sentinel. Murray said Friday that the old Commerce Department's finance division carefully tracked loans, but nobody was given the responsibility in WEDC.
"This function was not transferred over, and we're trying to get to the bottom of why it wasn't," Murray said.
Some board members said they were unhappy that they and the Legislature learned of the problems in newspapers instead of being told directly.
"The board wants to be fairly informed on this, and rightly so," Walker said.
In addition to seeking answers on why oversight of the loans was neglected, Walker, a Republican, said he also wanted to investigate the wisdom of loaning the money in the first place. Most or all of the loans were originated by the administration of his Democratic predecessor, Jim Doyle.
"Were there abnormally high levels of risk?" Walker asked.
Paul Jadin, who is resigning as chief executive officer effective Nov. 1, said it won't be surprising to find that loans were made to employers who needed help staying in business during the recession.
"By their very nature they are high-risk loans" that were given so that workers weren't laid off, Jadin said.
Walker said it wasn't his intention to criticize the Doyle administration, but he wanted to learn better ways to help create jobs.
Search help
WEDC on Thursday night contracted with QTI Group of Madison to search for a permanent replacement for Jadin. It was announced Sept. 20 that Jadin is leaving to become president of Thrive, a regional economic development agency in south-central Wisconsin.
"I'm glad we are engaging an outside firm," said Don Weber, a member of the WEDC board's CEO search committee. "I think it sort of takes the politics out of it."
The committee, which has already gathered 50 applications, met with QTI representatives Friday morning for the first time. The company is expected to present five finalists to Walker, who is to pick a new leader early next year. Murray said QTI would be paid about 30 percent of the new CEO's first-year salary.