In the first round of pay increases for Wisconsin state employees since union contracts were invalidated, supervisors delivered an average 6.52 percent boost to 2,757 workers, roughly one in 14 of those eligible.
The payout — totaling $8.2 million — is very different from union-era raises, which were much smaller on a percentage basis but cost tens of millions more because they were distributed to most non-academic employees.
Another difference from the old contractual pay system is that more than half of the merit awards were one-time lump sum payments that didn't become part the workers' base salaries.
Within certain constraints, supervisors were allowed to propose extra pay for valued employees who did superior work, were seeking other employment, or were underpaid compared to others in similar circumstances.
Some experts in compensation systems warned the pay increases may not have reached enough employees to prevent losses of valuable workers, while a union leader complained of favoritism by managers that was creating jealousy and friction among co-workers.
But a spokesman for Gov. Scott Walker said it was a good beginning and more state departments and agencies will dish out targeted "discretionary merit compensation" money in the future.
"Gov. Walker looks forward to continuing to create an environment that allows hard-working, high-achieving, and outstanding employees at both the state and local levels to be financially rewarded," Cullen Werwie said. "He will work to keep the best and the brightest employees."
Until 2011, when the Republican-dominated state government passed laws that all but ended union rights for the public sector workers in Wisconsin, collective bargaining agreements established pay rates for most state employees.
For at least a decade, contracts mandated pay increases ranging from zero to 2 percent, though a furlough program wiped out increases for about two years starting in 2009.
Without more pay raises for more workers, however, the state will lose more of its most valuable workers as the recession lifts and pay increases in the private sector, said Charles Carlson, a compensation expert for a management consulting firm in Middleton.
"Wisconsin just has very, very good public employees and we have very good public services," Carlson said. "You have skilled engineers and scientists and accountants. You could say, well you just replace them with someone else, but they are very difficult to replace with all their experience and expertise."
Annual pay increases of 3 percent and more are being seen in the private sector as the recession lifts, Carlson said. It will probably be two more years before government revenues recover, making it difficult to retain and recruit good employees, especially because public employees since 2011 have been forced to pay more for benefits, he said.
Only some agencies participated
The 2011-13 state compensation plan laid out guidelines for discretionary merit compensation awards but no money was allocated, so departments and agencies had to cut spending in other areas to fund the program. Many didn't participate in 2012.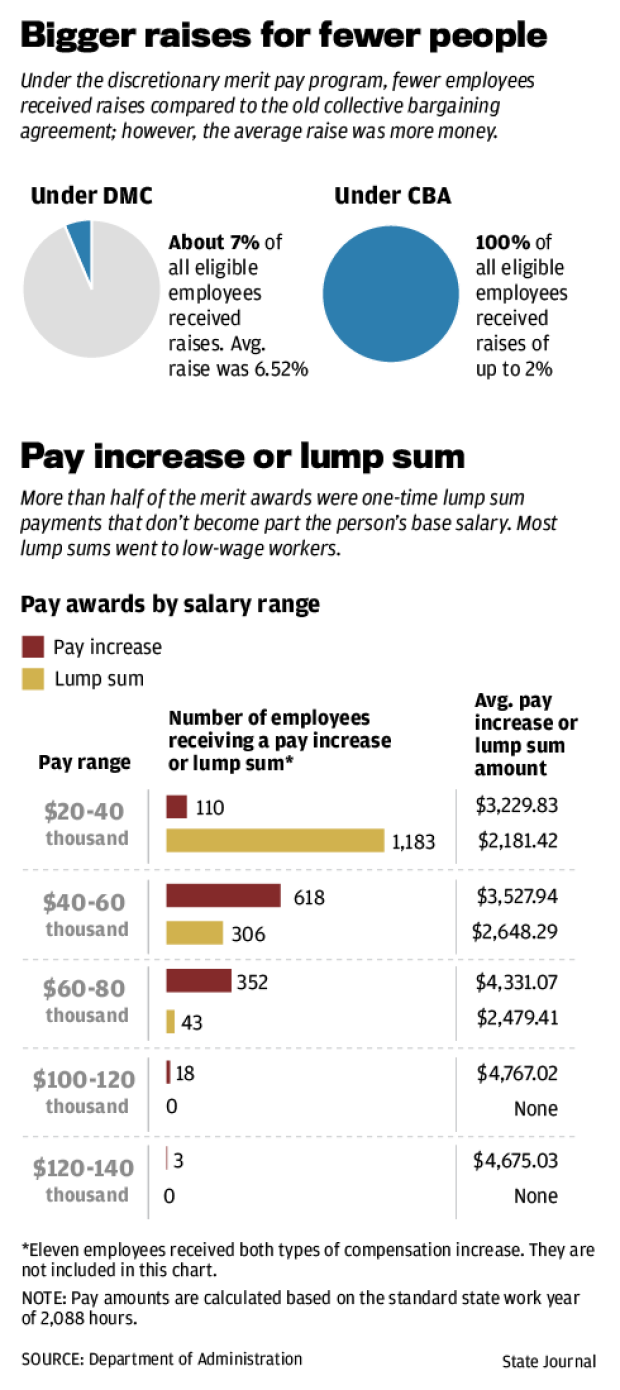 UW-Madison issued nearly half the increases, with five other campuses giving 100 or more. The state Department of Justice gave 99 awards and the Department of Transportation 87. UW-Stout gave the third highest number, but the average amount was $962, by far the lowest on the list.
"Some agencies have been able to effectively and fairly distribute DMCs," Werwie said. "Other agencies are still working to update their personnel systems — the lack of DMCs in these agencies is not a reflection on individual employees."
But at least some of the roughly 37,000 who didn't receive extra pay are unhappy, said Marty Beil, executive director of the Wisconsin State Employee Union, which continues to operate in the courts and the political arena even though it lost members and staff with the virtual elimination of collective bargaining and automatic dues collections.
"We've got people in the same class working side by side and getting different amounts of money, and there's no objective criteria as to why they gave it to Joe Smith rather than me," Beil said. "There can be a lot of favoritism. Even in the right-wing discussions about merit pay in schools they talk about testing students. You get to the state side, and they don't have any criteria."
State Department of Administration spokeswoman Stephanie Marquis said the extra pay was completely at the discretion of department and agency heads. The compensation plan sets out certain limits, including a requirement that members of former union bargaining units be given one-time lump sums, not base pay increases.
Craig Olson, a former UW-Madison business professor who now specializes in labor relations at the University of Illinois-Champaign, said the state guidelines for merit increases provided some criteria, but they left a great deal of room for subjectivity.
A bigger problem is how few awards were made, Olson said.
"It appears to be basically giving pay increases only to the very, very top performers and giving nothing to anybody else," Olson said. "I'm not sure that's sustainable in the long run. At some point those 90 percent of employees not getting a wage increase are going to find state employment not attractive."
UW-Madison gave more of the increases than any other single agency.
"I think people were pleased that we were able to again award discretionary merit compensation, and the supervisors were pleased that they were able to reward their employees," said Robert Lavigna, the university personnel director. The state had a merit program until 2008.
Most were based on superior performance, as opposed to equity or retention, Lavigna said.
Faculty and academic staff are in an employment category that isn't eligible for the program.
Most of the awards made by state Department of Justice were for retention purposes, said Steven P. Means, executive assistant attorney general.
Nearly 40 went to DNA analysts and much of the rest to attorneys, all of whom can find higher pay in the private sector, he said.